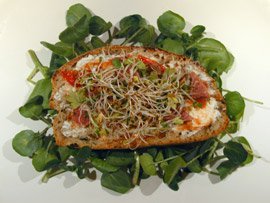 [Goat Cheese and Sprouted Seeds Tartine]
And today is the day of the Tartine Edition of the world famous Is My Blog Burning? distributed blogging event! Please meet the tartine I made as my contribution : a tartine with goat cheese, ham and cherry tomato jam, decorated with sprouted seeds and served on a bed of watercress.
As with most tartines, it is easy (it's mostly just assembling ready-made ingredients) and fun to make : I love the sort of artistic attention and care involved, when you line up the tartines and try to reproduce the same harmonious arrangement on each of them, and then when you plate them, correcting the shape of the watercress bed to ensure that it frames the tartine in a flattering way, tilting your head to the right to get a sense of the general picture. It also turned out really tasty : what more could one ask of a tartine, I ask?
This would make a really nice opener, if each guest gets one small tartine, or it could be served as a light main course, in which case two tartines each is good.
It happens to use several ingredients featured here in the past : the wonderluscious olive bread I buy at a nearby boulangerie, the cherry tomato jam I made at the height of last summer, and mixed sprouted seeds, proudly home-grown.
I am maintaining a rapidly growing record of all the participants' contributions, check back tomorrow for the complete list!
Tartine Chèvre et Pousses
– Four small slices of olive whole wheat bread (if your loaf yields large slices, cut them in two)
– 90 g (3 oz) fresh goat cheese
– 90 g (3 oz) ham, diced
– 2 tsp cherry tomato jam
– Four small handfuls of sprouted seeds
– Four large handfuls of watercress
– Olive oil
– Balsamic vinegar
– Salt, pepper
(Serves 4 as a first course, 2 as a light main course.)
Rinse and dry the watercress, and dress it with a little olive oil, balsamic vinegar, salt and pepper.
Toast the bread slices. On each slice, spread a fourth of the goat cheese, and a little cherry tomato jam (not too much : you want a subtle taste of tomato, and just a slight sweetness). Sprinkle a fourth of the diced ham dice, and top with a handful of sprouted seeds.
Arrange a little bed of watercress on four small serving plates, and balance a tartine on top of each.