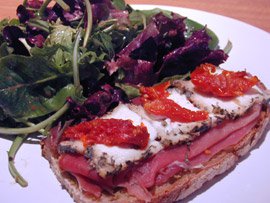 Tartines have been a fairly trendy lunch fare in Parisian restaurants for a while. Originally, "tartine" means a slice of bread, toasted or not, with something spread on it, usually eaten for breakfast : butter (tartine beurrée), jam (tartine de confiture), cheese (tartine de fromage)…
For a few years now, the concept of tartine has been recycled into an easy but delicious main dish : one or two slices of bread on which ingredients are laid, creating a sort of open-faced sandwich. It's interesting to note that this is a flashback to the Middle Ages, when slices of bread were used in lieu of plates!
This simple idea can lead to an infinite number of variations. But it is a very open concept that should be used with care, and one has to make sure the combination of ingredients is sound. Whipping up a tartine using all the miscellaneous leftovers in the fridge can work wonders. Or not.
It is also very tempting to throw in a lot of goodies, but as is often the case with cooking, more is not necessarily better, and too many flavors can cancel each other out. The idea is to pick a central theme or focus for your tartine and try to find the minimum set of ingredients that expresses it fully. The tartine can star a nationality or ethnicity (Mediterranean, English, Italian, Greek, Jewish, Swedish…), an ingredient (vegetarian, chicken, duck, salmon, cheese…), or even a color (tartine verte, tartine rouge, tartine jaune, tartine violette…).
Then, the simple process is this.
Cut good bread in slices. Rustic bread is usually used, the classic being "pain Poilâne", but you can use another type (olive bread, walnut bread, fig bread, focaccia…) if it works with the theme. Ideally the inside of the bread should be closely knit, otherwise the ingredients will fall through. The thickness of the slices can vary, but 1 cm (a bit under 1/3 of an inch) is usually a good size. You can choose to toast the bread first, but you don't have to. Doing so will result in a slightly drier bread and harder crust, but it will prevent the bread from getting soggy if the ingredients are very moist.
Line the slice with a layer of a spreadable ingredient : it could be butter, tapenade (olive paste), aïoli (garlic mayonnaise), pesto, crushed garlic, sun-dried tomato paste, fresh goat cheese, cream cheese, yogurt, tarama, hummus, eggplant caviar (also called baba ganoush)… The idea is to create a base that preserves the moistness of the bread and holds the other ingredients in place.
The rest of the ingredients (which should all be cooked already) can then be laid on top, creating pretty alternating patterns. Bake the tartines on a cookie sheet in the oven, under the broiler, to warm up and melt the ingredients. But tartines can also be served cold, in which case you'd skip this step.
You can choose to serve each guest one or several tartines, depending on their appetite, and on the size of the slices and the amount of ingredients on each.
The classic accompaniment of tartines is a green salad, dressed with a vinaigrette that can even be in accordance to the theme. Most of the time, the salad is served next to or under the tartine on the plate, but some restaurants insert the salad between the first layer of spread and the rest of the ingredients, which results in a nicely high tartine. I've also seen tartines served with a side of cold ratatouille (this dish of zucchini, eggplant, tomatoe and pepper from Provence). In any case the side should be something moist and fresh, that doesn't draw too much attention away from the tartine of course.
Tartines can be served on regular round plates, but they are sometimes served with style on rectangular plates or rectangular wooden cutting boards.
I love making tartines, because they're an endless playground for inspiration, and when my parents came to have lunch with me two weeks ago, that's what I decided to make. I came up with a recipe for Tartines Corses (Corsican Tartines).
Tartines Corses
– 4 slices of Poilâne bread
– green tapenade (green olive paste)
– 4 thin slices of jambon de pays (dry-cured ham), torn into strips, fat removed
– 120 g of brin d'amour – a herbed sheep's milk cheese from Corsica – cut in 12 slices
– 12 pieces of sun-dried tomatoes packed in oil, drained
(Serves 4.)
Preheat the oven to 220°C (420°F).
Toast the slices of bread. Lay them on a cookie sheet. On each slice, spread a layer of tapenade, lay strips of ham on top, then three slices of cheese and three pieces of sun-dried tomatoes.
Put the cookie sheet in the oven for 10 to 15 minutes, or until warm and the cheese starts to melt.
Serve with a mesclun salad dressed in walnut vinaigrette.
And a great book for tartine recipes is Lionel Poilâne's "Les meilleures tartines de Lionel Poilâne".