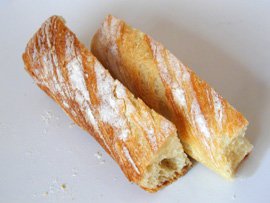 Consider the baguette.
Or rather, consider the tartine de baguette, a popular breakfast item in which a piece of baguette — preferably fresh and bought moments before, still warm, from the corner boulangerie, but if nobody really feels up to going out before breakfast day-old baguette will do fine, "freshened up" on top of the toaster — is sliced in two, each half spread with your choice of butter and/or jam and/or honey (the combination of butter and jam and honey is unheard of but might be worth a try).
Now, let me stress the important part of that last paragraph: sliced in two. Therein lies my problem. See, the two sides of the baguette were not created equal.
On the top side we have the crust, goldie blond (not for nothing do the French say blond comme les blés, blond as wheat), optionally dusted with flour, ravishing to the tastebuds and texturally diverse, with crunchy peaks and soft creases. In one word: delectable.
On the underside, we have the lesser twin, the one that's always been less bright and less attractive, the one the parents have always sworn they loved just the same, with just a little too much insistence. That side of the baguette is flat, and it draws its colors in shades of beige and grey. It is drier and harder — if you're not careful it will scrape the roof of your mouth — and if the bread is a bit too cooked (even though you asked for une baguette pas trop cuite), it will have a slightly charred taste.
However, unless I throw away half of the baguette (unthinkable, you heathen!) or find someone who favors the bottom side to share my morning tartine with (and that seat is already taken), I cannot have one side without the other. Impossible. They are a team of two, an inseparable couple, and if the top side bakes to perfection, it is only because it can rely on its partner to support it, do the less gratifying work and act as foil. Books and movies are filled to the brim with examples of this — Sherlock Holmes and Dr. Watson, Batman and Robin, Spirou and Fantasio.
So tartines de baguette were always an ambivalent experience for me. I would eat the bottom tartine first, so I could enjoy the top one afterwards. Or I would alternate bites of one and the other, making sure I finished with a top bite. And always, that tough decision to make: which spread would go on which side?
But life is full of tiny epiphanies, and I had one on a recent morning as I was having breakfast at Coquelicot, a favorite bread bakery on the Place des Abbesses where they have a few tables and serve a nice and simple fare. The breakfast menu I had chosen included a demi-baguette, with fresh butter and homemade berry jam.
The baguette came sliced. But, and here's what prompted the epiphany, it was sliced vertically. Not horizontally, vertically, thus creating two exactly equal tartines, each of them with its fair share of top and bottom, so that each and every bite of your tartines included the flavor and texture of both. Better yet — and this has been taste-tested and verified under strict scientific conditions — a fascinating phenomenon occurs with this slicing technique, making the whole thing taste like a top tartine. Revolutionary.
Breakfast will never be the same again.