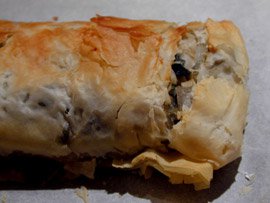 [Swiss Chard Strudel]
Last Saturday, I recruited a few dear friends to help me eat the Chocolate & Zucchini Cake I had baked : with Maxence away on a business trip, it was just me and that good-lookin' cake, and although I can always be trusted to do my fair share of the eating, that's exactly the problem. Plus, I needed opinions! So Ludo and Marie-Laure, and our next-door neighbors Stéphan and Patricia, were invited over for a little potluck dinner.
Ludo and Marie-Laure took care of the cheese course, bread and wine, and our neighbors brought appetizers, including little toasts of a wonderful chicken liver mousse made by their butcher friend. I love chicken liver, its sweet taste and soft texture, and this was really well seasoned, with shallots and herbs. Stéphan also made a gratin de pâtes, a sort of pasta bake with multicolored quinoa pasta, tasty and moist.
As for me, I contributed the cake, and wanted to make a savory dish as well. I had recently found sheets of filo dough (also spelled phyllo) at Monoprix, a slightly upscale French grocery store, so filo dough concoctions had been on my mind for awhile. I also had a fresh bunch of swiss chard and a round of fresh goat cheese, so I was inspired to make swiss chard strudels.
Filo dough is not commonly sold in mainstream stores around here. It is easier to find brick dough, which is somewhat similar, but not quite : brick dough is a North-African specialty (rather than Middle-Eastern), the sheets are round instead of rectangular, and they are thicker and not as smooth. It was my first time working with filo dough, and it turned out to be a bit more tricky to handle than brick dough. The thinness of filo causes it to dry out pretty quickly, so it's a good idea to cover the stack of sheets with a damp towel. But not too damp, otherwise the sheets will get too soft and they'll tear when you manipulate them. It does takes a little adjusting, but it is really worthwhile.
When layered and baked, the sheets of filo get this really pleasant consistency, brittle and flaky in places, soft and smooth in others. The swiss chard and goat cheese filling was really tasty, and the pairing was fabulous, both texture and flavor-wise. Not to mention that it also makes for a fairly elaborate and pretty presentation, worthy of a special occasion.
Strudel de Blettes
– a large bunch of swiss chard, white and green parts
– 2 cloves of garlic
– 2 shallots
– salt, pepper
– a heaping tablespoon of crème fraîche
– 50 g fresh goat cheese
– 1/4 C raisins
– 8 sheets of filo dough
– 1/4 C olive oil
– 1/2 C breadcrumbs
(Serves 6 as a side.)
Peel and chop the garlic and shallots. Heat up a little olive oil in a large skillet, and add the garlic and shallot. Cook for a few minutes over medium heat, until softened. Rinse the swiss chard and trim the bottom of the stalks. Separate the stalks from the leaves, chop the stalks and tear the leaves in one-inch squares. Add the stalks to the skillet, season with salt and pepper, and cook, covered, for about ten minutes, stirring occasionally, until the pieces start to soften. Add the leaves, sprinkle again with salt and pepper, stir, and cook for another five to ten minutes, until wilted and cooked through. Place in a colander to drain for at least half an hour, pressing with a wooden spoon from time to time to help the juices drain out.
Preheat the oven to 200°C (400°F), and line a cookie sheet with parchment paper.
Prepare the filling. Cut the goat cheese in small chunks. In a medium bowl, combine the cooked chard, the goat cheese, the crème fraîche and the raisins, stirring gently with a wooden spoon : you don't want to make mush.
Assemble the strudels. Prepare the bread crumbs and the olive oil in two small ramequins. Lay a first sheet of filo dough on a large cutting board or clean work surface, covering the stack of remaining sheets with a piece of saran wrap topped with a damp dish towel. Lightly brush the sheet of filo dough with olive oil, then sprinkle with about a tablespoon of breadcrumbs. Cover with another sheet of dough, brush and sprinkle. Repeat with two other sheets, but omit the bread crumbs on the last sheet. You'll end up with four stacked layers of filo dough, each brushed with oil on one side, with breadcrumbs between the layers.
Flip the stack so that the oiled side is beneath. Spread with half of the filling, leaving a margin on all sides, about 1 1/2 inch. Roll the strudel upon itself, like you would a jelly-roll, starting on a long side of the rectangle. Transfer the strudel with caution, seam side down, on the baking sheet, leaving room for the second one. Tuck the ends underneath, and brush the top with a little more oil if it looks a little dry, this will help it turn golden.
Repeat those steps with four other sheets of dough and the second half of the filling. Put the baking sheet into the oven for about twenty minutes, until the strudels are crispy and golden. Cut each strudel in slices and serve, warm or at room-temperature. This would make a great side with fish for instance, or can be served as a main dish. In the latter case, you may want to add diced tofu or ham to the filling for a bit more protein.