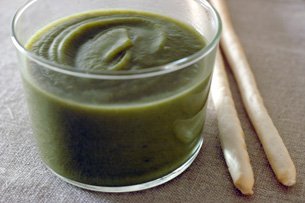 [Swiss Chard and Parsnip Soup]
… a.k.a. the smoothest soup to ever be born on my stove. Yes: after months of coveting and weighing and dreaming and stealthily searching eBay, I finally caved in and treated myself to my very first immersion blender
. I am slowly taking in what that means — onions and herbs chopped in a pinch, banana milkshakes, velvety soups and most importantly, stiff egg whites without the forearm cramps — and I could just clap my hands in happy anticipation if you weren't looking.
The first thing I used the new toy for was this soup (actually that's not true, I first used it to turn a piece of stale bread into breadcrumbs but I figured that wasn't quite post-worthy). These days, the inspiration for most of the soups I make comes from just walking to the produce stall, choosing two vegetables that look healthy and well-behaved, then celebrating their marriage hastily with a very small crowd (just two witnesses, onions and garlic) in my cast-iron chapel.
It's very difficult to go wrong with the pairing of just two vegetables — particularly if they're in season at the same time — and this soup was no exception: complementary flavors ("Green and slightly bitter", said the chard. "Starchy and subtly sweet", replied the parsnip.) and a unique textural understanding between the two, never-before witnessed in my kitchen until the magic blender entered it, with its shiny, immaculate cape and its faithful following of fancy little accessories.
Soupe de Bettes et Panais
– 1 tablespoon olive oil
– one onion, peeled and chopped
– 2 cloves garlic, peeled and minced
– one bunch swiss chard, rinsed, trimmed and chopped (bettes, blettes ou cardes in French)
– 3 medium parsnips, srubbed, peeled and sliced
– salt, freshly ground pepper
– 1/4 cup milk
Heat the olive oil in a large soup pot over medium heat. When the oil is hot, add in the onion, garlic and 2 tablespoons water. Cook for five minutes or until translucent. Add in the chard and parsnip, season generously with salt and pepper, and cook for five more minutes, until the vegetables start to color. Cover the vegetables with hot water (or homemade stock if you're that kind of person), bring to a simmer, cover, and cook for 25 minutes or until the vegetables are cooked through and soft. Stir in the milk.
Whip out your handy-dandy immersion blender, your old-fashioned potato masher, or just a fork if that's all you have but there's a holiday gift idea for you right there, and whiz or mush the soup to the desired consistency or until you get bored. Add in a little more water or milk if the soup is too thick, reheat if the soup is too cold, and serve in pretty bowls, with a thick slice of fresh country bread or cripsy Italian breadsticks.