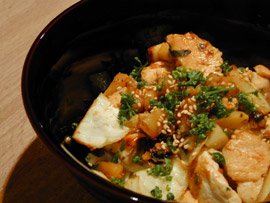 The other night, we had two friends over for a casual dinner : Marion, a friend of mine from university, and Marwane, whom Maxence has known since junior high. Being on a Japanese food kick induced by Maxence's recent successful forays, I decided to make some kind of udon dish topped with stuff. That seemed reasonably doable (I mean, how ambitious does that sound?) with the various ingredients we happened to have on hand.
In particular, I used one of these little packets of rice seasoning mix that they sell in Japanese grocery stores. They come in different flavors, but they all basically contain some kind of meat and vegetable extract, teeny shrimps for some, salt, sugar, sesame oil, onions and various spices. In fact the only actual difference the naked eye can see is in the color of the package and the Pokemon character depicted on it. The idea is to add them to cooked rice, and beat an egg in for a quick yummy meal. We bought tens of these back in California and they had gotten somewhat lost in oblivion in the back of our bulging kitchen cabinets. I recently unearthed them and have found them to be very convenient, instantly giving an interesting Japanese flavor to anything you add them to.
At first, I had reservations about just throwing together what was in the fridge and labelling it Japanese, especially the parsnip and the parsley which sounded to me all but traditional Japanese fare. But after a little research, it appears that our friends from the Empire of the Rising Sun do use parsnips (for tempura in particular) and parsley (lthough theirs seems to be flat-leaf when mine was curly). So all is right in the world, and the result was a very flavorful and satisfying dish, with a lot of different tastes and textures, that we all liked very much.
Chicken Udon with Cabbage and Parsnip
– two chicken fillets
– 200 g udon noodles
– one parsnip
– 8 leaves of cabbage
– a little knob of ginger, about half the size of my thumb (that helps, doesn't it?)
– a packet of Japanese seasoning mix for rice
– sesame oil
– sushi vinegar
– soy sauce
– a few twigs of fresh parsley
– sesame seeds
(Serves four.)
Peel and dice the parsnip. Heat up some sesame oil in a large skillet, and put the parsnips in to cook over medium heat, covered, for about 15 minutes or until tender.
Meanwhile, rinse the parsley, pluck the leaves and chop them. Set aside until the end, to use as a garnish. Cut the chicken in thin slices. Peel and chop the ginger. Cut the cabbage leaves in one-inch squares.
When the parsnip is tender, add the chicken, ginger, and cabbage. Sprinkle the contents of the seasoning packet, pour in a splash of sushi vinegar, a splash of soy sauce, and stir. Cook over medium-high heat for ten to fifteen minutes, stirring frequently, until the chicken is thoroughly cooked.
While the chicken mixture cooks, bring some salted water to a boil in a large saucepan, throw in the udon noodles and cook according to package instructions (mine took 8 minutes).
Don't worry if the noodles are ready before the chicken or vice-versa. If the noodles are ready first, drain them and set aside in the saucepan with the lid on. If the chicken is ready first, just leave it covered over low heat.
Serve the drained noodles in four bowls (preferably preheated with a little boiling water), top with the chicken mixture, and sprinkle parsley and sesame seeds on top. Serve with soy sauce on the side for each guest to adjust the seasoning. Eat with chopsticks of course.