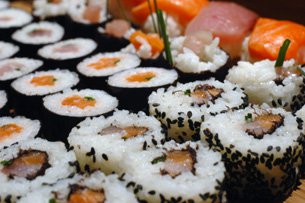 On rue Garreau in Montmartre — right off the place Emile Goudeau, which I like very much because it has trees, benches, and a Fontaine Wallace — was the tiny workshop of a violin maker. Earlier this summer, I walked past it and did a double-take: the dusty window had been cleaned, and the instruments had been replaced by a miscellany of Japanese trinkets — origami animals, garland lights, purses to keep your change, and tinkling thingies to hang to your cell phone.
I walked in, browsed the displays, and my eyes fell on a flyer that advertised the shop's sushi classes. The attendant inside was busy paper-folding a horse or a squirrel or a tortoise — it was too early to tell. He told me that he was just filling in for the owner and couldn't say when the next class would be, but that he would take my contact information. A few days later I received a call from a Japanese woman, who explained that she didn't give classes during the summer because of the heat, but that I could sign up for September.
And this is how Maxence and I attended a sushi-making class last Saturday. Our teacher was Tomoko, owner of the shop and, incidentally, wife of the violin maker whose workshop it used to be. Teacher and students climbed up to an appartment five flights of stairs above the shop, took off our shoes, admired the view, and sat down at the table.
Since this was a lunchtime class, Tomoko first prepared donburi for us (a category of Japanese dishes in which ingredients are served over a bowl of hot rice), so hypoglycemia would not hinder our ability to listen and learn. Her bols de sashimi spécial consisted in Japanese rice, topped with torn nori and bite-size pieces of raw tuna and salmon, tossed together in a dressing of wasabi, soy sauce, and ground sesame. This was a splendid lunch and I will no doubt try to reproduce it. She also served us chilled mugicha (barley tea), which I'd never tried before and very much enjoyed.
Tomoko stressed that what she was about to teach us were the basics of family-style sushi — it takes Japanese chefs years to master the noble art of sushi-making, and a two-hour class wasn't going to cut it, obviously. She had trimmed and sliced two kinds of raw fish for the class, ahi tuna and salmon, in long sticks for maki (rolled sushi) and in rectangular pieces for nigiri (oval lumps of rice topped with fish). This was my first time making any kind of sushi so I had everything to learn, but it turned out to be surprisingly easy when you have someone by your side to show you the moves.
We got started on maki sushi, and prepared three rolls each. We blended sushi vinegar (sweet rice vinegar) into the slightly warm short-grain sticky rice, tasting along as we went, until the mixture was seasoned to our liking. We spread rice loosely and evenly over the bottom half of a nori sheet set on a sushi mat (makisu), and arranged raw fish and chives in the middle, pressing lightly on the filling to nestle it into the rice. Taking a deep breath, we rolled the mat over itself, tightened the roll gently but firmly, and rolled it over the remaining flap of nori, making sure the loose end was at the bottom of the roll so it wouldn't show. Advanced maki makers leave just a half-inch margin of nori to close the roll, but we rolled the whole thing because it is easier. After each roll we made, we would cut a slice and taste it, so we could adjust the proportions and seasoning in the next.
We then climbed up a notch in the scale of difficulty and made uramaki (inside-out sushi rolls). For these we spread the rice over a sheet of plastic wrap set on the sushi mat, topped it with a third of a sheet of nori, arranged the fish in the middle, and rolled the mat over itself, massaging the roll to tighten it. We let it rest, toasted black sesame in a saucepan, spread it over a tray, and rolled the maki quickly in the tray to coat it with the crunchy seeds.
Finally, we prepared five pieces of nigiri sushi (what is often, and mistakenly, referred to as just "sushi"), patting and flipping warm rice into our hands to shape it into an oval, bite-size mound, and topping it with a bit of wasabi and a rectangular piece of fish. The challenge here lies in the correct clumping of the rice — it shouldn't be too tight or too loose — and in getting the fish to adhere to the rice so it won't fall off when you dip it, fish-side down, in soy sauce.
A few tips I've learnt:
– Tomoko advises you to wash your hands with just water: if you use soap, the rice will take on its flavor. This will probably make food safety experts scream and pull the hair out from their temples; I'm just passing on the advice.
– Nori sheets have a shiny side and a matte side. The matte side should always be the one that touches the rice: the shiny side will then be on the outside for regular maki, and on the filling side for inside-out maki.
– Keep a bowl of water and a damp dishcloth close by, and keep your hands wet at all times to prevent the rice from sticking to them, which is very annoying.
– Use a wet paddle-shaped wooden spoon to ladle the rice out of the rice cooker.
– When you add sushi vinegar to the rice, the proper way to blend it in is to work the wooden spoon in a cutting motion.
– Maki can be made in advance, but should be sliced just before serving.
– Use a large, sharp knife to slice the maki, and wipe the blade with the damp dishcloth before cutting.
– Sushi rolls are much easier to slice if you let them rest for half an hour: the nori will have softened and the rice will have clumped enough that it doesn't squish out as you cut.
– It is important to keep a good balance between rice and filling in maki. Too much rice will overpower the flavor of the filling; too little will make it difficult to roll the maki because the nori won't adhere well.
Needless to say, we prepared much more sushi than even we could eat in one sitting, so we packed the leftovers in boxes — the same trays that sushi takeouts use — and feasted on them for dinner with two grateful friends.
Manekineko de Montmartre
1 bis rue Garreau – 75018 Paris
01 42 64 52 78
The shop offers other classes: Japanese home cooking, for which I intend to sign up, origami, shiatsu, Japanese, and calligraphy. They are also throwing a little party to celebrate Otsukimi (the full moon festival) this Thursday, from 7pm till 10pm.
[More on sushi; a step-by-step tutorial for maki and uramaki.]