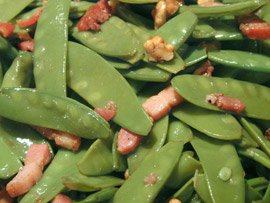 I just love snow peas, because of the taste and the crunch and the look, but they're seldom served in France, so I'm always happy to give them the space in the sun that they rightfully deserve. I think they're perfect in salads, and this is what struck my fancy during a recent dinner party. A scrumptious combination that went surprisingly well with the terrine.
Terrine and salad were then followed by Stéphan's sumptuous lamb tagine, complete with prunes, dates, apricots, almonds and walnuts, served in the beautiful tagine dish that Maxence's mother brought us back from Turkey.
Bacon Walnut Snow Pea Salad
– 750 g snow peas
– 200 g bacon, cut in small strips
– 100 g walnuts
– a handful of fresh parsley
– 2 TBSP walnut oil
– 2 TBSP basil olive oil
– 2 TBSP balsamic vinegar
– salt, pepper
(Serves 12.)
Cook the snow peas until tender but still crunchy, preferably in a steam basket to retain the nutrients and color (blablabla, you know the drill).
Cook the bacon strips in a large skillet for about ten minutes, until they've released some of their fat and they start to turn golden and crispy. Remove them from the skillet with a slotted spoon.
Chop the walnuts, not too finely. Wash and dry the parsley, pick the leaves and chop them.
In a salad bowl, mix together the vinegar, the basil olive oil and the walnut oil. Notice that you're running out of both oils. Experience a slight panic at the thought. Caress the cheering idea of getting hazelnut oil instead.
Add the snow peas, walnuts, bacon and fresh herbs in the bowl, and toss to coat and even out the goodies.