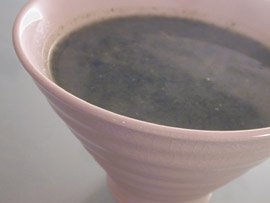 [Watercress and Fresh Sage Soup]
On Saturday morning, at an hour which felt far, far too early to be up on a week-end morning although by any reasonable standard it was really just mid-morning, I met with my chef-friend Nicolas Vagnon in front of his favorite produce stall at the Batignolles organic market.
As we have already done on several occasions with equal joy, we then proceeded to shop for fruits and vegetables, he for his restaurant, I for my more humble home needs. And on this particular morning, the order of the day was also, as you may have guessed, to prepare for tonight's party, thrown in honor of Chocolate & Zucchini's first birthday.
Faire le marché with a chef is really a fascinating thing in scale, and I am always in awe of the amount of stuff that he purchases. As the trolley gets filled up with pounds upon pounds of greens and herbs and all manners of goods from the Earth, it gets more and more apparent that the trolley is really laughably under-sized and that we're going to lug back crates and bags and baskets as well — but Nicolas always makes sure I'm mostly carrying the flowers while he handles the heavier load.
It is also an excellent occasion to observe and learn how to select produce like a professional, as Nicolas The Uncompromising decides at a glance or an expert prod of the finger that no, we will certainly not get these artichokes, whereas look! those salads look like they've just come out of the shower. Oh, and I've also learnt to make my selection before he does, unless I want to be left with the sorry-looking and the dejected, while he walks away unawares with the lush and the blooming.
And this is how I managed to snatch the most beautiful, fresh and glowing bunch of watercress on the produce stall that morning. It bore the label I have come to look for and love, that says "à nous" (ours), meaning that it is grown by the stall-keepers themselves, an almost unfailing seal of freshness and quality. Later that day, as I had instantly decided upon spotting it, I turned my bounty into this fragrant, softly green soup, made even more aromatic by the addition of fresh sage of identical origin.
Soupe de Cresson à la Sauge Fraîche
– one onion, sliced thinly
– 3 cloves of garlic, peeled and sliced
– a bunch of watercress, rinsed
– 6 leaves of fresh sage, rinsed and chopped
– one small potato (or half of a medium, or a quarter of a large one), diced
– olive oil
– salt, pepper
– mineral or filtered water
(Serves 3 to 4.)
Heat up some olive oil in a large saucepan. Add in the garlic and the onions, and cook on medium until softened. Add in the watercress, sage and potatoes, and sprinkle with salt and pepper. Cook for a few minutes, until the watercress is a little wilted, stirring regularly.
Pour in water so that the vegetables are just barely covered. Bring to a soft boil, and cook on medium for about fifteen minutes, until the vegetables are softened. Puree the soup to the desired chunkiness (I personally like watercress soup to be completely smooth), reheat if necessary, and serve with toasts of garlic-rubbed country bread.