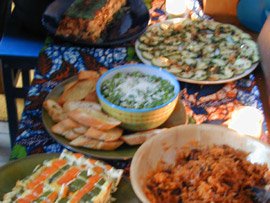 When I went to the Salon Saveurs recently, I had the pleasure of meeting with a few Chocolate & Zucchini readers. A few hours of wandering up and down the aisles brought us closer, and as we all sat down, exhausted but exhilarated, the idea of creating a little supper club was brought up. The idea was to throw a dinner party where everyone would bring a dish, à la potluck. Isabelle and Ethan offered to host the first edition, which took place ten days ago.
We had a wonderful evening in Isabelle and Ethan's cosy appartment in the 12th arrondissement, everyone engaged in lively — and often food-related — conversation, and I was delighted to see my salon companions again, and to meet new friends.
The whole team from the Salon Saveurs was in attendance : Isabelle and Ethan, Alisa, Amy (who came with her boyfriend Nicolas), Pascale (accompanied by her husband David), myself and Maxence. Meg from Too Many Chefs was there too, and we had the pleasure of meeting Christoph, whose comments you may have read on C&Z, and his wife Suzanne. Three foodie friends of Ethan and Isabelle rounded up the count to fifteen, Jonathan, Malory and Peter. Eight from America, four from France, two from Germany and one from Great Britain — quite the cosmopolitan bunch!
Needless to say, we ate like kings :
– Isabelle made a Zucchini Carpaccio (I had never had anything like this and loved it) and a Spring Vegetable Risotto,
– Meg contributed her tasty Chickpea and Leek Soup, the recipe for which is posted on her blog,
– Amy brought a fantastic Pea and Roasted-Garlic Crostini with Olives and Pecorino Cheese,
– Great minds think alike : Christoph and I both brought terrines from the latest issue of the French magazine Saveurs : he made the Sundried Tomato and Fish Terrine, while I made the Fresh Cheese and Vegetable Terrine, the recipe for which I will post soon,
– Jonathan and Malory brought a colorful Instantaneous Carrot Salad and a lovely Asparagus Tart,
– Alisa made a scrumptious and goodie-filled endive salad,
– And we ended all this on a delightful sweet note thanks to Pascale's Hazelnut Financiers (recipe on her blog) and Pistachio Tuiles, as well as Isabelle's perfect Chocolate Chip Cookies (made from the famous Nieman-Marcus recipe).