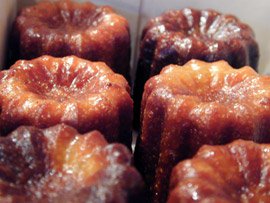 Last Friday, I attended the Salon Saveurs, a food show held at the Espace Champerret in Paris twice a year. To make a happy event happier, I was blessed with the company of five other food enthusiasts and C&Z readers — Amy, Pascale, Alisa, Ethan and Isabelle.
We were all delighted to make each other's acquaintance, and it was really great to explore the halls together, getting all excited about the same things, gesturing wildly to the rest of the bunch when we discovered something that absolutely had to be tasted, peeking into each other's goodie bags, and sharing glasses of armagnac.
The show was set up in two huge halls, with myriads of small stands at which you could taste and buy a great variety of products : cheese, charcuterie, fresh and canned seafood, condiments, olive oil, honey, jam, chocolate, bread, cakes, pastries, candy, cooking equipment, wine, beer… Since it was a weekday, the halls weren't too crowded, and the stand-keepers were very friendly and helpful, not to mention generous with their samples.
It took us about four hours to go through it all, and we all went home exhausted but happy, with bagfuls of stuff. Here's what I got :
– A package of Brise de châtaigne, a kind of coarse chestnut meal which you cook and use like rice.
– A box of canelés by Baillardran, much to Maxence's delight (and mine, but that goes without saying).
– A tin of foie de lotte (monkfish liver). I adore cod liver, and this tastes just fantastic.
– An assortment of dried figs, dried apricots and prunes. I love dried fruit, and these were particularly fresh and moist.
– Half of a noix de jambon fumé, an excellent smoked ham.
– A kilo of bonnottes, excellent little potatoes from Noirmoutier.
– And I also went home with an assortment of navettes, delicious little cookies from the South of France, which Alisa had ever-so-kindly brought for me.
So I now have enough to eat for at least two weeks, and five new friends with which we are starting a little supper club. What more could one possibly ask for?