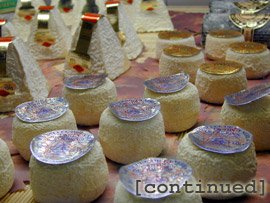 And here is the second batch of notable tidbits from the Salon du Fromage! (Read the first part here.)
– Mont d'Or is a cow cheese, soft inside a thicker rind, wrapped in pine bark and sold in a round wooden box. A popular and wonderful way to eat it is the "Boîte Chaude" (Hot Box), where the Mont d'Or is oven-baked in its box, with a little white wine. Les Monts de Joux, a cheese producer from the Jura, sells their delicious Mont d'Or in a fun DIY kit, which includes a small bottle of vin d'Arbois and all the necessary instructions to prepare your own Boîte Chaude. Baked Mont d'Or is, in my experience, a great dish to share with a few close friends, along with a nice salad and good crusty bread : each guest helps himself, more or less messily, to a spoonful of gooey and tasty cheese. And before long, everyone resorts to just dipping his bread directly in, then passing the cheese on to his neighbor. A wonderfully comforting and laid-back pseudo-meal.
– A producer from Poitou-Charentes was offering fresh goat cheese flavored with herbs and condiments in convenient little trays, petit-four style : balls of goat cheese rolled in raisins, chopped walnuts or shallots flakes, or small triangles sprinkled with herbes de Provence, dill, crushed pepper or cumin seeds. Reminds you of something?
– Tête de Moine is a wheel-shaped, firm Swiss cheese. It is traditionally served in shavings, cut from the top of the cheese (hence the "Monk's Head" name) with a special rotating knife which you plant in the center of the wheel. In the same kind of cool DIY idea as the Mont d'Or above, a producer at the Salon sold small Têtes de Moine in a package complete with a disposable version of the traditional knife, so you can enjoy this cheese in the privacy of your own home, freshly shaved. And this is very important.
– Did you ever wonder why cuts of blue cheese bear some straight blue lines amidst the messier spots of blue? This is because the cheese maker has to let the air inside the cheese for the penicillium (the blue cheese mold) to develop. To let the air in, the cheese wheel is regularly pierced all the way through with a long needle, and the mold develops all along the thin tunnels thus generated. Hence the straight blue lines.
– Le Gall is a producer of butter and other milk-based products from Brittany, and they have just created a new line of flavored butters, which they call "beurres culinaires". They come in different varieties, fraisier (strawberry), framboisier (raspberry), truffé (truffle and hazelnut), provençale (capers and tomatoes), or océane (seasalt and seaweed). They can be spread on little pieces of toast for a pre-dinner nibble, and you can use them in your cooking or as a topping. So far I haven't seen this sold anywhere – they are still working on distributing it – but I'm guessing it should be easy enough to make some yourself.
– Most of the stands offered recipe cards, and I acquired cool cheese recipes to last me a lifetime : Mille-feuille de comté et de betteraves (Comté and beetroot mille-feuille), Lamata castagnina aux amandes (a chestnut flour tart from Corsica with Brocciu and almonds), Röstis au Mont d'Or (potato pancakes with Mont d'Or), Polenta and Fonduta gnocchis, a Cheddar cheesecake, and a Ladyfinger and Ricotella cake – to name just a few.
And so, after a couple of hours of this, obviously satiated and understandably tired, I went home and took a nap, filled with disturbing dreams of lacto-intolerance.
Fromagerie de Poisat
30 avenue d'Eybens
38320 Poisat
04 76 25 51 56
Fromagerie Les Monts de Joux
36 rue Laurent Troutet
25560 Bannans
03 81 89 81 00