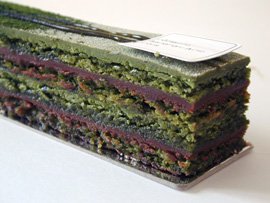 Having heard many great things about Parisian-Japanese pastry chef Sadaharu Aoki, I was very eager to taste his edible creations for myself. I had often admired them at the Lafayette Gourmet store (okay, now I make it sound like I spend my life there when really I don't, I go home to sleep and shower), but since I don't usually buy pastries unless there is a good occasion — or at least deserving friends who will be happy to share them with me — I had so far limited myself to pure eye-candy enjoyment.
Sadaharu Aoki was trained in the art of pâtisserie in both Japan and France, so his work offers interesting Ginza-meets-Saint-Germain twists, slipping Japanese ingredients into typically French confections, and applying the Japanese sense of detail and intricacy to his presentation and packaging. His line includes pastries and entremets, cookies and cakes, chocolate confections and macarons — all of them strikingly beautiful and perfect, but never to the point of losing their appetizing power over the innocent, unsuspecting onlooker.
He has two boutiques in Paris, a corner at the Lafayette Gourmet store, and a handful of restaurants and salons de thé in Paris (all listed on his website) feature his pastries on their menu.
The perfect excuse to sample some of them recently presented itself, on an afternoon when I knew Maxence and I would be dining with our neighbors. I selected four (always a heartbreak — what of the others? will they be hurt and forever traumatized? must go back and make it up to them.) that we shared later that night after an excellent roasted chicken dinner:
– Opéra au thé vert (green tea opera, pictured above): a staple of French pâtisserie since its invention by Gaston Lenôtre in the 60's, the classic opéra alternates rectangular layers of tender almond biscuit, coffee buttercream and chocolate ganache. Here the biscuit and buttercream were subtly infused with Matcha powder instead, so that every rich chocolate bite was followed by an aromatic green tea after-shadow, slightly seaweedy but in a good way.
– Mille-feuille à la vanille (vanilla mille-feuille): this was the only pastry in my selection that didn't have some Japanese inspiration, but I picked it because I had read that the chef was particularly talented in the mille-feuille department. My first choice would have been a Matcha mille-feuille, but the (young, pretty, Japanese) salesgirl informed me that these were only made to order now. The mille-feuille was indeed outstanding, the puff pastry perfectly flaky, the vanilla cream light and aerial, the nougatine topping thin and crunchy.
– Eclair au sésame noir (black sesame éclair): a semi-recent trend in avant-garde Parisian pastry is to play little tricks on the classic éclair, stuffing it with interesting flavors of crème pâtissière and glazing it with fondant in all colors of the rainbow. This trend is spearheaded by Fauchon, who made it the house specialty and came up with bright red, pink, orange or even polka-dotted éclairs, flavored with cherry, green tea, rose, passionfruit or blood orange. Sadaharu's take on this is more elegant I think, less in-your-face trendy, flavoring his with the nutty/smoky taste of black sesame and dressing his pâte à choux in a white sheath with discreet sprinkles of black. This was probably the most surprising one, taste-wise, and it was Maxence's favorite.
– Dôme au chocolat (chocolate dome): on a hazelnut cookie base, a dome of chocolate and ginger mousse with a chewy caramel heart. This one hadn't caught my attention initially, but it came recommended by the salesgirl when I asked her advice about signature items. This was the most Pierre Hermé-y of the selection (well-balanced and complex, but childishly lip-smacking at the same time) and my favorite, too. But then again when you put chocolate ginger hazelnut and caramel all together in one confection, what can you expect?
Sadaharu Aoki
35 rue de Vaugirard, Paris 6è
56 bd du Port-Royal, Paris 5è
Also @ Lafayette Gourmet.