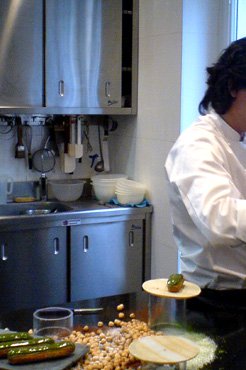 Let me tell you this: girls aren't what they used to be. Present them with a spiffy British actor who knows how to bake an apple crumble, and they will smile, shake the actor's hand (twice), and walk away with a good story, yes, but their heart unstirred.
Allow them to spend half a day with a famous pastry chef, however, and you will get a rather eloquent embodiment of glee.
This opportunity was brought to me on a dessert plate by my friend Louisa: she was in Paris with a television crew to film an episode for the upcoming season of Diary of a Foodie, and she asked if I'd be willing to appear in the segment on Sadaharu Aoki.
At this point, I feel compelled to state that I am vehemently opposed to the use of the term foodie, a word that makes me cringe so deeply my fingers refuse to type this combination of letters and I have to copy-paste it. But I love Louisa, I had met part of the crew last summer, and hanging out with them in Aoki's lab while he showed us stuff sounded like a fine use of my time, so I said yes.
And indeed, a terrific afternoon it was: my role was simply to be curious, ask the chef about his work, his pastries, and his creative process, and translate our exchanges from French to English for the camera.
We began with a tour of the downstairs lab, where I ate raw matcha* cookie dough and watched cream puffs bloom through the oven door, as we discussed ingredients and techniques.
We then headed upstairs for a baking demonstration in the test kitchen, where Aoki normally works to develop his recipes. There, we made — or rather, I watched him make — green tea éclairs** and yuzu*** macarons, some of which I sandwiched together myself, yes sir, I did.
Sadaharu Aoki turned out to be a remarkably friendly person, generous with his time and his knowledge, and he made the exercise fun and easy. Any job that involves gobbling up macaron shells is fine by me, but the real treat was to stand by his side as he worked, observing the supernatural precision of his gestures and hoping it might rub off on me: I have tried my hand at éclairs in the past, and I can tell you my blobs would have felt horribly self-conscious in the company of his slender confections.
The Paris episode will be broadcast in the US in early spring so don't hold your breath — no, really — but I will post the air date when it gets closer. In the meantime, you can sample Aoki's pastries in one of his boutiques in Paris, Tokyo, and perhaps, sometime soon, in New York, as he is itching to open one there.
Sadaharu Aoki / map it!
56 bd de Port-Royal, 75005 Paris
01 45 35 36 80
* Matcha: green tea powder.
** Éclair: an oblong shell of choux pastry filled with pastry cream and topped with a layer of fondant. Éclairs are classically flavored with chocolate (éclair au chocolat) or coffee (éclair au café).
*** Yuzu: a lime-sized citrus fruit from Asia that tastes like a cross between a mandarin orange and a grapefruit.