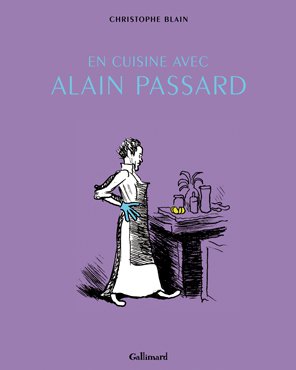 France has a vivid culture of comic books and graphic novels, which are grouped under the general term bande dessinée (literally, drawn strip), often shortened to BD and pronounced bédé. It is a remarkably rich and diverse genre, with titles to appeal to all ages and interests, from kids' comics to historical sagas, from humorous social commentary to science fiction.
My father has an extensive collection of them, one that filled an entire room in the apartment where I grew up: from floor to ceiling, shelves groaning with several thousand albums he had amassed since his teens, reflecting a passion he further fueled by weekly expeditions to the specialized bookstores of the Latin Quarter.
My sister and I were shaped by this. From the moment we could read we started reading bandes dessinées, and while other children watched television (we owned no tv set, our parents were not interested), we spent our childhood and teenage days ravenously working our way through these storytelling gems, constantly discovering new age-appropriate (and sometimes age-inappropriate, but no less educational) series to delve into.
It was still a time when most people viewed the genre in a mildly disparaging way, believing it boiled down to silly little drawings to keep the kids entertained, but we knew better.
Some series I read and re-read dozens of times, and for a very long time, they were the primary window through which I saw the world, the stories they told and the characters that inhabited them leaving a deeper imprint on me than any book I ever read or movie I ever watched.
And then I grew up, I moved out, and because I didn't have the means, the stamina, or the space to start a collection of my own, I essentially stopped reading newly released bandes dessinées some ten years ago. (Incidentally, this was around the time the genre took a new turn, becoming even more profuse and getting more attention from the general media.)
All this to explain why I was so drawn to Christophe Blain's En Cuisine avec Alain Passard, published last spring.
Christophe Blain is a French writer and illustrator of bandes dessinées who had the opportunity to spend time in the kitchen with Alain Passard, chef and owner of the three-star restaurant L'Arpège in Paris, and the book is the illustrated tale of his experience.
I was prepared to enjoy it a lot, as the rare conjunction of two of my passions. I was not prepared to be quite so smitten with it as I was.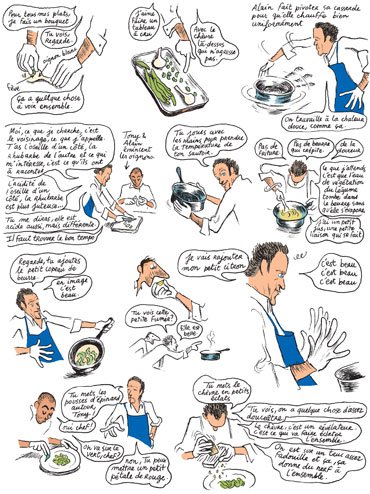 Reproduced with permission. Click to enlarge.
With his minimalistic and dynamic drawing style, Blain is incredibly successful in conveying the energy and emotion of each passage, as he watches Passard cook, chats with members of his crew, or visits the chef's famous vegetable gardens (one of which I got to visit).
There are many kitchen scenes in which Passard is preparing dishes and discussing his creative process (see image above), and these dialogues and gestures feel so spontaneous and alive, capturing moments so fleeting and so true, that one would not dream of trading these pages for a filmed segment.
If you read a little French, I encourage you to seek this one out. It can be ordered internationally through the French Amazon site, or if you know someone who's traveling to France soon, perhaps you can persuade them to bring you back a copy.
And to everyone else, do you know other illustrated books and graphic novels that deal with food and cooking? How do you feel about the particular way they portray their subject matter?