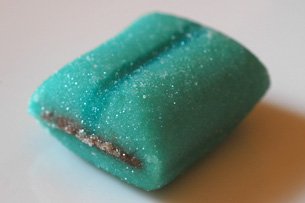 [Chocolate Pillow from Lyon]
Like many French kids, I practically learned how to read with bande dessinées, the Belgian/French take on comic books, and a large chunk of my general culture comes directly from them. Although I had too many favorites to name just one, the classic Astérix was certainly among them. It is one of those incredibly multi-layered bande dessinées that you can read at any age, filled as they are with puns, references and witty anachronisms. Some of them may escape you as a child, but they'll suddenly click when you're older and all of a sudden you understand why secret agent Acidechloridrix goes by the code name of HCl.
In a 1965 album called Le Tour de Gaule ("Asterix and the Banquet" in the English version), Astérix and Obélix take a trip around Gaul to show Julius Caesar that they are quite free to go as they please despite the palisade that the Romans have just built around their village. And to prove how far they've managed to travel, they bring back a food specialty from each of the cities they visit, and share the bounty with the Romans at the end of the story, adding their own local treat: the chestnut — châtaigne is also French slang for a punch in the face.
This was one of my favorite Astérix adventures, and I am determined to retrace his steps one day — tour operators of the world, there's an idea for you. But once in Lugdunum (i.e. the city of Lyon) I wouldn't stop at just sausages and quenelles like he did: I would also purchase a sizeable amount of Coussins Lyonnais, as pictured above.
Invented in 1960 and solely produced by the chocolate maker Voisin, this sweet confection is shaped like a plump little pillow, in reference to the historical silk manufactures of Lyon. When you bite into it your teeth first meet the slight resistance of a crusty marzipan casing, twinkling with tiny grains of candi sugar (sugar that's been melted into a syrup then slowly crystallized), before they delve into a tender heart of moussy chocolate ganache, subtly flavored with curaçao. I am normally adamantly opposed to liquor in my chocolate, but this one is not at all boozy, and the faint hint of alcohol brings aromatic depth to the overall sweetness.
My own little bag was a thoughtful gift from Maxence's cousin, who lives in Lyon. But the reputation of the coussin has now travelled beyond the city limits, and they are sold in many confiseries all over the country. In Paris for instance, you will find them at La Mère de Famille, at the rue Legendre location. But I should warn you that Denise Acabo decided to discontinue them years ago: she thinks they should only be bought directly from Voisin in Lyon, otherwise they just sit around and by the time they reach your mouth they're not so fresh. And if there's one thing that can be said about Ms. Acabo, it's that the girl knows her chocolate.
Voisin
24 avenue Joannes Masset
69009 Lyon
04 78 64 02 02