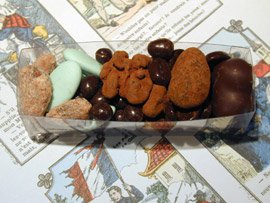 L'Etoile d'Or is a little candy store in the rue Fontaine, sprung right out of a fairy tale.
It is but a ten-minute walk from where I live, so I find it charmingly ironic that I owe its discovery to my Bay Area blog-friend, Derrick, who mentioned it to me in a recent email : he and his wife Melissa have taken several trips to Paris, and food lovers that they are, they have excellent finds to share.
And so it is that just a few days ago, following Derrick's advice, I set off towards the Moulin Rouge to hunt for this little boutique, in the maze of narrow streets lined with cabarets and bars which have seen better days – days when they were all risqué and glamorous and shady, days come and gone, leaving them touchingly derelict. The very picture of a woman, way past her prime, with a tight leather top and too much makeup.
But I find L'Etoile d'Or easily in the midst of this, surrounded as it seems to be by a golden glow, showering down on me beneath the awning. The pleasant impression is confirmed when I push the door open to the ring of a bell, and step inside the store, all glass cases and mirrors and golden shelves and candy, candy everywhere, as far as the eye can see. I find myself alone inside, a little intimidated, a little Goldilocks.
But then I hear the deep voice of the owner, and I turn to discover, coming out from behind the counter, a fifty year-old schoolgirl. Complete with the long pleated kilt skirt, the v-neck sweater, the white shirt with a round collar and a little tie, and two long, blonde braids.
And the schoolgirl tells me kindly that I should take as much time as I wish to look around, that I should absolutely not feel pressured to buy anything, and that if I have any question at all she is right there, ready to help. And then she proceeds to count the bars of different varieties of chocolate lined neatly on a table, taking more out of a cabinet, evening out the piles, and talking animatedly to herself all the while.
Blinking with disbelief, I slowly walk around, taking it all in. The chocolate bars and bites, the calissons, the bonbons, the almonds, the pralines, the nougatine, specialties from all around the Great Kingdom of France, the jams, the tea, the biscuits, and the Hall of Fame, with news articles from around the world, all featuring the schoolgirl, at various ages, forever standing at her counter with a smile of pride.
And then I talk to her and she says "tu" immediately and starts telling me, in a random order, about her Japanese customers ; about Sharffen-Berger himself who came and informed her she was a San Francisco celebrity ; about how she's the only one in France to sell Bernachon chocolate apart from Bernachon himself ; how she has dressed the exact same way forever and doesn't see a reason to change ; how she can make me an assortment of the tiniest chocolate bites so I have more to taste for the same weight ; how funny it is that an American has told me about her ; how I can come back whenever I want ; and how the pistachio and the caramel chocolates are her favorite because they are "très veloutés", with the accompanying gesture.
Wanting to buy the whole store, but refraining from doing so to leave some for next time, I settle for a small box of the various nut confections that she sells : pralines and dragées and chocolate-covered coffee beans and walnuts and almonds and hazelnuts.
"C'est pour toi?", she asks, and it is indeed for myself, but she says she will gift-wrap it for me anyhow, because she uses the original papier d'Epinal, on which old-fashioned jokes and puzzles are printed. But then she says she will just give me the sheet of paper because she doesn't want to cut and fold it, it's so beautiful.
As I get ready to leave, she explains that I'm more than welcome, some other time, to buy just one small caramel : she will weigh it carefully for me, and I will get the same warm smile. Every time.
I thank her, tell her that this is a precious thing, and leave the fairy tale, with a smile on my face and a whistle on my lips.
L'Etoile d'Or
Denise Acabo
30 rue Fontaine
75009 Paris
01 48 74 59 55
M° Pigalle or Blanche