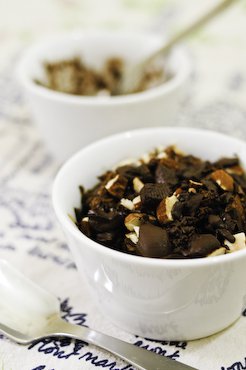 If you've ever bought or baked fresh brioche, surely you've noted the subtle shift, occurring sometime during day two or three, when said brioche turns from something you can't keep your hands off of, to something you feel you should be eating because it's there.
When that initial magic is gone, the toaster can help revive it to a certain extent, especially if you top it with thin slivers of salted butter and generous amounts of grated chocolate straight out of the toaster. But my favorite thing to do is to give an entirely new life to the brioche, either by cooking a simple pain perdu ("lost bread," the actual French toast) in the skillet, or by baking it into a bettelman.
Bettelman is the Alsatian word for bread pudding: it means "beggar" in the Alsatian dialect, and I like the reminder that it is, at heart, a thrifty dish, meant to use up scraps of bread. I first learned about it from Christophe Vasseur, who runs the now deliriously popular Parisian bakery Du Pain et des Idées and bakes a wonderful apple bettelman drawn from his childhood memories, for which he kindly shared the recipe for my book Clotilde's Edible Adventures in Paris.
The bettelman I'm presenting here is a different — and slightly more indulgent — version with chocolate and almonds, and it is an equally easy and enthusing way to upcycle your brioche: cubed and soaked in an egg and milk batter made chocolate-y by the addition of cocoa powder, it is then layered with chocolate chunks and chopped almonds, and baked until custardy in the middle and crusty-crisp at the top.
If it's not brioche you have on hand, but challah or croissants or any other kind of bread enriched with milk and/or eggs, feel free to substitute that. The recipe can also be made with stale bread of any kind, though the texture will be less pillowy then. And if you have less than 200 grams or 7 ounces of brioche leftover, feel free to cube it and keep it in the freezer until you have enough to make the recipe.
Chocolate Almond Bettelman
– 200 grams (7 ounces) stale brioche (or challah, or croissants)
– 30 grams (1 ounce, 2 tablespoons) unrefined blond cane sugar
– 2 teaspoons unsweetened cocoa powder
– 1 large organic egg
– 1 teaspoon natural vanilla extract (possibly homemade)
– a good pinch of sea salt
– 180 ml (3/4 cup) milk (dairy or non-dairy)
– 70 grams (2.5 ounces) good-quality bittersweet chocolate, roughly chopped
– 50 grams (1.7 ounces) whole almonds, roughly chopped
– A pat of butter or a touch of oil to grease the ramekins
Serves 4
Cut the brioche into cubes. In a medium mixing bowl, whisk together the sugar, cocoa, egg, vanilla, and salt. Pour in the milk and whisk again. Add the brioche and stir well to coat. Cover and let rest for at least 1 hour or overnight in the fridge, stirring from time to time. If the brioche is very dry and it looks like there isn't enough liquid to soak it thoroughly, add a little more milk.
Preheat the oven to 180°C (360°F) and grease 4 ramekins. Fill them by half with the brioche mixture. Top with half of the chocolate and half of the almonds. Add the rest of the brioche, and then the rest of the chocolate and almonds.
Place the ramekins in a baking dish large enough to accommodate them comfortably, and pour very hot water at the bottom, up to about half the height of the ramekins. Bake for 20 to 25 minutes, just until set (avoid overbaking). Serve slightly warm, with an optional spoonful of crème fraîche on top.
Cooking/baking time: 20 min