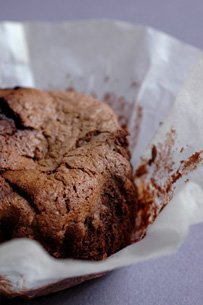 [Coconut Chocolate Cake]
I have known Marie-Laure for nineteen years. This represents more than two thirds of our lives, and our friendship has accompanied us through primary school, junior high, high school, university, a year in Brazil for her, two years in California for me, and a variety of jobs, relationships, and haircuts, without us ever growing apart.
She lived a few doors down from me (or perhaps I lived a few doors down from her, the question is up for debate) for more than a decade, before we flew out of our respective nests. And now, after a few years of living in different countries and then all the way across town from one another, Marie-Laure and I are finally reunited: she has just moved into an apartment a short walk up and down the Montmartre hill from mine, and this makes us very happy.
She threw a housewarming party last Saturday — a pendaison de crémaillère as we say in French, see here for an explanation — and I offered to bring a chocolate cake, which I'm sure you'll agree is the most efficient way to warm up a house. I decided to build upon Christophe Felder's Gâteau Belle-Vue, a butterless (though by no means fat-free) chocolate cake recipe that can be found in one
of the pastry chef's many books and on countless French food blogs — I myself first saw it on Sylvie's.
For some reason I wanted to make a coconut version of this cake and while I was at it, I made several other adjustments: I upped the amount of chocolate (I have a reputation to maintain), omitted the almond powder and replaced it with a higher amount of grated coconut, omitted the flour (which makes the cake gluten-free if you make sure your chocolate is, too), used light whipping cream only instead of cream and milk, and added a bit of salt because salt makes everything taste better, especially baked goods.
I loved this cake and, judging by its disappearance ratio (number of slices eaten divided by number of minutes on the buffet table), I wasn't the only one. The top develops a thin crust while the middle remains lusciously moist (but not so dense that it sticks to your front teeth and creates embarrassing situations), and red Bounty bar fans don't need me to sing the glories of the bittersweet chocolate and toasted coconut combo. Although no one got a chance to verify it this time, I believe the cake would taste even better the next day: what you would lose in fresh-from-the-oven top crust effect would be regained by the overnight deepening of flavors.
Fondant Chocolat Noix de Coco
150 grams (2 cup) unsweetened dried grated coconut
170 grams (6 ounces) bittersweet chocolate (the best quality you can afford), chopped
125 milliliters (1/2 cup) light whipping cream (crème fleurette légère)
4 eggs
1/4 teaspoon salt
125 grams (1/2 cup plus 2 tablespoons) sugar
Serves 8 to 10.
Preheat the oven to 180°C (350°F). Line a 24-centimeter (9-inch) round cake pan with parchment paper or use a springform or silicon pan. (Alternatively, you can bake the cake in a loaf pan, in muffin tins, or in ramekins.)
Spread the coconut on a rimmed baking sheet and toast in the oven for 7 minutes, stirring halfway through, until golden and fragrant. Remove from the oven (leave the heat on) and let cool.
Heat the chocolate and cream in a small saucepan over low heat, stirring from time to time, until melted and smooth. Transfer to a large mixing-bowl and let cool for three minutes.
Crack the eggs one by one, separating the egg whites from the yolks: set the egg whites aside in a medium mixing-bowl or in the bowl of a food processor with a whisk attachment, and add the yolks to the chocolate mixture, stirring well with a wooden spoon after each addition. (Tip: crack each egg over a small bowl before adding the egg white to the medium mixing-bowl. That way, if the egg is bad or if you accidently rupture the yolk and a bit of yolk goes into the white — thus making it impossible for the egg whites to rise properly — you can toss this one egg instead of having to start over with all new eggs.) Add the coconut to the chocolate mixture, and stir to combine. The batter will be thick.
Using a handheld electric whisk, a manual whisk and strong forearms, or the whisk attachment of your trusty food processor, start beating the egg whites with the salt — slowly at first, then at medium speed. When the egg whites get frothy, up the speed, add the sugar little by little, and keep whisking until the mixture is shiny and smooth. Lift the whisk from the bowl: if the eggs form an elegant swan-neck shape that doesn't collapse, you're all done.
Fold the egg whites into the chocolate mixture in three additions, working gently with a soft spatula to lift the chocolate mixture up and over the egg whites in a circular motion. (Tip: when working with any mixture that includes beaten egg whites, you should never ever tap the side of the bowl or the pan with the tool you're using — wooden spoon, spatula, whisk, etc. –, as this would cause the egg whites to deflate a little every time.)
Pour the batter into the prepared pan and bake for 35 minutes, until the top is dry and the blade of a knife inserted in the center comes out clean. (Bake for 5 to 10 more minutes if you're using a loaf pan, and for 10 to 15 minutes less if you're using muffin tins or ramekins. Either way, keep a close eye on the baking and use the blade test to be sure.) Transfer to a rack to cool completely and unmold carefully — the cake will be quite fragile.