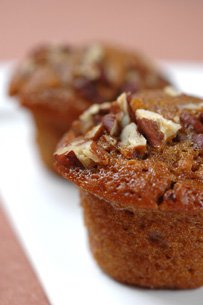 Amongst all the towns Maxence and I cruised through on our roadtrip across the US, Breaux Bridge, Louisiana is the one that stands out the most in my memory (and no, I don't receive any money from the mayor's office). We stayed there a bit longer than originally planned — car troubles will do that to you, have you seen U Turn? — but unlike Sean Penn in Superior, Arizona, we loved every minute of it.
A few of my favorite minutes in Breaux Bridge were spent eating a hefty serving of gâteau sirop at local gastronomic institution Café des Amis. Gâteau sirop, or syrup cake, is a typically Acadian confection sweetened with cane syrup — sugar cane juice that's been boiled down to a thick syrup — and optionally topped with pecans. Spice-rich, dark-flavored, and spongy moist, it is a cake after my own heart: I ate it down to the last pecan and swiftly added the mention "Pure cane syrup, one (1) bottle" to my Cajun shopping list.
I finally got around to opening said bottle last Sunday — I, too, wage a constant battle in the too good to use arena — to try and recreate gâteau sirop in my own kitchen. I searched the web for recipes, found a few that looked promising, drew up a comparison chart (welcome to the world of geeky bakers), and merged them into a recipe that I hoped would approximate my benchmark experience. (I did stumble upon a recipe that was supposedly shared by Café des Amis owner Cynthia Breaux, and while I enjoyed the piece that introduced it, I had strong reservations about the recipe itself: it called for no cane syrup — huh? — and an alarming amount of sugar.)
The batter was very quick to assemble, it is one of those wonderful one-bowl recipes, and the only pause in the process was the tasting of the cane syrup, for the sake of my palate's education. My conclusions: pure cane syrup, when tasted on the tip of a spoon, can be described as a cross between molasses, for its powerful, almost petroleum-like smell, and Golden Syrup (which is a cane syrup, too), for its complex sweetness and lack of bitterness.
I had decided to bake a small batch of muffins instead of a regular cake: if the recipe was a disappointment, there wouldn't be too much spilled cane syrup to cry over. As it turns out, such prudence was unnecessary — the resulting mini-cakes were just as moist and intensely flavored as I'd hoped — but no matter: it just gives me a fine excuse to bake a fresh batch sometime soon.
Gâteau Sirop Muffins
– 125 mL (1/2 cup) cane syrup (for possible substitutions, see here)
– 85 grams (1/2 cup, packed) unrefined cane sugar
– 125 mL (1/2 cup) vegetable oil
– 1 teaspoon baking soda
– 1 egg, lightly beaten
– 1 teaspoon French four-spice mix (or a mix of ground cinnamon, cloves, nutmeg, and ginger)
– 120 grams (1 cup) all-purpose flour, sifted
– A fat pinch of fine sea salt
– 75 grams (1/2 cup) raw pecan halves, roughly chopped
Makes 12 small muffins.
(Note: To make a 24-cm / 9-inch round cake, double the recipe and bake for 40 to 45 minutes.)
Preheat the oven to 180°C (350°F) and grease a tray of medium muffin molds (don't bother if they're silicon).
In a large mixing-bowl, whisk together the cane syrup, sugar, and oil. In a small bowl, combine the baking soda and 125 mL (1/2 cup) water and stir to dissolve. Add to the cane syrup mixture and whisk until combined. Add the egg and whisk until well combined. Add the spices, flour, and salt, and whisk until just combined. Don't overmix — it's ok if a few lumps remain.
Using an ice cream scoop for neater results, transfer the batter into the muffin molds, filling them almost to the top, and sprinkle with chopped pecans. Bake for 15 minutes, or until the tops spring back to the touch. Transfer to a rack to cool for 10 minutes, unmold, and serve warm or at room temperature.