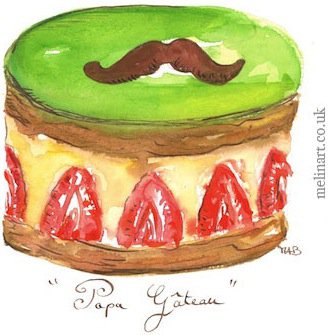 Illustration by MelinArt.
This is part of a series on French idiomatic expressions that relate to food. Browse the list of idioms featured so far.
This week's expression is, "Papa gâteau."
Literally translated as, "cake daddy," it is used to qualify a doting father, one who's affectionate and good-natured, and possibly one who allows his children to wrap him around their little finger every once in a while.
Example: "Il n'a jamais été très branché bébés, mais depuis qu'il en a un, c'est un vrai papa gâteau." "He's never been big on babies, but now that he has one, he's a real cake daddy."
Listen to the idiom and example read aloud:

(If no player appears, here's a link to the audio file.)
This idiom, which appeared around the middle of the nineteenth century, was built as a derivation from the verb gâter, which means "to spoil", both literally and figuratively. I will note that while spoiling a child has clear negative connotations in English, the French verb "gâter" depends on the context, and can mean either spoiling to excess, or pampering a child, but within reason.
I am fond of this expression because my own father was clearly the papa gâteau kind when my sister and I were growing up, and he also has a soft spot for cakes and sweet things, so it always seemed made for him.
The idiom can also be adapted to other members of a family — une maman gâteau (mommy), une tata gâteau (auntie), une grand-mère gâteau (grandmother), un oncle gâteau (uncle) — but it's the father version that's most often used.