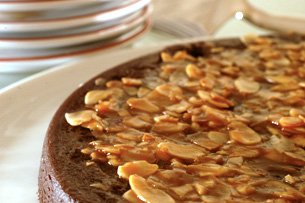 [Aunt Amélie's Smooth Chocolate Cake]
None of my aunts are named Amélie, I thought I should make that clear from the start. And if I am to explain the origin of this recipe, I will need to rewind the tape back to early January, when French food writer Thierry Roussillon asked if I would answer a few questions for one of the interviews gourmandes he publishes on his blog.
A few days after I did, a severe bout of procrastination found me browsing through other people's interviews. I happened upon that of Augustin, of Michel et Augustin fame, who made a passing mention of "le fondant de Tante Amélie, un gâteau au chocolat épatant cuit au bain-marie" — "Aunt Amélie's smooth cake, a stupendous chocolate cake cooked in a water bath."
Stupendous? Smooth? Chocolate? And a novel technique? My curiosity itched so badly it had to be soothed with tiger balm. I called Augustin and asked in my sweetest voice if he was willing to share the recipe — provided it didn't break any sort of culinary omertà of course. He was, it didn't (Amélie is in fact the aunt of Augustin's wife, Victoire, which leaves us with a pretty daisy chain of French names), and I gave the recipe a whirl at the first opportunity.
It is indeed an unusual, and very easy recipe that begins with a sirop de sucre (a syrup of equal parts water and sugar) in which you melt the chocolate and butter. As for the hot water bath, its role is to conduct the heat gently around the pan, resulting in a smooth crustless texture that swathes your tongue.
And so I had made the cake and set it to cool, the kitchen counter had been cleared and I was taking a minute to admire the finished product, my head slightly tilted to the right, when it occured to me that something was missing. My cake looked naked.
Now, as regular readers may have noted, I rarely submit my cakes to the suffocating torments of frostings, icings, or glazes: I prefer the looks of a simple cake, and I don't enjoy the mouthfeel (nor the extra work) of most frostings. But if I was going to serve this one to company — and company was expected any minute — it really needed some sort of headdress.
This is when I remembered that Les Petits Mitrons — a pastry shop on rue Lepic that specializes in beautifully old-fashioned but excessively caramelized fruit tarts — sells a similar chocolate cake that is decorated with a shiny topping of sliced almonds.
I wasn't certain how they achieved that finish, but I opted for an abricotage, the trick that makes classic French fruit tarts so glossy: you combine two parts apricot jam with one part water, heat gently until thin, fish out any bit of apricot skin, and brush lightly over your tart or cake or body.
I didn't have apricot jam on hand, but I did have a half-eaten (no: half-full) jar of Christine Ferber's strawberry and mango jam, and that worked splendidly. I toasted a handful of sliced almonds, stirred them into the mangofraisage, and spooned that atop the cake, which I served with mango sorbet, to soft moans of approval from my dinner companions.
Le Fondant au Chocolat de Tante Amélie
165 grams (3/4 cup plus 1 tablespoon) sugar
165 grams (5 3/4 ounces) dark chocolate, roughly chopped
165 grams (3/4 cup) butter, diced
2 eggs, lightly beaten
60 grams (1/2 cup) flour, sifted
For the topping
2 heaping tablespoons apricot jam
30 grams (1/3 cup) sliced almonds, toasted
Grease the sides of a 22- or 25-cm (9- or 10-inch) round cake pan with a pat of the butter and line the bottom with a circle of parchment paper. Set a rimmed baking sheet (lèche-frite in French) in the middle of the oven, or a roasting pan large enough to accommodate the cake pan. Preheat the oven to 180°C (350°F).
Combine the sugar with 165 mL (2/3 cup) fresh water in a medium saucepan and bring to a simmer over medium heat, stirring to dissolve the sugar. Add the chocolate and stir until melted. Add the butter, and keep stirring until that's melted too. Remove from heat and let cool for five minutes. In the meantime, bring water to a boil in the kettle.
Add the eggs into the chocolate mixture and whisk until incorporated. Add the flour and whisk it in. Pour the batter into the greased cake pan, set the pan on the rimmed baking sheet in the oven, and pour hot water into the rimmed baking sheet until it reaches a depth of about 1 cm or 1/3 inch.
Bake for 30 to 35 minutes, until the top is set at the center. Transfer to a rack for a few minutes, turn out onto a serving plate, and let cool completely.
Combine the jam and a tablespoon water in a small saucepan and set over gentle heat, stirring with a spoon until melted. Add the toasted almonds, stir gently to combine, and spread with a spoon over the top of the cake. Let set in a cool spot for an hour.