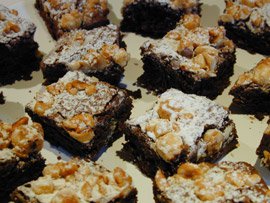 [Chocolate Cake with Caramelized Hazelnuts]
Last Sunday afternoon, my sister Céline and I organized a "Goûter de Cousins" at my place. We invited those of our cousins who live in Paris, which amounts to about a dozen. Most of them we only see once a year at family holiday parties – some a little more, some way less – and we thought it would be nice to start a little tradition of same-generation gathering.
The added bonus of this very friendly goûter party was, of course, that I had the perfect excuse for some serious baking : you have to feed all those guys, right?
One of the things I made was this luscious chocolate cake. I was trying to reproduce the Petit Gâteau Chocolat Noisette I had tasted and enjoyed so much back in December. Derrick had made his own attempt, had emailed me about it, and we had discussed what the best approach was.
I followed his advice and used his favorite brownie recipe from Cook's Illustrated (if there's one guy out there who knows what he's talking about, it's definitely Derrick, so I felt pretty confident about it). The only modifications I made were to use just one kind of chocolate instead of two, and to add a little amount of ground hazelnuts to the batter. Then I toasted and caramelized some hazelnuts, sprinkled them on top of the brownie before baking, and added some confectioner's sugar after the cake had baked and cooled.
The result is very close to what I was looking for, and absolutely delicious. The cake has a rich chocolate taste with an excellent texture, dense and chewey – but not excessively so, and the topping of caramelized hazelnuts is perfect.
I think the main difference was that the Petit Gâteau, being Petit and individual, included slightly more cakey edges : mine was a big cake cut into squares, which necessarily changes the texture somewhat.
I'll also have to remember that making caramelized hazelnuts is extremely easy, and they would make for a great food gift, golden and crunchy and tasty and sweet, packaged up in a pretty crystal bag.
Gâteau Fondant au Chocolat et Noisettes Caramélisées
– 200 g (7 oz) semisweet or bittersweet chocolate
– 115 g (1 stick) unsalted butter
– 3 Tbsp cocoa powder
– 3 large eggs
– 275 g (1 1/4 cups) sugar
– 2 teaspoons vanilla extract
– 1/2 teaspoon salt
– 140 g (1 cup) all-purpose flour
– 2 Tbsp confectioner's sugar
For the topping :
– 1 C whole hazelnuts
– 70 g (1/3 C) sugar
Put the hazelnuts in the bowl of the food processor, and pulse just a couple of times to chop them roughly. Separate the chunks of hazelnuts from the hazelnut powder this has also created, and reserve the hazelnut powder in a small bowl. Toast the hazelnut chunks in a small dry skillet over high heat, set aside.
In the same small preferably non-stick skillet, pour the amount of sugar indicated for the topping and just a little splash of water. Let this melt over medium-high heat until you get a lightly golden syrup. Add the toasted hazelnut chunks and toss to coat. Pour the caramelized hazelnuts to cool in a single layer on a sheet of parchment paper or a silicon baking mat. Once cooled, separate the hazelnuts that may have stuck together.
Preheat the oven to 180°C (360°F). Line the inside of a 24 cm (8-inch) square baking pan with two long pieces of foil crosswise. Spray the foil with nonstick cooking spray, or lightly brush with oil.
Break the chocolate and dice the butter in a medium heatproof bowl. Put the bowl over a saucepan of almost-simmering water, stirring from time to time, until the chocolate and butter are thoroughly melted. Whisk in the cocoa powder until smooth. Set aside to cool slightly.
In the bowl of a food processor, mix the eggs, the sugar, the vanilla, and the salt in a few short pulses. Add in the chocolate mixture, pulse a couple more times. Add in the flour, the hazelnut powder you previously set aside, and mix until just combined.
Pour the batter into the pan and smooth it out with a spatula. Sprinkle the caramelized hazelnuts evenly over the surface. Put into the oven to bake for 35 to 40 minutes, until slightly puffed and a toothpick inserted in center comes out with a small amount of sticky crumbs clinging to it.
Transfer to a rack to cool for about 2 hours, before removing the cake from the pan. Sieve confectioner's sugar all over the surface. Cut into 1-inch squares and serve.
As with all dark chocolate cakes, it tastes better the next day. And if you're not eating the cake immediately, don't cut it : wrap in plastic or foil and refrigerate up to 5 days.