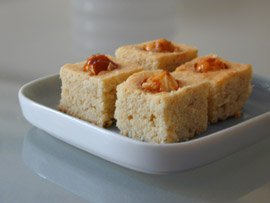 [Hazelnut Cubes]
Very rarely do I repeat a recipe. This stems from the fact that I am forever, and in all areas of life, much more interested in the new and the unusual, than in the same-old, however easy. But this NRFBS (Non-Repeating Food Blogger Syndrome) is also brought on by this very blog you hold in your hands, so to speak : if I am going to bake/cook/make something, I figure I might as well bake/cook/make something new that will — I hope — tickle your attention and spark your interest, dear reader. Not that you should feel guilty or anything.
Sometimes I think about it and I sort of miss the idea and the comfort of a repertoire. But see, there's simply not enough time (or meals) to invent new things and repeat old ones! However, what I have recently noticed is that although I don't make exact repeats, I do tend to build on past successes, using tried-and-true recipes as stepping stones for new attempts.
And this is exactly what happened with today's Hazelnut Cubes. This past Sunday I was invited to a little afternoon reception (a goûter), to which one could bring an edible contribution if one wished (and I did). The only thing the host had asked was that it be something that could be eaten without plates or cutlery — a smart strategy devised to limit the amount of washing up after the party.
My thoughts instantly turned to the Carrés de Noix de Pécan à la Vanille I had baked a few months ago. But it just wouldn't be any fun to make the exact same recipe, would it, so I started thinking of possible variations. I thought of the caramelized hazelnuts I had made for the Gâteau au Chocolat Fondant et Noisettes Caramélisées, and decided to top each bite with one such hazelnut. I lowered the sugar content in the batter to compensate for the caramel on the hazelnuts, and substituted a little whole-wheat flour for some of the all-purpose flour (for good luck).
This worked out very well, each cute mini-cube having the same scrumptious taste (vanilla-y and subtly sweet) and texture (cakey and tender) as I remembered. The caramelized hazelnuts added a delicious crunch, and were a nice variation from the original pecans. Next time (who knows if and when that will be), I may accentuate the hazelnut flavor by replacing some of the flour (maybe 40 g) by the same amount of ground hazelnuts.
Cubes à la Noisette
– 150 g sugar
– 2 eggs
– 2 tsp vanilla extract
– 1 Tbsp rum
– 6 Tbsp vegetable oil
– a pinch of salt
– 130 g all-purpose flour
– 70 g whole-wheat flour
Caramelized hazelnuts :
– 120 g whole hazelnuts
– 60 g sugar
(Makes about 100 pieces.)
Preheat the oven to 180°C (360°F).
Start by the caramelized hazelnuts. Heat up the 60 g of sugar in a small non-stick saucepan over medium heat. When it is completely dissolved into caramel, dump in the hazelnuts and stir quickly with a wooden spoon to coat. Transfer the hazelnuts onto a silicon baking mat or a sheet of parchment paper, spreading them with the spoon to get them in just one layer.
In a food processor, mix the eggs and the sugar until fluffy. Add in the oil, the vanilla and the rum, mix again. Add in the flours and salt, mix again. The dough should resemble cake batter : liquid but thick. Pour this into a baking dish (33 x 20 cm or 13" x 9"), ideally nonstick, greased otherwise. Even out the surface with a spatula.
When the hazelnuts have completely cooled, break each hazelnut apart, making sure you keep them nicely in one piece. Place the caramelized hazelnuts in even rows across the surface of the batter (the more regular, the easier it will be to cut out the cubes).
Bake for 15 to 20 minutes, until the top is lightly golden. Let cool for 5 minutes, and cut into small cubes, each one topped with one hazelnut. Lift out the cubes carefully, arrange them on a cookie sheet and leave inside the turned off oven for 30 minutes, to dry the edges out a bit. Cool down completely before serving, and store leftovers in a metal box at room temperature.