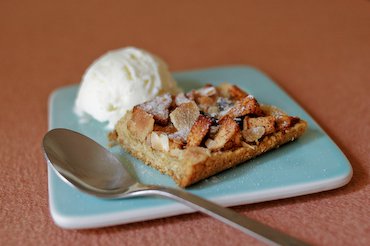 Maxence and I like to spend a weekend in Amsterdam every once in a while: we love the atmosphere of the city in any season, and we usually stay in a neighborhood called Nieuwmarkt that is both lively (plenty of shops and restaurants) and residential (real people live there), the ideal mix if you want to pretend you're an Amsterdammer (only with terrible language skills) for a few days.
It doesn't hurt that it is also the neighborhood where Pâtisserie Kuyt is located. This award-winning pastry shop and tea room is home to an irresistible apple confection called appelschnitte: sold in rectangular servings, this "apple slice" starts with a layer of dough that is halfway between a cake, moist and tender, and a cookie crust, sturdy enough to be handheld. Gently spiced chunks of apple sit atop that crust, with raisins and sliced almonds in their lap, and the whole thing is dusted — or rather, sandstormed — with confectioner's sugar.
I've never had anything quite like it, and if you visit Amsterdam you should absolutely have a taste and send me a piece as my commission. Until then, here is my humble attempt to recreate it, on a slightly leavened pâte sablée made with ground almonds, and using cooking apples that soften when baked, for a tender mouth feel. It is very easy to make and the result is close enough, to my recollection at least, though I suspect the original involves a more substantial amount of butter and, without a doubt, a lot more icing sugar.
I served this autumnal dessert with a scoop of the easiest ice cream you can possibly make: it is simply sweetened sheep's milk yogurt, to which I've added the egg white and liquor leftover from the apple slices, because it seemed like a clever thing to do. Chill, churn, and there you have it: a whiter than white, subtly tangy frozen yogurt to accessorize the still warm, apple-topped squares.
[sc:cinnamon_note]
Apple Slices
The recipe for the frozen sheep's milk yogurt is below.
For the crust:
– 150 grams (1 1/4 cups) flour
– 35 grams (1/3 cup) ground almonds (a.k.a. almond meal or powdered almonds)
– 1/4 teaspoon baking soda
– a good pinch of salt (I use semi-salted butter so I skip that)
– 80 grams (6 tablespoons) unrefined cane sugar
– 80 grams (6 tablespoons) butter, softened, plus a pat for the pan
– one egg yolk (use the eggwhite in the frozen yogurt recipe below)
For the raisins:
– 35 grams (1/4 cup) raisins
– 3 tablespoons vanilla liqueur (I used Navan, which is like Grand Marnier but flavored with vanilla instead of orange; substitute dark rum if unavailable)
For the apples:
– 600 grams (1 1/3 pounds) cooking apples, preferably of two different varieties for more complexity; I like to use boskoop and/or reinettes and/or canada apples
– 1/2 teaspoon ground cinnamon [sc:cinnamon_link]
– a touch of freshly ground nutmeg
– a touch of freshly ground black pepper
For the topping:
– 4 tablespoons sliced almonds
– confectioner's sugar
Makes 10-12 servings.
Combine the raisins and liqueur in a small bowl and set aside to plump up. (Leave them in overnight if you can.)
Preheat the oven to 160° C (320° F) and butter a rectangular baking pan (about 20 x 30 cm or 9 by 13 inches; I used my Baker's Edge pan).
Combine the flour, ground almonds, baking soda, and salt in a medium mixing bowl and set aside. In the bowl of a food processor, or by hand with a sturdy spatula, cream together the sugar, butter, and egg yolk. Add the dry ingredients and blend them in until you get a crumb-like consistency; don't overmix.
Pour into the prepared pan and use the back of a spoon to spread the crumbs into an even layer, but without packing it too hard, or it will be tough.
Peel and core the apples, and cut them into chunks. Put them in a medium bowl (such as the one you used for the dry ingredients above), with the cinnamon, nutmeg, and pepper, and toss to coat. Add the drained raisins (reserve the remaining liqueur for another use, see below) and mix again. Arrange this mixture evenly over the crust and sprinkle with the sliced almonds.
Cover loosely with foil and bake for 45 to 50 minutes, removing the foil for the last 10-15 minutes of baking, until the apples are cooked through and the almonds are toasted.
Dust with confectioner's sugar and serve, slightly warm or at room temperature.
– 500 grams (2 cups) plain sheep's milk yogurt (substitute goat's milk yogurt or Greek-style yogurt; adjust the name accordingly!)
– 1 tablespoon vanilla liqueur (I used the liqueur leftover from soaking the raisins; substitute dark rum or vanilla extract)
– 1 egg white, lightly beaten
– 80 grams (1/4 cup) agave syrup or honey or maple syrup
– a good pinch salt
Makes about 1/2 liter (1/2 quart).
Whisk all the ingredients together, chill for an hour, and churn in your ice cream maker.
[Don't have an ice cream maker? You can still make this recipe on a day when you're home most of the time. Prepare the mixture in early afternoon. Pour it into a freezer-safe container and place in the freezer. An hour later, remove the container from the freezer, draw the sides in with a fork (the ice cream will set from the sides in), stir vigorously, and return to the freezer. Repeat every hour. The ice cream will be ready by dinnertime.]
Cooking/baking time: 50 min