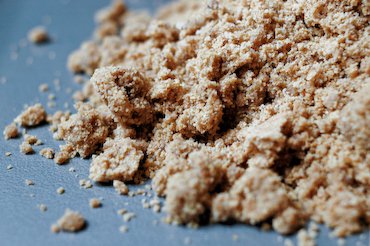 Planning the menu for a dinner party is all about being realistic, balancing the different dishes not only in terms of flavor and style, but also in terms of workload. If I opt for a main course that's a bit elaborate, then I know I won't have much time or energy to devote to dessert, and the fruit crisp or crumble* is my wildcard choice. (The trifle, too, but we'll talk about that another day.)
A fruit crisp requires very little work (throw the topping together, cut up some fruit, sprinkle, bake), it is seasonally flexible (you can use whatever fruit is available locally), it is the least time-sensitive item on your list (you can make the topping a couple of days beforehand, bake the crisp on the day of, and reheat just before serving) and, more important, everybody loves a good crisp: it speaks of warmth, comfort and simplicity, and even those who never go for seconds may be caught red-handed, spooning out just a little more from the dish they're taking back to the kitchen.
This particular recipe is adapted from Claudia Fleming's dessert book The Last Course, which I mentioned in my Best of 2009 list and is, unfortunately, out of print**.
In the book, the recipe appears as a Spiced Italian Prune Plum Crisp, and I was intrigued by the spiced topping flavored with cinnamon and cardamom, the proportions for which are quite different from my usual crumble formula.
This topping calls for melted butter, rather than cold butter that you'd rub into the dry ingredients. And ever since we decided we didn't really need a microwave oven, I've used one of two methods in such situations: I'll either piggyback on the preheating oven, as described here, or just, you know, heat it in a saucepan on the stovetop. And when I use the latter method, a miniature knee jerks in my head: butter? melted? in a pan? why not go the extra mile and brown it?
Really, it takes just a few minutes to go from melted butter to beurre noisette, but the benefit is considerable in the depth of flavor it lends to baked goods. (I think of it as using just the right foundation for your skin: few people will be able to pinpoint the source, but everyone will notice the glow.)
I haven't owned the book long enough for us to have been through plum season together, but the brown-butterized crisp — which I also altered by using hazelnut flour in place of ground walnuts, a bit less sugar, and adding salt and pepper — was a delight on apples, and I think it would be a perfect fit for rhubarb, peaches, apricots and mangoes, in addition to the original plum idea.
A note on cardamom: the recipe as published calls for 1/8 teaspoon ground cardamom, but I prefer to keep whole pods (in a submarine-airtight container, their smell is so pervasive) and grind the seeds as needed in a teeny mortar and pestle I got at a garage sale in my California days.
[sc:cinnamon_note]
~~~
* Some say a crisp becomes a crumble when the topping includes rolled oats; some use the two terms interchangeably. To me, "crisp" has a slightly more elegant ring to it, so I use it when the dessert feels a bit more sophisticated that a good old crumble.
** However much I like the book, I am in no way encouraging you to pay absurd amounts of money for it. You can always look for it at the library, ask around to see if a friend or coworker has a copy, keep an eye out for it when you visit used book shops, and — it's worth a try — contact the publisher to express your interest in a reprinting.
Brown Butter Spiced Crisp
– 150 grams (1 1/4 cups) flour
– 30 grams (1/3 cup) hazelnut flour, or ground hazelnuts, or ground walnuts, or almond meal
– 120 grams (1/2 cup plus 2 tablespoons) unrefined cane sugar
– the seeds from 1 pod green cardamom, finely crushed in a mortar
– 1/4 teaspoon ground cinnamon [sc:cinnamon_link]
– 1/8 teaspoon freshly ground black pepper
– a fat pinch sea salt
– 115 grams (1/2 cup) unsalted butter, diced
In a medium mixing bowl, combine all the dry ingredients, from flour to salt, and set aside.
Make the beurre noisette: put the butter in a medium saucepan (not too small, you want a reasonably large surface area), place over medium heat, and watch, swirling the pan every now and then to ensure an even heat distribution. First, the butter will melt. Then, bubbles will form at the surface as the butter simmers and its water content evaporates. The butter "sings" during that phase, emitting a pleasant chirping sound.
A few minutes later, the bubbles will get smaller, and the pitch of the chirping sound will get higher, then stop. At this point, the smell of the butter will change and become distinctly hazelnutty — you can't miss it, it's the best thing you've ever smelled, and the ambient scent of crêperies in Brittany — as its color becomes bronze and little flecks of butter solids caramelize and turn golden brown at the bottom of the pan.
(Don't let it cook beyond this stage, or the butter solids will get too dark, eventually burning and turning black and bitter and carcinogenic, in which case you'll have to strain the brown butter through a fine sieve and sacrifice the flavorful caramelized bits.)
Remove the pan from the heat and immediately pour the brown butter into the dry ingredients. (Likewise, don't leave the brown butter in the hot pan, or it will continue to cook; see consequences above. If you don't use it right away as we do here, transfer it to a cool bowl to stop the cooking.)
Using a fork, incorporate the butter just until the mixture turns crumbly; don't let it form a ball.
If not using immediately, spread on a rimmed cookie sheet and place it in the fridge for 1 hour before transferring to an airtight container (this is to avoid clumping), where it will keep for a few days.
If using immediately, sprinkle over fruit (a generous kilo or 2 1/2 pounds of apples, rhubarb, apricots, peaches, plums…) in a baking dish, and bake in an oven preheated to 190°C (375°F) for 35 to 50 minutes, depending on the type of fruit, until the topping is nicely browned and the fruit is cooked through, and bubbly, if it is a juicy kind of fruit.
Serve warm, with crème fraîche or whipped cream or Greek-style yogurt.
Cooking/baking time: 50 min