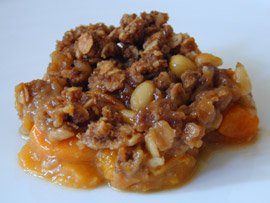 [Apricot and Melon Crumble with Pinenuts]
Maxence and I were recently invited over to our friends Peggy and Julien's appartment for dinner. They used to live just three blocks down the street from us, but they have just moved and now live, oh, a good six blocks further, so visiting them still has that special neighborly feel to it. Although Peggy is a talented cook, she wasn't the chef on that particular night : Manu, another food enthusiast and faithful reader of this blog, who is sadly leaving in a couple of weeks to work in Sarajevo, had decided to treat us to a Yugoslavian dinner.
Yugoslavian cuisine is an interesting blend of Middle-Eastern and Mediterranean influences, and we enjoyed a feast of red pepper dip, delicious olives, a tomato and cheese salad (reminiscent of Greek feta salads but with shavings of Yugoslavian cheese), cevapcici (those tiny sausages with the cutest name ever, pronounced "tshay-vap-tshee-tshee") and a fabulous burek, a spinach and cheese pie made with layers of crispy golden delicious filo dough.
I had volunteered to bring a dessert, of no particular Balkan descent however. It was quite warm so I felt like making something fruity, and since melons and apricots were threatening to disappear from the produce stalls very soon, I decided to combine them in this crumble, as a farewell to them and to Manu at the same time.
I do hope they stay in season long enough for you to try it, so very appetizing with its glowing orange and golden brown colors. The unusual taste of cooked melon adds an interesting depth to the sweet and tart apricot flavor, and the pinenuts (also rather uncommon in sweet dishes), oatmeal and wholewheat flour each add their own voice to make this a subtly flavored and delightful dessert, which would be a great brunch item, too.
As for Manu, he has promised to show me around the hard-to-find Yugoslavian grocery stores hidden in Paris before he leaves. I hope he'll share some of his recipes too.
Crumble Abricot et Melon aux Pignons de Pin
– one medium melon (cantaloupe or French melon)
– 800 grams (1 3/4 pounds) ripe apricots
– 100 grams (1/2 cup) rolled oats
– 100 grams (1/2 cup) brown sugar
– 100 grams (7 tablespoons) cold unsalted butter, diced finely (for a vegan version, substitute 80 grams or 1/3 cup vegetable oil)
– 100 grams (2 1/2 ounces, about 3/4 cup) flour (you can use half whole-wheat, half all-purpose for an interesting taste)
– 50 grams (1 3/4 ounces) pine nuts
– 1/2 teasoon fine sea salt
(Serves 8.)
Preheat the oven to 180°C (360°F). Grease a baking dish with a little butter (unless it's nonstick). If you can afford the time and effort, toast the pinenuts in a dry skillet until fragrant and golden. It's fine if you want to skip this step, because they will toast in the oven anyway.
Rinse the apricots and pat them dry. Quarter them and discard the pits. Cut the melon in half, discard the seeds and stringy flesh from the center of each half, and scoop out the flesh. Combine the apricot and melon pieces in the baking dish.
In a medium mixing bowl combine the rolled oats, sugar, butter, flour, pinenuts, and salt, and rub the mixture with the tips of your (preferably clean) fingers until well blended.
Sprinkle the topping evenly over the fruit, and put into the oven to bake for 40 minutes, until the fruit mixture is bubbly and the topping is golden. Let it set on the counter for half an hour to an hour. It can be served warm or cold, with crème anglaise, crème fraîche or a scoop of ice-cream, but it is just as fabulous on its own.