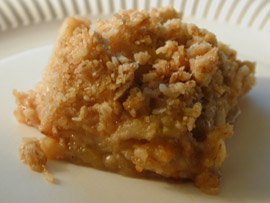 [Apple and Date Crumble]
And this is the third (and final) item I baked for last Sunday's Goûter de Cousins, thinking it would be nice to make an apple crumble in addition to the two cakes.
The idea was to serve something a little lighter and fruit-based for those of us who may have a small appetite, or may want to go the healthier route, or may be on a diet, or may dislike both chocolate and orange. As it turned out, nobody fit in either of these categories (or hid it well) but the crumble, to which I decided to add dates for a little twist to keep myself interested, was a very nice addition to the menu nonetheless. It was enthusiastically wolfed down.
As it happens, my darling sister Céline assisted me in the making of this. She has just moved into her new apartment, a luminous and spacious affair just a ten-minute walk from my apartment <overjoyous whoop>, and this is the first time she has her own "real" kitchen. What I mean by "real" is, in which you actually have room to take more than one step at a time, which boasts more than three square-inches of counter space, has an actual oven, and more than one and a half cooking ranges – one of them being half covered by the unavoidable clutter. So she has a great kitchen now, but what she doesn't have (yet) is… baking tools! cooking paraphernalia! kitchen toys! ten years' worth of gift ideas!
She still wanted to take part in the preparation though, and she offered to come and help : so while she efficiently peeled the apples I whizzed the topping, and we chatted while the crumble baked…
Crumble Pommes Dattes
– 8 apples of assorted varieties
– 24 dried dates
– a cup of hot tea
– 100 g oatmeal
– 100 g brown sugar
– 100 g salted butter, diced
– 100 g flour (you can use half whole-wheat, half all-purpose for an interesting taste)
– a splash of milk
(Serves 6.)
Preheat the oven to 200°C (400°F). Grease a baking dish with a little butter (unless it's nonstick).
Put the dates in a bowl, and pour hot tea on them. Let stand for at least 20 minutes for them to plump up a bit.
Peel and core the apples, cut them in slices. Arrange the slices in the dish. Pour a few spoonfuls of the date-infused tea on the apples (the liquid helps them cook). Drain the dates, remove the seeds, dice the flesh, and arrange evenly on the apples.
In the food processor, whizz together the oatmeal, the sugar, the butter and the flour until it resembles coarse salt. Add a small splash of milk and pulse a few more times. Sprinkle the topping on top of the fruit. You can choose to use all of the topping for a very crumbly crumble, or you can use only a portion (I used about three quarters) and reserve the remaining topping in an airtight container in the fridge for a later use.
Put in the oven to bake for an hour, until the apples are tender and the topping is golden. Serve with crème anglaise or crème fraîche or a scoop of ice-cream.