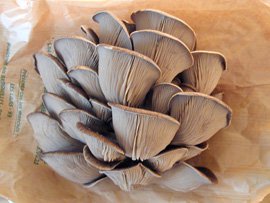 [Oyster Mushroom Salad with Apple and Bergamot]
Pleurotes, also known as oyster mushrooms or tree oysters, are these large greyish beige mushrooms with a round funnel-shaped hat, that grow in clusters on the trunk of trees — they don't care much if said tree is dead or alive, if you must know. The flesh underneath the hat (and that part is called the hymenophore, aren't you glad you came) has deep white gills that go all the way down the curve of the mushroom. The pleurote has a slight aniseed smell and some say an oyster taste, but I can't say that was too obvious to me — I would think the name originates from the way the pleurote clings to the tree bark like the oyster to its rock.
In French, the name pleurote, I was happy to learn, comes from the Greek pleura which means side, and ous, outos which means ear. "The ear that grows on the side of a tree". Neat, huh? And also, despite what one might think (or at least what I thought) it is un pleurote and not une pleurote.
I found those mushrooms at the Batignolles market, still clumped up in gritty bouquets right off the tree (which the city kid in me largely favors over separated and cleaned up), and chose one that looked nice and plump with no bruises. In passing, the background on the picture above is the typical brown paper bag that's used in small produce stores or at the market to package up the more fragile fruits and vegetables, while the robust ones often get the plastic bag treatment (or no bag at all, if you are prudent enough to have come with your own personal basket).
Since the rest of my produce harvest that day happened to include mâche (lamb's ear lettuce), bergamots and small juicy apples, I made them all play together to create this winter salad: lightly dressed mâche leaves, apple slices marinated in bergamot juice, topped with warm sauteed pleurotes and chopped walnuts.
You will likely find oyster mushrooms in Asian stores, but if you don't (in France pleurotes are most readily available during the fall and winter), feel free to substitute other mushrooms with the same kind of tender, slightly chewy texture, like shiitake or chanterelles for instance.
Salade de Pleurotes, Pomme et Bergamote
– 8 handfuls of mâche (a.k.a. lamb's ear lettuce, substitute other young salad greens)
– 12 walnuts
– the juice of half a bergamot (substitute lemon or lime)
– one small apple
– 4 cups of fresh pleurote mushrooms (a.k.a. oyster mushrooms)
– 1 Tbsp olive oil (for the dressing) — if you have walnut or hazelnut oil on hand, use half olive and half walnut/hazelnut
– a little more olive oil (to cook the mushrooms)
– 1 tsp cider vinegar
– salt, pepper
(Serves 4.)
Rinse and dry the mâche. Shell and chop the walnuts. Rinse and dry the apple, peel it if you like (I prefer to keep the skin on) and cut it in thin slices. Combine with bergamot juice in small bowl and set aside: this will infuse the apple slices with bergamot flavor, and keep them from browning at the same time.
Cut and discard the very tips of the mushrooms' stems, and clean the surface of the mushrooms with a damp paper towel or a soft brush. Cut in half-inch squares. Heat up a little olive oil in a skillet, add in the mushrooms and cook over medium heat for about five minutes, until the mushrooms are cooked and softened but not limp. Season with salt and pepper. Remove from heat and cover with a lid to keep warm.
In a medium salad bowl, whisk together the olive oil and vinegar, and season with a little salt and pepper. (Note: I like the dressing to be very light since some of the other ingredients — mushrooms and apples — will be moist, but feel free to double the amounts if you like.) Add in the mâche and toss to coat.
Divide the greens between four plates, arrange apple slices over them, top with the warm mushrooms and sprinkle with walnuts. Serve immediately, with slices of (mmmh) fresh baguette.