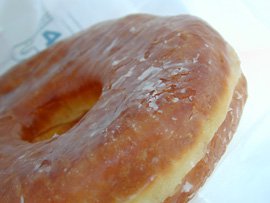 In my mind, one of the most defining (and endearing) features of American cuisine is its shameless, over-the-top sweet tooth: giant chunky cookies with a tender heart, proud muffins that could feed a family of four, voluptuous cakes slathered with frosting, life buoy sized doughnuts, velvety ice-cream loaded with goodies… I love them all, and I was determined to use my vacation in NYC to get a taste of some of my favorites — the keyword here being "a taste", so as not to spoil my appetite when there were so many other things begging to be eaten just a block away.
Sugar Sweet Sunshine Bakery
I had heard and read so much about The Cupcake Craze that this little piece of pastry stardom could simply not be overlooked — I know, I know, this is so 2003, but you'll have to excuse this Parisian girl, said craze hasn't reached us yet (and who knows if it ever will). I knew about the Magnolia Bakery of course (and was even given their first book
as a gift) so I went to check it out on my very first day if only to see the line. But there was none at all, which was sort of a disappointment: it would have been fun to watch, a bit like the line outside Pierre Hermé's boutique. I did enjoy the magic marker sign that said "Limit: one dozen cupcakes per customer", but was somehow none too tempted by the girly-girl pastel swirls that they sported.
I held out instead until the next day, when Maxence and I were strolling around the Lower East Side, and I (ahem) steered us towards the Sugar Sweet Sunshine Bakery on Rivington, recommended by Andi for its "delectable cupcakes done right". This bakery was in fact started by former Magnolia employees, and I had heard that their cupcakes were tastier, and that the service and prices were better, too. We stepped inside, took a deep long whiff of the sweet baking smells, and chose to share a sexy red velvet cupcake, with satin buttercream frosting and little heart-shaped sprinkles — I mean, with a name like that, it simply must be shared, right?
Delicious and moist and certainly the perfect first bite into the World of Cupcakes, but the real highlight was this incredible happenstance: as we were walking out, a girl sitting at a table near the door, neatly sharing assorted cupcakes with her boyfriend, looked up at me and asked: "Excuse-me, are you Clotilde?". Completely taken aback, I was amazed to realize that this was Molly, whom I had almost met in Paris, whose blog Orangette I faithfully read, and who had in fact recognized Maxence from a pic she had seen on C&Z! Molly, visiting from Seattle, happening to be at the exact same moment in the exact same NYC bakery as yours truly, visiting from Paris? I mean, what were the odds? We chatted for a few moments, decided that New York was a small city when you knew where to eat, talked about cupcakes, blogs and the world's best pizza and then went our separate gastronomical ways, leaving me with the lingering suspicion that I had maybe just dreamed this utterly improbable and delightful encounter.
Il Laboratorio del Gelato
Next stop just a few blocks away (and this is when you really start to understand why we just shared a tiny cupcake) was Il Laboratorio del Gelato, a place where they hand-make and serve high-quality, Italian-style gelato in a rotating selection of seasonal flavors.
We decided to sample Black mission fig and Maple walnut, in a cute baby blue plastic cup with matching spoons which I just had to save. At first we were blown away by the price ($3.25 for two rather small scoops, even by French standards) but immediately afterwards, sitting on the epitomic NYC stairs facing the gelateria and spooning away with rapture, we were blown away tenfold by the incredible intensity of both flavors, full-bodied and strong, which tasted precisely like the original ingredients they were meant to portray (a fig, a walnut in a spoonful of maple syrup) only in a refreshingly light-textured yet luscious form.
Doughnut Plant
A few days later, I returned to the Lower East Side without Maxence (who had flown back to Paris for he couldn't stay around as long as I did) to do a little shopping in the boho chic boutiques (side note: you may be interested to learn that the French equivalent of boho is its close syllabic cousin bobo, a derisive portmanteau of bourgeois and bohème). I took this opportunity to visit yet another sweet landmark of this neighborhood, namely the Doughnut Plant, which Samantha had effortlessly sold me on as the purveyor of — quote unquote — doughnut perfection.
They had a sign outfront that said "New! Fresh Corn Cake Doughnuts!" and that sounded interesting enough, but the bulk of my doughnut culture comes from the beignets aux pommes that my dad used to buy for us at the Jardin d'Acclimatation when I was 6, and the fondly remembered and sorely missed Krispy Kreme in Mountain View, Ca. And what I have learned at my own expense from the latter outlet, is that however intriguing and fun a special "limited time only" doughnut may sound, it will never ever hold a candle to the Original Glazed.
With this lesson in mind, I purchased a plain, regular doughnut, stepped out into the bright sunlight, stood for a moment to capture the gigantic confection for posterity (as pictured above), and took a few bites as I walked away. Verdict? Well, Krispy Kreme's Original Glazed will remain my personal doughnut ideal, but mainly for size reasons: I prefer a smaller loop — easier to eat and a better glaze to dough ratio — but this certainly delivered the kind of spongy, chewy, deep-fried and tooth-achingly sweet pleasure that one would expect from a quality doughnut.
Levain Bakery
Finally, the fourth and most indispensable chapter of my sweet quest was The Ultimate Cookie. If I could only eat one type of baked good for the rest of my life, I believe I would choose the chocolate chip cookie, crispy on the outside and still a tad raw on the inside — kind of like the ones they give you as a welcome gift at Doubletree Hotels in the US. But I can't be allowed to think about this agonizing question for too long otherwise I start to yearn for canelés and financiers and every single item in my mom's baking repertoire, her tarte aux fraises in particular. Anyway.
A kind reader named Marc had pointed me to the Levain Bakery on the Upper West Side, tempting me with a simple and straightforward "if you want the best cookies of your life". I happened to be right in this area after a hazardous crossing of Central Park, thoroughly deserted under the pouring summer rain, losing all sense of direction several times (man, this thing is huge, they should call it Central Rainforest!) at the great peril of my pink ballet flats which have yet to recover and forgive me.
But it was all worth it in the end, as the sun started shining again when I reached the other side, and more to the point, when I realized that the commended Levain Bakery wasn't afar. I walked down the steep stairs, taking care not to fall on the slippery steps (very much aware that a sprained ankle would hinder my cookie enjoyment), and contemplated my choices: Oatmeal Raisin, Dark Chocolate Chocolate Chip, Chocolate Chip Walnut and — I felt my heart tighten in my chest — Dark Chocolate Peanut Butter Chip. Nested in its increasingly see-through paper bag, this bulky half-pound little guy accompanied me for the next two days (and in fact all the way back to Paris), good-naturedly allowing me to tear off the occasional bite or two from its generous flanks. And this was exactly my kind of cookie — crispy chunky chewy and all manner of adjectives rhyming with "-y".
I see on their website that they will Overnight FedEx their cookies. Hm. I may have to enquire about the rate for France, as I can already sense the first symptoms of all-American cookie withdrawal…
Sugar Sweet Sunshine Bakery
126 Rivington St (Btwn Essex & Norfolk)
(212) 995-1960
Il Laboratorio del Gelato
95 Orchard Street (Btwn Broome & Delancey)
(212) 343-9922
Doughnut Plant
379 Grand Street (Btwn Essex & Norfolk)
(212) 505-3700
The Levain Bakery
167 West 74th Street (Btwn Amsterdam & Columbus)
(212) 874-6080