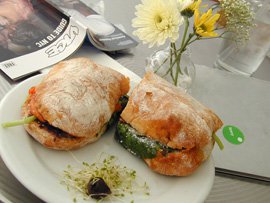 Now that my sweet NYC memories are safely tucked away (leave it to me to put dessert first, always!), we have quite a bit of savory ground to cover, and I will start with a little batch of midscale/lunch places: 'Ino, Freemans, Pearl Oyster Bar and Teany (see end of post for coordinates).
'Ino
On Friday night I stepped out of the plane, a bit dizzy from the voyage but excited and more importantly, hungry — it's nice of the airline to provide a pre-landing breakfast snack, but um, what was that thing in the cellophane bag exactly? I got to my hotel in the Village, dropped my stuff, freshened up, and went out again for a little reconnaissance walk. On Bedford Street I noticed the tiny 'Ino, a kitchen-less Italian wine bar that's equipped with a handy-dandy sandwich press, from which they churn out fresh and tasty panini — on bread from the Blue Ribbon Bakery just across the street — as well as antipasti, bruschetta and tramezzini.
I opted to have half a panino with a side of greens, and chose the one with portobello mushrooms, sundried tomato pesto and grana — an Italian cow's milk cheese that's somewhat similar to parmesan. The grilled sandwich was absolutely delicious (if a little salty) and the greens struck me as particularly flavorful, lightly dressed and peppery, just the way I like them.
Freeman's
The next morning (Maxence having arrived late in the night) we went for a walk through Soho, Nolita and the Lower East Side, and decided to go to Freemans for brunch. This was tricky to find: the address we had said Chrystie Street, but when we got to it the restaurant was nowhere to be seen, so we asked a nearby store keeper, who kindly pointed us — this was probably not the first time she had to redirect would-be brunchers — to a tiny blind alley which we had passed just moments before. The restaurant is hidden at the very end of Freeman Alley, you really have to know it's there to find it, and that's probably the whole point: I later learned that it had been recently much buzzed about as a low-profile, best-kept-secret type of place. It was however almost empty when we got there (around 1pm on a Saturday) and we took a seat in the rather dark room, interestingly decorated with patinaed wooden furniture and taxidermist trophies on the walls.
We chose two dishes from the brunch menu and rotated halfway through, as we like to do when eager to try different options: one was an egg, bacon and spinach skillet, which came in its individual cast-iron pan, creamy and golden-topped with gruyère. The other one was a lamb and parsley sausage (in fact two patties of sausage) served with two poached eggs on a watercress salad. We were also served thick and pre-buttered toasts of sourdough bread, which were a little too dry (stale?) for my taste. Both dishes were good and well seasoned, but somewhat heavy on the butter and cream and general saturated fat. And frankly the ambiance was a tad gloomy: the place is probably a better spot at dinnertime when it comes alive and you can fully enjoy the dim lights and the company of wall-mounted dead animals!
Pearl Oyster Bar
Funny how easily friendships seem to sparkle up in the merry food blogosphere. I would venture the guess that this is because most food enthusiasts (not just bloggers) are the generous, genial type who simply love to interact with like-minded and like-palated friends — ideally over a shared meal or in a kitchen, but email conversations work wonders, too. Josh is among the friends I have gained in such a way, and he was one of the people I hoped to get together with while in NYC.
We arranged to have lunch at the Pearl Oyster Bar, which Josh wanted to try and which I had first heard of via the book Lobster Rolls & Blueberry Pie
, written by the owner about her New England childhood memories. Josh and I had emailed on many occasions over the months that we'd "known" each other, we had also briefly met at the Otto get-together the previous Sunday, and this allowed us to spend a lovely lunch, the conversation picking up and flowing freely about our favorite topics — food and writing and travel — as though weekday lunches together were something we regularly did.
We shared an appetizer of fried oysters, each of the six large oysters deep-fried and served in the shell, on a dollop of tartar sauce. I had never given it much thought, but this made me realize that oysters are rarely (if ever) messed around with in French cuisine: they seem to be such a sacred thing that you just eat them in their glorious, raw nakedness (maybe with just a squeeze of lemon juice for modesty's sake and also to check that the oyster is still, yes, alive). The fried oysters were really good in that big fat crunchy mouthful way, but to be truthful you couldn't really taste the oyster — it could have been anything moist and slightly rubbery inside (and no, I am not looking for suggestions of what it could have been, thanks all the same).
Next up, we had — of course! how could we not! — lobster rolls, served with shoestring (super thin) fries. A lobster roll, for those of you not yet introduced to this Maine specialty, is a lobster salad (exact recipes vary but all start with cooked lobster meat and mayonnaise, adding tarragon, parsley, lemon juice, mustard, cucumber, celery, scallions… for added flavor and texture) served inside a toasted, warm and buttered brioche-y bun. Sort of like a luxurious hot-dog from the sea.
I loved Pearl's version (not that I have any to compare it with, but rather will compare all subsequent lobster rolls to this one), tasty and satisfying — definitely something that holds you over til your next meal. And even though I'm sure this is a sandwich to bite into with rapture, your hair all tangled up from the salty seashore wind, not minding about the mayo on the tip of your nose or the lobster pieces that tumble down on (or into) your swimsuit top, I have to confess that this being New York and all, I quickly abandoned the perilous, un-ladylike method and ate it with fork and knife. It works just as well.
[You can also read Josh's post about our lunch, complete with a "portrait of the blogger with lobster roll"!]
Teany
On my last day in the city, I went back to the Lower East Side to further explore the small vintage-y designer boutiques, the kind which a boyfriend, however sweet, has limited patience for. I sat down for an early lunch at Teany's (tea + NY), a vegetarian sandwich/tea place that we had noticed a few days before as we were walking by, thinking it looked inviting and fresh with its bright half-belowground room and its small terrace. I had in the meantime found out that Moby was one of the founders, which was interesting but didn't really influence me one way or the other, except maybe for the one chance in a million to bump into him and tell him that really, his last album was a huge letdown and what was up with that?
I leafed through the menu in its little metal binder, poured over the longest tea list I ever saw in my whole life (they even joke about it on the intro page) and ordered a Pan Bagna (as pictured above): this is a marinated sandwich from Provence (literally "bathed bread" in Provencal) which you're supposed to let stand so the flavors will meld and the bread will soak up some of the ingredients' juices, making it the perfect sandwich for a picnic and an excellent use for verging-on-stale bread. Classic recipes call for olive oil, basil, vegetables (tomatoes, onions, peppers), garlic and olives, as well as tuna and anchovies, but Teany's version was vegetarian: tomatoes, arugula, basil and roasted peppers, on focaccia bread spread with Kalamata tapenade and a bit of grated pecorino — a nice, if untraditional, addition. I was very hungry and this was very good, but I do think that it would have benefited from the pungency of anchovies and the meatiness of tuna, but that probably explains why I'm not a vegetarian!
While enjoying my lunch I read the little Guide to New York City edited by Vice (which also has a store on Lafayette Street) and given out for free inside the restaurant — a fun read and a very interesting satirical look on the different crowds that people this fair city.
'Ino
21 Bedford Street (Btwn Houston & Downing)
(212) 989-5769
Freemans
End of Freeman Alley (off Rivington Street, btwn Bowery & Chrystie)
(212) 420-0012
Pearl Oyster Bar
18 Cornelia Street (Btwn 6th Ave & Bleecker)
(212) 691-8211
Teany
90 Rivington Street (Btwn Orchard & Ludlow)
(212) 475-9190