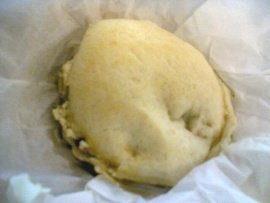 And let me open this week's program with more food memories from my trip to New York City, introducing a handful of ethnic restaurants. (Apologies for the not-so-great picture, I only had my phone with me when I encountered this arepa!)
Dim-sum @ Golden Bridge
I will start with a sore disappointment and just get it out of the way. Maxence and I love dim-sum, the kind that comes on a cart wheeled around by little ladies through a loud ballroom-sized restaurant, packed full with families and screaming children. Catching the cart-lady as she glides by, watching intently as she opens the different bamboo baskets to show you what she has, asking what this or that is and failing to understand, hurrying to choose so she won't get impatient and leave, having her apply the appropriate stamp on your ticket, picking up a little dumpling with your chopsticks, blowing on it so you won't scald your tongue then dipping it in chili sauce, gobbling it up and starting all over again — this was a favorite Sunday brunch meal when we were in California. We haven't been able to find a good and easily accessible equivalent here in Paris (the New Nioulaville in Belleville is but a sad ersatz) so we were eager to indulge in it again in New York.
At the Golden Bridge in Chinatown, where we chose to go on Sunday after a fun walk around the fascinating food stores, the ambiance was just right — fight for a number then wait in the crowded lobby until the lady calls your number, in Chinese then in English, in the screaming microphone — but the food, unfortunately, didn't deliver: the dumplings were greasy and tasteless and barely lukewarm. Oh well.
Sushi @ Hedeh
Hedeh is an upscale sushi bar that had been recommended to us by Kate, just off of Lafayette. We went there for dinner on Saturday night — after a long and surreal search for the street which inexplicably wasn't where it should have been, until we realized the map in the Lonely Planet guidebook had a major misprint — and absolutely loved it. The place is a little odd because you first have to walk through a dimly lit cocktail bar — making you fear that this is just a trendy bar serving sushi, not an actual sushi bar — before you reach a reassuringly traditional restaurant room, decorated like 99% of Japanese restaurants in the Western world.
We sat at the bar so we could admire the sushi chefs' skills while we ordered and shared an assortment of appetizers (small bites of fish or chicken with different sauces and garnishes), a sushi platter, as well as a couple sushi (uni and unagi) and one roll (my beloved spicy California) from the menu. (Strangely enough, an order of sushi got you just one, something I've never seen in any other Japanese restaurant — I thought an order of sushi was universally understood as a pair.) Everything was absolutely delicious and beautifully plated, the assortments featuring more than just the usual suspects, and the fish super fresh.
Arepa @ Flor's Kitchen
On the afternoon of my last day in the city, my little shopping expedition had taken me to the East Village. I was about to return to my hotel, and I wanted to pick up dinner for the plane along the way. I meant to walk back to Once Upon A Tart on Sullivan, having earlier spotted that their sandwiches looked like pieces of fine craftsmanship, when I suddenly happened upon Flor's Kitchen, a tiny Venezuelian restaurant that came recommended by two readers. It was right in the middle of the afternoon and the restaurant was empty but open, and I thought I would just go and check out the menu. It looked so nice and intriguing (I had never had Venezuelan food! I had to try Venezuelan food!) that I stepped inside and asked the lady (Flor, I suppose) if she could pack me an arepa (a Venezuelan sandwich made on a soft corn flour bun) and a small salad, to go. Since the arepa was destined to be eaten on a plane, she suggested the tofu and vegetable one, which would keep and taste fine at room temperature. As for the salad, the cauliflower and mango one sounded too good to pass up.
And when I got to the airport later that night and found out that my flight was delayed two hours, when I had to sit for ages on a sticky chair in the loud and gloomy waiting-room, only two things kept me sane and happy: Chang-Rae Lee's really good latest novel
and this great Venezuelan meal. The cauliflower and mango pairing was delightful, and the arepa was a great discovery (although it would have benefited from the addition of a spicy condiment, a little salsa or something) — I am not sure how typical these specific dishes were, but I will have to go and explore recipes!
Golden Bridge
50 Bowery Suite 2F (Btwn Canal & Bayard St)
(212) 227-8831
Hedeh
57 Great Jones St (Btwn Bowery & Lafayette St)
(212) 473-8458
Flor's Kitchen
149 1st Ave (Btwn 9th & 10th St)
(212) 387-8949