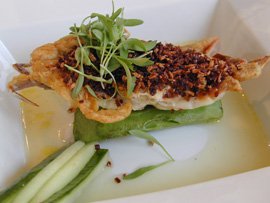 During my stint in NYC, I had the occasion to dine at a few restaurants that I would qualify as upscale — Jean Georges, Blue Hill and Babbo — a very pleasant experience I will now gladly relate.
Jean Georges
The first in this series was Jean Georges, to which I went for lunch. I was very excited about it, having heard a lot about the Alsatian chef, Jean-Georges Vongerichten, whose innovative cuisine mixes French and Asian influences. We were there on the perfect summer day (quite fitting as it was, in fact, the summer solstice) and the warm cream-colored room was drenched in sunlight. Our waiter presented us with the lunch menu and explained that it offered "small plates" adapted from the dinner menu and not particularly arranged in terms of first or main courses. He said that three was usually a good number (nice try) but we opted for two, especially since some of us (ahem) wanted to save a little room for dessert. While ordering, I tried to steer clear of the dishes that sounded very French, and went instead for those that seemed to demonstrate the chef's inventivity. We also ordered Claret from Sonoma, by the glass.
They started us off with a platter of three amuse-bouche — a peekytoe crab salad (peekytoe is a variety of crab, but I mistakenly understood "piquito" and thought the salad had some kind of Mexican pepper in it) topped with a thin slice of dried onion, a beet and balsamic salad served in a spoon and decorated with a peeled cherry tomato (which gave it the most alien, interesting look), and a papaya, coconut and lemongrass soup with chive froth served in a high shot glass — all three very tasty, pretty to look at and fun to eat, precisely the qualities you expect from a good amuse-bouche.
My first plate was Crispy softshell crab, served on a piece of avocado with sticks of cucumber, and a lime and crystallized ginger vinaigrette that the waiter poured on in front of me. (Tableside sauce pouring was something that they did on three occasions over the course of the meal: this is sort of fun, but it can also be a little awkward if the timing is not right and you start forking in before they come with the finishing touch.) Softshell crabs are crabs that have just newly molted, so they are still small, and their shell is still, well, soft, so the whole thing can be eaten (and don't you oh-poor-adolescent-crab me). This dish had so many of my trigger ingredients that I simply couldn't pass it (Crab, avocado, lime and ginger? Dish! Will you marry me?) and it was indeed just what I'd hoped, a great combination of tastes and textures, very refreshing.
The second plate I ordered was the Soy-glazed veal cheeks, served with a dollop of celeriac purée and topped with an apple-jalapeño salad. It didn't strike me at the time, but now that I reflect upon it this wasn't a very seasonal dish (stewed meat? with celery root? and apple? in late June?). I enjoyed it very much all the same, the sauce subtly flavorful and the meat extremely tender. I did however feel that the apple-jalapeño salad could have stood up for itself a bit more. (Apple, jalapeño! Speak up, we want to hear you too!)
After we finished our second courses, we observed a waiter carving a fresh pineapple on a cart not too far from our table: he had sliced off the bottom, planted two forks facing each other in it to serve as a handle, and he conducted the rest of the procedure with just the right hand and a knife, the pineapple held up in mid-air with his left hand. He cut off the outer bark, then expertly carved out a spiral ribbon all around the pineapple, to rid it of all the remaining "brown eyes". We compared this to how we ourselves did it — in a much less artistic way, cutting the fruit in simple quarters — but we definitely saw the point when we were each brought a picture-perfect slice as a pre-dessert, adorned with tiny sprinkles of crystallized mint and rose petals.
The dessert menu offered three choices (cherry, rhubarb or chocolate), each of which was in fact a miniature version of two desserts from the dinner menu. I went for (brace yourself) the Chocolate option, which featured the Jean Georges molten chocolate cake with crispy cocoa and vanilla ice-cream, and a fennel semifreddo topped with a thin sheet of caramel then a scoop of chocolate sorbet. Delicious and just sweet enough to hit the spot, but maybe a little too complicated — so many components — to fully appreciate the different flavor pairings.
Finally, with coffee and tea they brought us a few Mignardises in the form of teeny macarons, homemade chocolates and square bites of guimauve, the French marshmallow.
I happened to be the guest of one of my companions so it may not be the best of manners, but I'd still like to comment on the price of the lunch menu: two savory plates cost $24, dessert was $8, and wine by the glass started at $12. Even when you factor in tax and tip it is still, in my opinion, a truly excellent value for such a four-star lunch — a meal I greatly enjoyed, with sophisticated tastes and beautiful presentations.
Blue Hill
Blue Hill had been recommended to me as "a cutting edge place" and "one of the two best restaurants in NY right now" (am I starting to sound like Zagat yet?). It is located in Greenwich Village (and coincidentally just a block from the hotel I stayed at), in a former speakeasy (an illegal bar during the Prohibition — needless to say I find this super cool). It has a sister restaurant, Blue Hill at Stone Barns, which opened more recently and is attached to a working farm and educational center operated by the same owners, a little way outside the city in the Hudson Valley. Blue Hill's seasonal menu features many products from that farm, and the general philosophy is "eat local". This all made me very eager to try it, and I arranged to have dinner there one night with a friend. When I met her there I found out that she in fact knew the owners, Dan and David Barber, and was on friendly terms with the staff: this certainly made the experience even more delightful, as the head waiter asked if Dan (who's also the chef) could "cook for us tonight", while the sommelier offered to take care of the wine pairings. Talk about an offer you can't refuse.
We ordered glasses of white Lillet, a sweet French apéritif wine from Bordeaux. They brought us two cute little turnips from the farm, peeled and served raw with a short tuft of the shoots still on: we were to dip them in a cup of coarse salt and eat them like a radish. They also brought a pat of butter and the "bread basket", which was in fact toasted logs of thin baguette, bunched up together in a wide glass. They served us the amuse-bouche, which included a shot glass with a chilled asparagus soup, a spoonful of asparagus salad, a thin garlic wafer (with just a hint of sweetness, a perfect complement to the asparagus) and a bite-size olive oil cake shaped like a financier, slightly warm and topped with a small piece of boquerón (Spanish for fresh anchovy).
We were then served a sipping vegetable soup made with veggies from the farm, served cold in a martini glass with a dollop of frozen yogurt (subtly sweet and slowly melting into the soup). This was followed by lightly smoked shrimp, served in a wide bowl on a bed of cucumber dice surrounded by a thin rhubarb sauce (wine pairing: German riesling). As a lover of anything smoked and having never encountered a shrimp that had been thus buffed up, I particularly enjoyed this.
The fish course was a wonderfully moist Chatham Cod (a reputed variety of cod from Massachusetts) cooked sous-vide (a technique that more and more distinguished chefs are using) served with super flavorful fresh peas from the farm, in a shellfish broth (wine pairing: Sauvignon Blanc from New Zealand). The meat course was Roasted Chicken raised on the farm (and you could certainly taste the "happy chick" flavors), with a medley of asparagus spears, chickpeas and fennel (wine pairing: Pinot noir from Mendocino, CA).
Pre-dessert was a shallow soup plate of poached cherries laced with rhubarb and served with mint ice-cream, a very refreshing transition before the actual dessert, a small and delightful chocolate tart (baked in a circle so that the crust was on the bottom only, no rims, cheesecake-style) with pieces of candied fennel underneath (the chocolate/fennel pairing seems to be in the air, see dessert at Jean Georges above!) and a scoop of lemon balm ice-cream (wine pairing: Molina Real mountain wine from Malaga in Spain). And finally, with coffee we were brought two scrumptious coconut-crusted marshmallows.
The lighting in the restaurant room was really too dim (former speakeasy, remember?) for me to take pictures, but I really wish I had been able to, for all these dishes were thoughtfully plated, in beautiful white dinnerware that really brought out the elegant simplicity of the food. It's difficult to make comments on the service since I was lucky enough to jump on the friend-of-the-house boat, but from what I could tell the staff was just as attentive, diligent and friendly with the other customers. Looking at the website, I also see that some of the dishes we were served are on the regular menu in a more or less similar form: I couldn't recommend more that you go ahead and taste them for yourself next time you have something to celebrate — it will definitely be a must-visit-again destination for my next trip!
Babbo
For this last one, this fabulous Italian feast that I shared with Adam of Amateur Gourmet fame — who turned out to be just as sweet and fun a dinner companion as I knew he would be, both of us so talkative it's a wonder we did any listening at all — I will rely on his masterful story-telling skills (I don't know how he managed to remember the minutest details of the evening when we drank so much wine) and direct you to the post he wrote about it. I must warn you that he tends to accentuate things here and there for dramatic effect, but what are you gonna do — he's a natural born playwright !
Jean Georges
One Central Park West
(212) 299-3900
Blue Hill
75 Washington Place (Btwn 6th Ave & MacDougal)
(212) 539-1776
Babbo
110 Waverly Place (Btwn 6th Ave & MacDougal)
(212) 777-0303