In 2005, Maxence and I traveled to New York so I could meet with the editor who would be publishing my first cookbook. I had just given notice at my office, and I only had a few more weeks to go before I made the jump to full-time writer. The trip crystallized this momentous turning point, and we enjoyed it accordingly.
My editor invited my agent and me to Jean-Georges for a sublime lunch in the sun-drenched dining room, and eight years later I still remember it in great detail. One of the things that stuck with me the most was the fresh pineapple that was carved table-side and served as a pre-dessert.
I almost clapped at the picture-perfect slices the waiter brought to us, flecked with crystallized mint and rose petals.
Working from a nearby cart, our waiter sliced off the bottom of the fruit, stuck two facing forks in it to serve as a handle, and conducted the rest of the procedure in mid-air: wielding a knife effortlessly in his right hand, he sliced off the outer bark, then carved out the eyes in a spiral ribbon all around the pineapple. I was amazed by his dexterity, and almost clapped at the picture-perfect slices he then brought to us, flecked with crystallized mint and rose petals.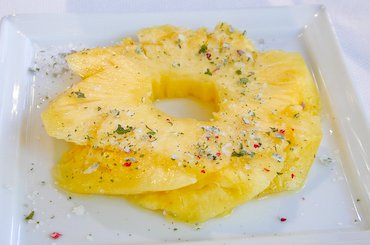 It is the spirit of that waiter that I tried to channel as I carved my own pineapple for a dessert of roasted pineapple I recently served. I winged it from memory and was pretty pleased with the result, but if you want to try it yourself, I recommend this video and Elise's instructions. (Instead of tossing the trimmings, run them in a blender and filter to make pineapple juice.)
Once I'd carved the pineapple, I sliced it into six wedges, and brushed them with a honey and vanilla syrup infused with the spectacular vanilla that I use, and spiked with a little rum and lemon juice. The wedges went into the oven until the fruit was softened, its juices concentrated and verging on caramelization.
I considered serving the wedges with a dab of crème fraîche or a scoop of coconut ice cream, but instead opted to make the coconut "whipped cream" I'd been reading about. The idea is to retain only the solids from a can of coconut milk, and whip it like you would ordinary whipping cream. (I found this tutorial helpful, especially the can-flipping trick.)
The coconut whipped cream was a revelation: fluffy and delicious, it didn't need any sort of flavoring or sweetening. It served as the perfect companion to my roasted pineapple, but I can see it adorning an apple slice or a wedge of chocolate cake just as beautifully.

Have you tried this? Share your pics on Instagram!
Please tag your pictures with #cnzrecipes. I'll share my favorites!
Vanilla Roasted Pineapple with Coconut Whipped Cream Recipe
Ingredients
40 grams (2 tablespoons) honey
1 tablespoon lemon juice
1 tablespoon rum
1/2 vanilla bean
one ripe large pineapple
one 400-ml (13.5-oz) can coconut milk, placed upside down in the refrigerator at least the day before
Instructions
Preheat the oven to 200°C (400°F).
In a small saucepan, combine the honey, lemon juice, rum, vanilla, and 2 tablespoons water. Bring to a simmer over medium heat, stirring until the honey dissolves completely. (The syrup can be prepared a day ahead; cover and refrigerate.)
Peel the pineapple, carve out the "eyes", and cut into 6 wedges. Slice off the fibrous core along the spine of each wedge. Place in a roasting pan large enough to accommodate them comfortably. Brush with the syrup and insert in the oven. Bake for 20 minutes, until golden, flipping the wedges to a different side and brushing them again with the syrup halfway through.
Let cool to warm room temperature.
Flip the can of coconut milk so the top is back on top, and open it. Pour out the liquid part of the coconut milk (reserve for use in smoothies, rice pudding, tapioca pudding, etc.) so all that remains is the congealed coconut solids.
Transfer the solids to a deep bowl; make sure you only keep the solids, or your whipped cream won't hold as well. Beat with an electric whisk until fluffy, and serve with the roasted pineapple.
https://cnz.to/recipes/desserts/vanilla-roasted-pineapple-with-coconut-whipped-cream-recipe/
Unless otherwise noted, all recipes are copyright Clotilde Dusoulier.