This post is made possible by the support of La Maison du Coco. More info below!
My pantry doesn't feel quite right if I don't have a stack of coconut milk cans handy. I find a million and one uses for them, and I wanted to share some of my favorites with you today.
A cornerstone of Southeast Asian cuisines, coconut milk is the liquid that is pressed from the grated flesh of a fresh, ripe coconut. (It is different from coconut water, which is the clear liquid that's in the center of young, green coconuts.) And for those of us who don't live where coconuts grow, coconut milk is mostly available canned.
And once you have a couple of cans stacked up in your kitchen cabinets, what do you do with them? Here are 10 delicious things to do with coconut milk.
The coconut milk I like to buy is from La Maison du Coco, a French company that works with coconut growers in the Philippines to offer certified organic and fair trade coconut milk. I find it particularly flavorful and creamy, and I like that I have a choice between the 6%-fat coconut milk (great for a bowl of granola), the 15%-fat coconut milk (great for cooking and baking), and the 21%-fat cream of coconut (perfect for coconut whipped cream).
Curries
Perhaps the most classic use of coconut milk in cooking is to make curries — comforting and fragrant stews of fish, meat, or vegetables. Among my stand-by recipes are this easy fish curry and this winter vegetable curry, which I make to ward off colds. I also use coconut milk in this 30-minute chicken and spinach curry.
Soups
From curries, it's a natural progression to soups! You can incorporate the coconut milk as one of the liquid ingredients when making a soup, such as this butternut squash and lentil soup.
Alternatively, you can add a dollop of coconut milk or cream of coconut at the very end, to finish the soup and give it more body, instead of using dairy cream. This is most pleasing in broccoli, carrot, or winter squash soups, especially if you've add a chopped stalk of lemongrass in the cooking process.
Smoothies
Simply process the coconut milk in a blender with fresh fruit. especially tropical fruit such as mangoes and pineapple, but also berries or peaches in season. Add a touch of honey or other sweetener as needed, a squeeze of lime or lemon juice, and some ice cubes.
I also love to make a date and tahini smoothie with coconut milk, as suggested to me by Marie-Jeanne Acquaviva del Giardino (a more novel-worthy name I can't imagine).
Replace dairy milk and cream
More generally, coconut milk is a wonderful substitute for dairy if you are dealing with a food sensitivity, if you need to veganize a recipe, or simply want a change of pace. You can substitute 6%-fat coconut milk one for one in most recipes that call for full-fat milk. Just be aware, of course, that it will bring a coconut flavour to your dish or baked good!
Try this in crêpes and pancakes, in a flan or clafoutis, in mashed potatoes…
Coconut Whipped Cream
This is a fun and delicious topping to make for crêpes and cakes; I serve it with my roasted pineapple. All you need to to is refrigerate a can of coconut milk upside down overnight, then carefully scoop out the thick cream that's solidified at the top into a chilled bowl. Add a little sugar and beat energetically with a whisk until it forms soft peaks, and voilà ! Non-dairy whipped cream!
Coconut Milk Yogurt
I am a total fan of coconut yogurt. The ones you buy at organic stores are pretty costly, but you can make your own easily. Here's my own recipe for homemade coconut milk yogurt.
Ice cream
You can make instant ice cream by throwing into the food processor two overripe, frozen bananas, 200 grams frozen berries, and 120 ml coconut milk. In a minute you'll have soft-serve ice cream to enjoy after dinner.
I also love this very easy coconut lover's ice cream just from pantry ingredients.
Cocktails
Coconut milk is an ingredient that's used by mixologists to give an exotic, and slightly sweet note to their drinks. It works especially well in rum cocktails with a touch of lime or lemon juice to cut through the richness. For cocktail purposes, most of the time you'll use just the thinner milk that's left at the bottom of the can after you've made whipped coconut cream.
Coconut Latte
Did you know the flavors of coffee and coconut go beautifully well together? You can make an amazing coconut latte by mixing 480 ml (2 cups) freshly brewed hot coffee with 80 ml (1/3 cup) full-fat coconut milk or coconut cream. It's good to use a blender if you have one (be careful with that hot coffee) because then you get a nice layer of foam on top.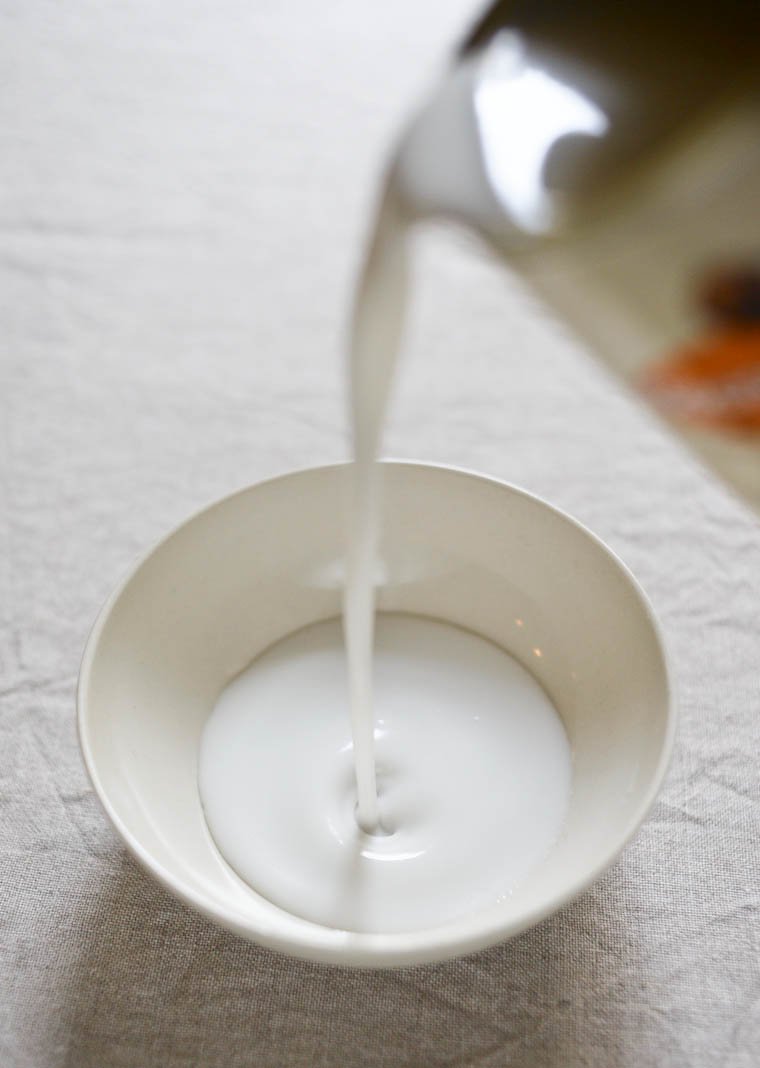 Beauty Products
Coconut milk can be used for all kinds of homemade cosmetics. (Don't miss my selection of 10 Super Easy DIY Cosmetics!)
I like to make the following hair mask to nourish dry hair and promote growth: mix together 2 tablespoons coconut milk and 1 teaspoon honey. Apply on dry, unwashed hair, leave it in for an hour, then rinse, shampoo, and rinse again. Repeat monthly.
A really fun and blissful thing to do is to add a full can of coconut milk to the tub when you're taking a bath. It's a great moisturizer, and you'll get to pretend you're Cleopatra in her bath of donkey milk!
This post is made possible by La Maison du Coco. All opinions expressed are my own. Thank you for supporting the brands that support Chocolate & Zucchini.