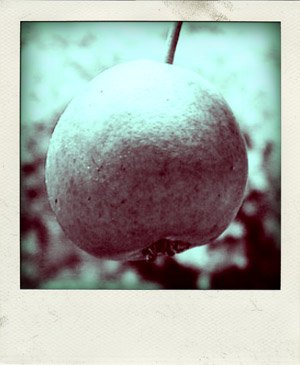 Two weeks ago, I had dinner at a French restaurant called La Table d'Eugène, on the other side of the Montmartre hill from me. As my friends and I were handed the menus, we all stopped to comment on their fetching design: on the front and back were dozens of French idiomatic expressions, all relating to food, each of them printed in a different, retro font.
Once we'd ordered our food and asked to keep one copy of the menu, I, as the only native French speaker in our party, went over each of the locutions, trying to shed light on their meaning. It was so much fun — you've perhaps noticed how dearly I love words, etymology, and linguistics — that I thought I would start a series on C&Z.
The French language, like all Latin languages, is particularly rife with culinary-inspired idioms, and I will offer one every week or so.
The opening, seasonal expression is, "Couper la poire en deux."
It means, literally, "cutting the pear in two," or reaching a compromise: if two people want the same pear, halving it is the most equitable way to settle the dispute.
For example: "Nos deux familles voulaient nous avoir à Noël, donc on a coupé la poire en deux : on va chez ses parents le 24, et chez les miens le 25." ("Both our families wanted us to come over for Christmas, so we cut the pear in two: we'll spend Christmas Eve at his parents', and Christmas Day at mine.")
Listen to the idiom and example read aloud: