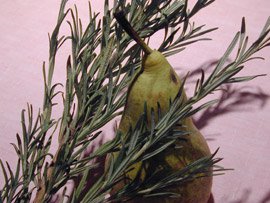 Two weeks ago, my parents came over to my apartment. The plan was for the three of us to have lunch together, and then go out on a mini-tour of the 9th and 18th arrondissements, using a guidebook called "Paris Buissonier", which my sister and I gave our mother for Mother's day : it describes itineraries to walk through parts of Paris that are seldom visited, providing interesting and unusual facts and comments about what you see along the way. An excellent little book to get to know our beloved – and huge – city better, avoiding the crowds. The name "Paris Buissonier" alludes to the expression "faire l'école buissonière" (literally "to attend shrub school"), which means to cut class. When I was younger, I thought there really was a school called "Ecole Buissonière" – it sounded like one I'd want to go to!

For dessert, I decided to try my hand again at crème brûlée, to make sure last time wasn't just a fluke. I had read recipes that flavored the cream with rosemary, and I had ripe pears on hand that needed to be used, so this time I whipped up Pear Rosemary Crèmes Brûlées. As I did not have milk on hand, I used light whipping cream in addition to regular. (I know what you're thinking, who's that girl with two types of whipping cream in the house, but no milk…)
Pear Rosemary Crèmes Brûlées
– two large twigs of fresh rosemary
– 20 cl whipping cream (regular)
– 20 cl whipping cream (reduced fat)
– one ripe pear
– 4 egg yolks
– 50 g sugar + 10 g to poach the pear
– a healthy amount of cassonade (brown crystallized sugar)
(Serves 4.)
Preheat the oven to 160°C (350°F). Bring the cream to a boil in a small saucepan, and put the rosemary in to infuse for 15 minutes, off the heat, uncovered.
Peel the pear, cut it in quarters and core it. Bring a cup of water with a little sugar to a gentle boil, and poach the pear quarters in this syrup for 5 minutes. Drain and let cool.
In a bowl, mix the sugar and the egg yolks, then pour the cream into it through a sieve, to get rid of the rosemary. Mix thoroughly using a whisk, but gently so as not to generate too much foam.
Set out four shallow half-cup ramequins. Cut each pear quarter into several thin slices and lay them at the bottom of each ramequin. Pour the cream/sugar/egg mixture over, and put the ramequins in the oven on a dripping pan filled with water to a depth of 1 cm (a fourth of an inch).
Bake for 45 minutes, then turn off the oven and leave them in for another 15 minutes. Let cool on the counter, then store in the fridge for 4 hours at least, overnight is best.
Right before serving, sprinkle an even layer of cassonade on each crème, and caramelize using your faithful blowtorch.
This is an excellent version of crème brûlée, and my parents enjoyed it very much. The rosemary flavor is divine, and the pear slices introduce a very nice variation of texture, as well as temperature : I was surprised to discover that they feel colder than the cream, which makes for a very interesting and subtle eating sensation.