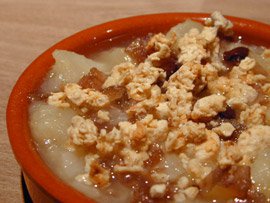 This is the very quick and yummy dessert I served our friends the other night, just before we got back to our scheduled program of activities – video games for Maxence and Marwane, and some serious chatting for Marion and myself.
This is in fact a cheater's crumble, in which the fruit is cooked beforehand (in my case a large amount of delicious passe-crassane pears that had gotten nice and ripe all at the same time), and the crumble is a handful of your favorite granola cereal (I am an enthusiastic cereal buyer, and we have about 12 different kinds, among which 5 are granolas, and um… one is for Maxence).
The idea of adding marrons confits (a.k.a. marrons glacés or glazed chestnuts) to the pears was inspired by the delicious crumble they currently serve at l'Avant-Goût, to which I went back on a couple of happy occasions recently.
Unrelated yet joyous note : a very Happy Birthday to Nassim and Alex!
Crumble Poire et Marron Confit
– 6 ripe juicy pears
– 4 marrons confits (glazed chestnuts)
– 3/4 C granola cereal
(Serves 4.)
Pear compote. Peel, core and cut the pears into medium chunks. Put them in a saucepan, and cook over medium heat, covered, for 10 to 15 minutes, stirring gently every once in a while. They are done when they are translucent, but you don't want them to melt completely, some chunks should remain. Most pears are sweet enough that you don't need to add sugar to them, but if you feel like yours aren't very sweet, add a teaspoon or two of sugar at the beginning of the cooking.
The pear compote can be prepared ahead, and kept in an airtight container in the fridge for a couple of days.
Preheat the oven to 200°C (400°F). In each of four shallow ramequins, spoon a fourth of the pear compote. Add one chopped marron glacé, and top with a fourth of the granola. Put the ramequins into the oven for about 10 minutes, or until warm. Serve as is, or top with a small scoop of vanilla ice-cream or crème fraîche.