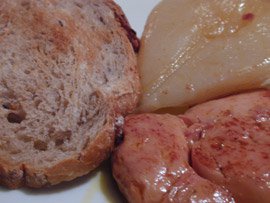 [Scalloped Foie Gras Mi-Cuit, Poached Pear, Toasted Rustic Bread]
Christmas eve this year was spent just the four of us : my parents, my sister and myself. A week before, having come to my parents' on a weeknight, my mother and I had brainstormed over an after-dinner cup of tea, and we had come up with the Christmas menus. My mom having taken care of the grocery shopping, the afternoon of the 24th found us preparing the dinner together, in between miscellaneous tree decorating and last minute gift wrapping activities.
I enjoy cooking with my mother very much. Probably because I have watched her cook so often and also because she has taught me a lot of what I know, we just seem to move around the kitchen in unison, picking up where the other has left off, handing out the right tool at the right time without being asked, the different tasks dispatched seamlessly, chatting all the while.
On the special request of my father, the dinner menu started out with slices of smoked salmon. My mother had bought two kinds : Norwegian farm-raised smoked salmon and a pricier wild smoked salmon. While both were very high-quality, the latter, of a lighter pink shade, proved particularly succulent. Sprinkled with lemon juice, served with oven-warmed blinis and crème fraîche, this was a delicious first course. Smoked salmon seems a more and more common fare, but I'm wondering if one shouldn't hold off eating it unless presented with the real thing.
We then prepared and served the main dish : scalloped foie gras mi-cuit with poached pears and toasts of rustic bread. Mi-cuit ("half-cooked") is a way to prepare foie gras, in which the raw liver is cooked in a terrine, slowly and at a very low temperature, allowing the natural flavors and textures to develop in very subtle ways. The resulting product has a very short shelf-life, whereas regular canned foie gras can be kept at room temperature for up to four years. Foie gras mi-cuit can be bought whole, or in slices ("escalopes") as was the case for us.
Escalopes de Foie Gras Mi-Cuit, Poires Pochées, Toast de Campagne
– four slices of Foie Gras Mi-Cuit
– two ripe pears
– four slices of rustic bread
Cut the pears in halves, peel and core them. Put them in a medium saucepan, cover them with water, and bring to a gentle boil. Cook for ten minutes, until the pears are translucent. Drain and reserve. These can be prepared up to a day ahead.
Right before serving, heat up a large skillet. Put the slices of bread to toast. When the skillet is very hot, put the slices of foie gras and the pear halves in. The foie gras will instantly start to shrink, releasing some of its fat. Cook for barely a minute, then flip the slices and the pears, and cook for one more minute.
Sprinkle with salt and pepper, and serve the slices of foie gras, and the pear halves, using a slotted spatula to avoid taking too much fat, along with the toasts.
This was really simple to make (how many recipes do I make with just three ingredients?) and, though not suited for the picky eaters, the faint of heart or the dieters, a real delight. The sweetness of the pear compliments that of the foie gras wonderfully, the toasted bread providing the crunch to play off their softness, each bite a perfect triplet of rich and textured flavors.