Christmas is just a few days away (not to stress you out or anything) and I was shocked to realize that, in fourteen years of Chocolate & Zucchini, I have never offered an actual post outlining how to host a French holiday meal.
So whether you're seeking to add a little Frenchness to your holiday celebrations, attending your first bona fide French holiday meal this year, or even hosting one (gah!), let me break things down for you, and suggest some winning French holiday recipes.
Christmas and the New Year
French families get together for a Christmas Eve dinner (le réveillon de Noël), and often there's a second meal for Christmas Day lunch (not breakfast or brunch), either with the same cast or with a different part of the family.
Christmas is largely celebrated in the home; most restaurants are closed that night for staff members to celebrate with their own family. It is considered an intimate occasion reserved for family members and close family friends, so if you are a guest from outside the family, it's a big deal. Presents are opened either after dinner on Christmas Eve, or in the morning on Christmas Day.
The French New Year's Eve (le réveillon du Nouvel An) is often celebrated with friends rather than with family, and it is more of a grown-up occasion. If there are small children, they will be tucked into bed early or allowed to collapse on some couch, but the party is not about them. (Sorry kids.)
Some people go out to dinner on New Year's Eve, but I don't know who they are and I wouldn't want to go with them. In my circle, we are more likely to have a special dinner at someone's house, and possibly go out later, or just push the furniture and party at home*.
Apéritif
A French holiday meal is designed to go on long into the night, so the apéritif phase — pre-dinner drinks with nibbles — will last awhile. Champagne is the typical drink served, but because I am contrarian, I prefer to pick out an alternate sparkling white. At the caviste's you can ask for a vin blanc en méthode champenoise, a white wine produced in the style of Champagne, but from another region.
Shellfish is a staple of the French holiday table, and coquilles Saint-Jacques (sea scallops) are especially prized. I like to feature them raw in these canapés, an easy and elegant apéritif easily eaten with one hand in a couple of bites.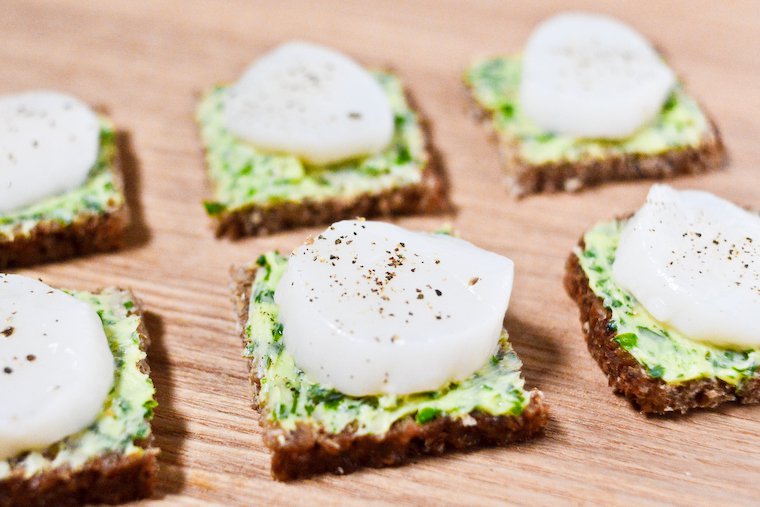 There are three reasons you should make this savory quick bread (in French, cake salé): one, it freezes beautifully; two, it cuts into bite-size cubes with little mess; and three, it is a quintessential French buffet item. Also: one of my most popular recipes from this blogging year!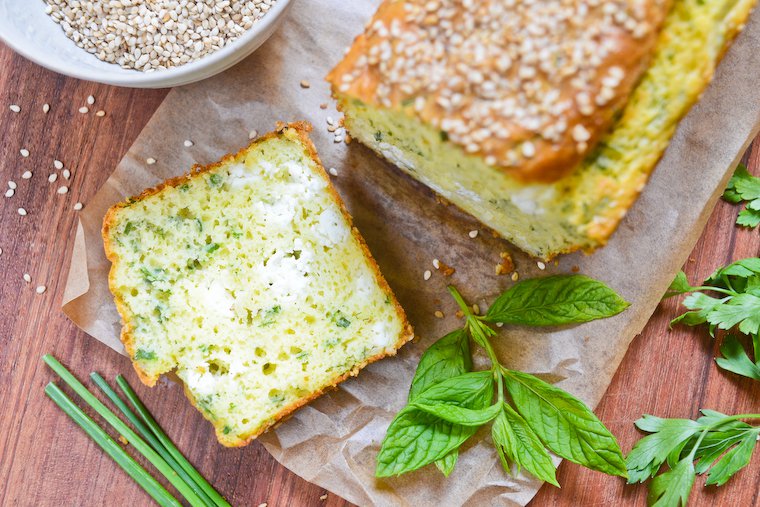 A quick win of a recipe, these spiced almonds are perfect for grazing during the apéritif, or to package up in a pretty sachet and bring as a host(ess) gift.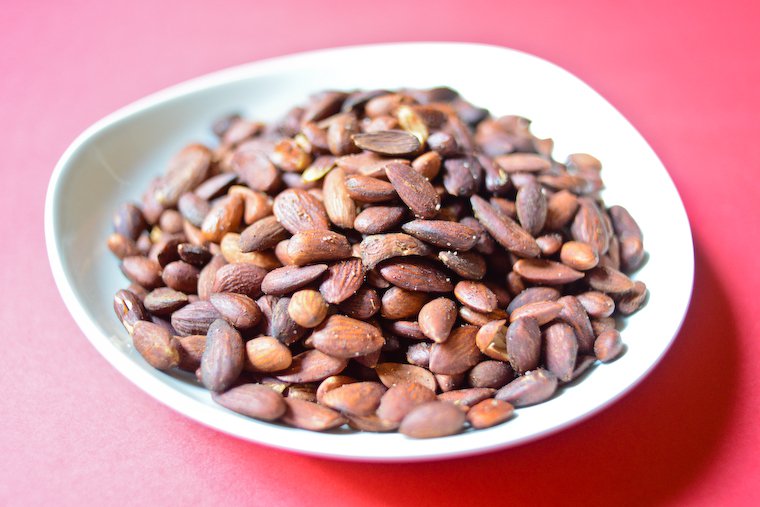 First Course
Ready for the sit-down dinner now? Please, take a seat!
Oysters
A traditional no-cook treat to open the holiday feast is the platter of oysters, freshly delivered from the Atlantic ocean. Order yours from the busy poissonnier well in advance; they will shuck them for you at no additional cost (but usually there's a tip jar). Oysters are typically served raw and in the shell, with thin slices of rye bread, salted butter, lemon juice, and shallot vinegar.
Foie Gras
It used to be that French people only ate foie gras during the holidays. It was a luxury item, produced traditionally, with care and respect for the animals, and appreciated with reverence. Nowadays, people want it year-round and they want it cheap. This has spawned an industry of mistreated, factory-farmed animals yielding tasteless, fatty foie gras.
My recommendation is to skip the foie gras altogether if you can't be sure it has been produced artisanally and ethically. If, however, you get to visit an independent producer on your travels, or have a solid recommendation for one from a chef or discerning cook, buy a terrine de foie gras entier mi-cuit in a jar and savor every bite.
Duck or goose is a matter of preference; the former is more common (ducks are easier to raise) and the flavor more assertive.
Serve your terrine de foie gras cold, but not too cold, with toasted bread. Pain brioché (think enriched yeast bread such as challah) is traditional, I prefer a sourdough loaf to complement the sweetness of good foie gras. Some people insist on serving it with pain d'épices (honey spice cake) but that is too cloying for my taste, and I don't think the pairing benefits either. The proper way to eat foie gras is to slice a bite-size piece with your knife, place it on the bread without spreading (sweet heavens, no), and take a bite.
Smoked Salmon
Sigh. Another luxury food item that has been utterly ruined by the consumer's insistence to eat it any old day of the year, but no willingness to pay the proper price for it. The consequence? Factory-farmed salmon pumped full of drugs and chemicals, destroying the environment, and resulting in oily, unsubtle smoked salmon that just tastes of fish and smoke.
I would much rather buy wild salmon and indulge just once a year, buying a couple of thin slices per person and savoring every bite with my eyes closed. (And if that falls outside the budget, organic smoked trout is a delicious, lower-cost, ethical option.)
Smoked salmon is typically served with toasted blinis, crème fraîche (sour cream will do), and a teensy squeeze of lemon juice.
If you'd like to cook your starter, this is a savory twist on the pâtisserie classic that's easy to make, yet festive and sophisticated.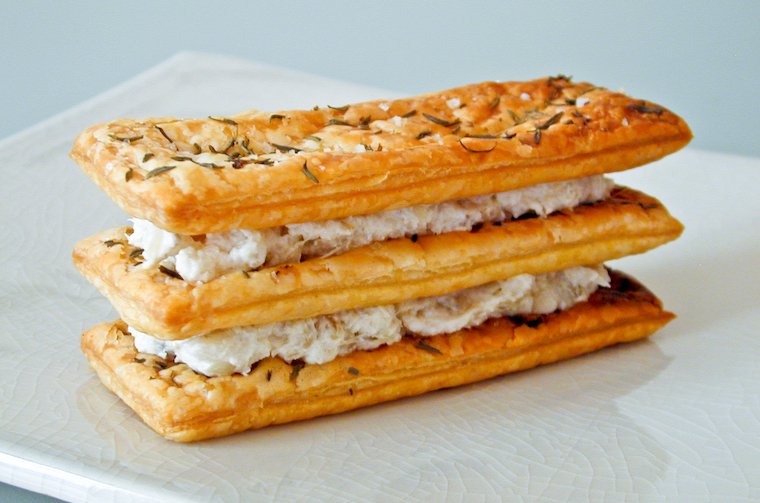 A perfect first course if the host's apartment doesn't have very good heating, this warming, velvety soup has smoky umami notes thanks to the addition of bacon. (Vegetarians can omit and use mushrooms instead.)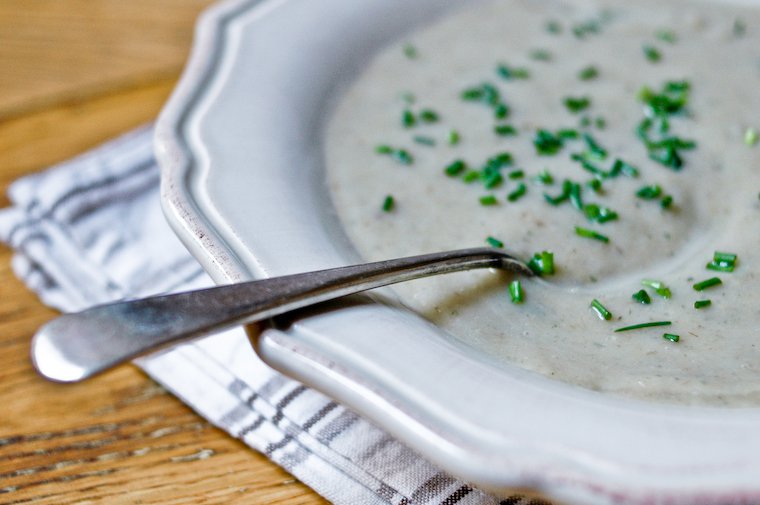 Roasted bird or game
Holiday menus in most families are built around a roasted meat, and in preparation for the holidays, butcher shops in France begin to display whole birds in their windows, feathers and all.
You are likely to encounter dinde (turkey), chapon (capon), poularde (fattened hen), pintade (guinea fowl), oie (goose), faisan (pheasant), but also canard (duck), cailles (quails)… and good old chicken, preferably heritage breeds (coucou de Rennes, Gauloise blanche…) so it feels more exceptional. (I get mine from Terroirs d'Avenir.)
Game is also a popular choice, and it certainly leaves an impression. I remember my uncle roasting a thigh of boar one year, and a friend's father a whole side of venison, on a spit, for hours, in an open chimney.
But, um, for smaller gatherings, here are my favorite French chicken recipes, which can be applied to any kind of small bird:
I love this recipe for its simple, foolproof method. All you need is a few quality ingredients and the patience to let them cook slowly.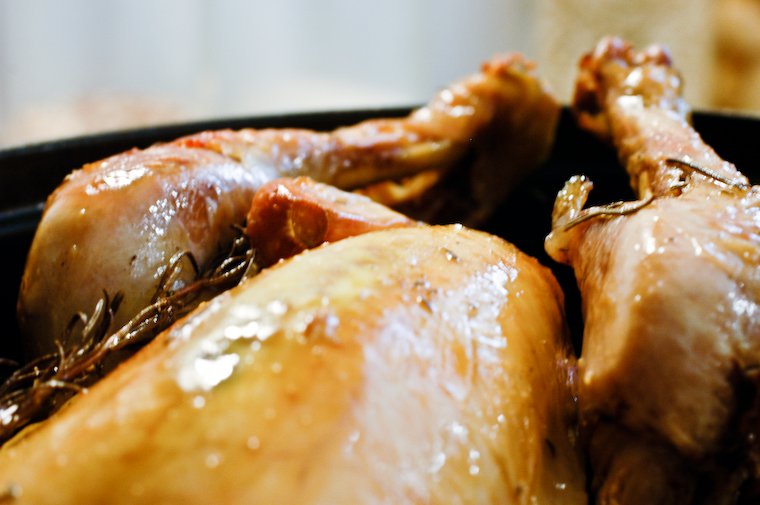 One of my favorite ways to roast any kind of poultry is to butterfly it (see: how to spatchcock a chicken), removing the backbone and flattening it. This method yields a perfectly roasted, moist bird, and takes less time than roasting it whole.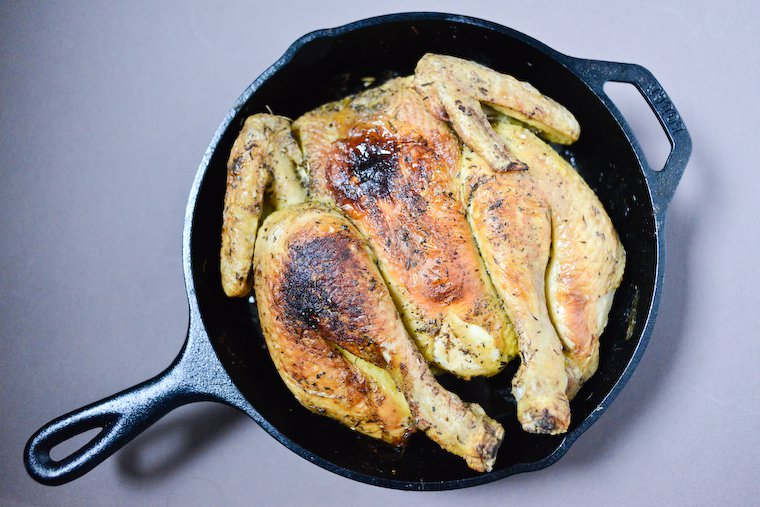 The salt crust on this chicken allows it to cook in its own juices, and also offers some flexibility when it comes to cooking time — a must if you're hosting a holiday meal.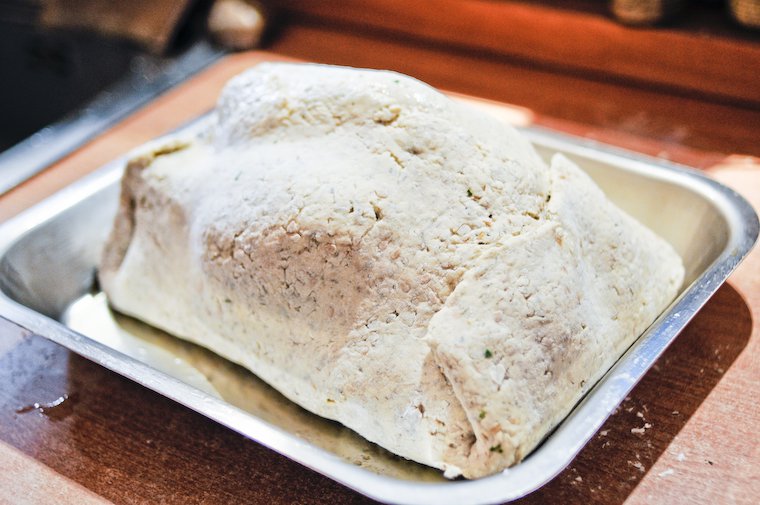 This two-in-one French recipe is perfect for a festive meal: the bird is tucked inside a bread crust, that you can then cut up and serve, to mop up all of the flavorful cooking juices.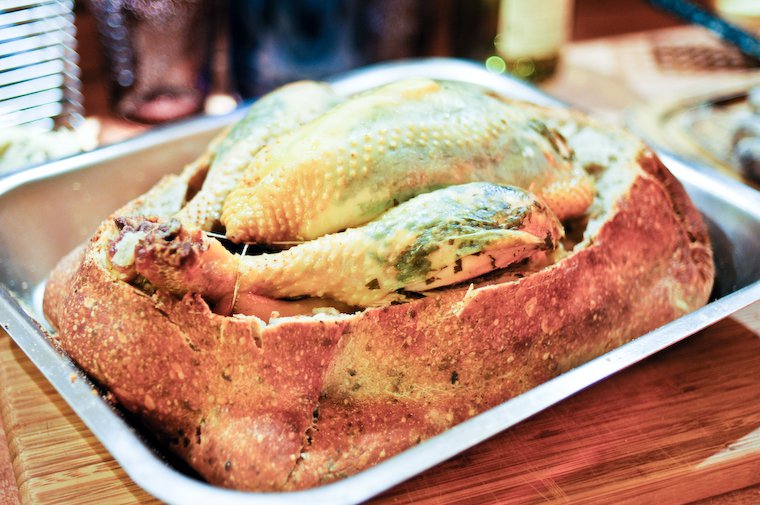 Sides
Accompanying the main meat attraction, there will be two to three sides, passed around from guest to guest and across the table in a joyful, voluble chaos. Each family has its own specialties; I recommend you stick with seasonal produce: root vegetables, winter squash, various kinds of cabbage, mushrooms, chestnuts… My mother typically makes mashed celeriac, mashed potatoes, and sautéed chestnuts (can't wait!). The following are additional options to consider.
Those squash seeds you've been saving for, well, you're not sure what? They belong on these Brussels sprouts — a tender, flavorful side to broaden the horizons of your favorite selective eater.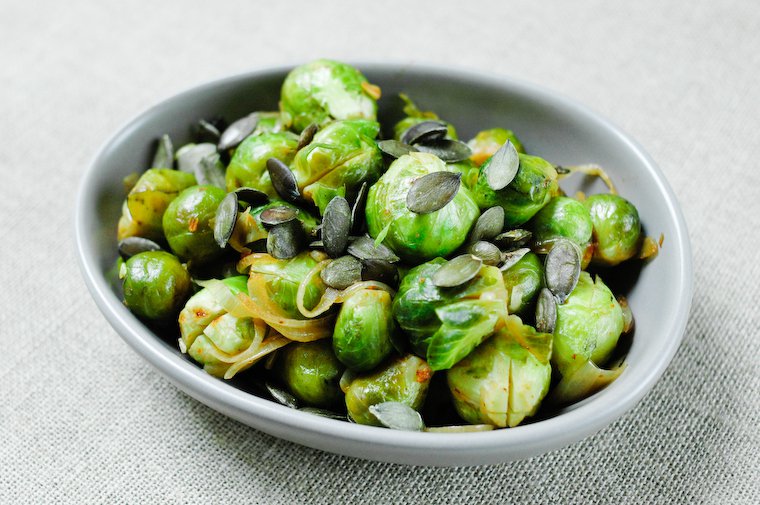 Despite being very easy to make, this dish of stuffed pasta feels very special, and it hits all the seasonal flavor notes. Additionally, if there are vegetarians in your party, this has enough personality and substance that it can be presented as a special course for them.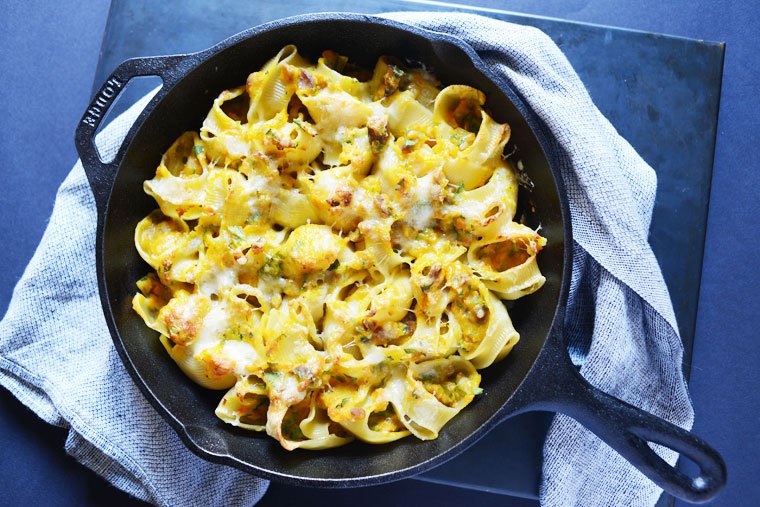 Wondering what the secret is for purr-fect roasted potatoes, crispy on the outside, tender on the inside? It's easy, and requires zero additional tools.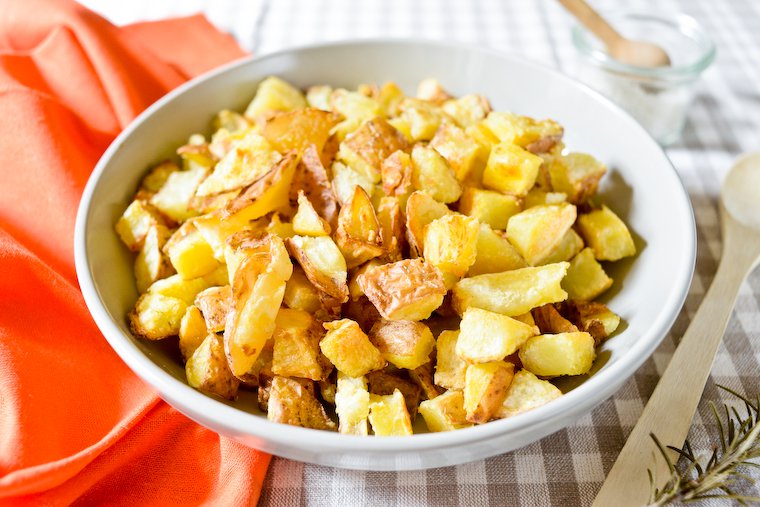 I know, I know. Everybody claims to have the key to perfect mashed potatoes. Just trust me on this one.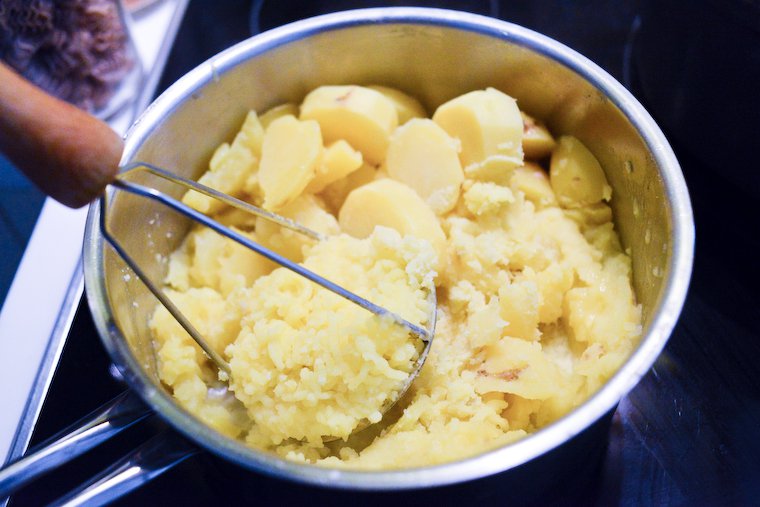 Cheese Platter
Jean-Anthelme Brillat-Savarin wrote that a dinner that ends without cheese is like a beautiful woman with only one eye (Un repas sans fromage est une belle à qui il manque un oeil). This strikes me now as both sexist and ableist (way to kill two birds with one stone, J.A.!), but in the context of his time it made sense I guess.
Point is, the French consider the cheese course with devotion, and take the utmost care in composing an assortment — use these French cheese tips to craft the perfect cheese board.
A French holiday meal wouldn't be French without good bread offered throughout the meal, with a fresh supply brought in for the cheese course. (No crackers with French cheese!)
Now, I'm not suggesting you bake your own pain au levain if you're the one hosting the feast (burnout much?), but a homemade sourdough loaf such as this one would be a wowing item to bring to a meal hosted by someone else. You can even slash the top in your host's initial, as I've been known to do.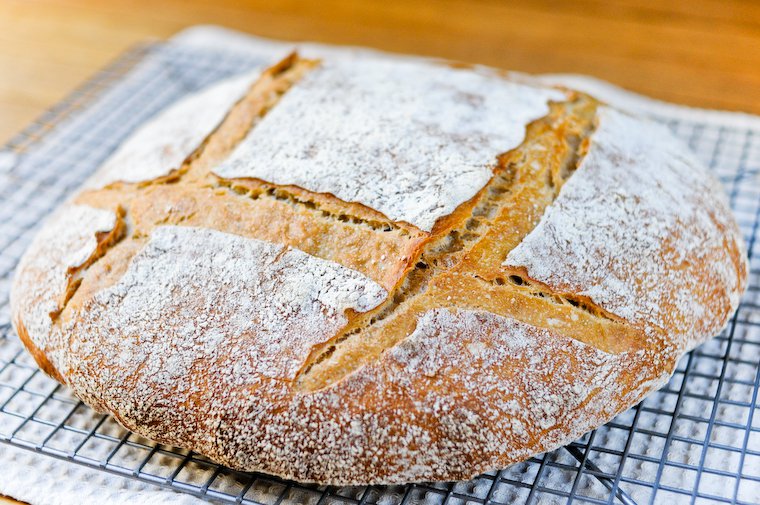 Dessert
You still with me? Take heart, we have just one more course to go!
Bûche de Noël
The Yule log is the typical dessert to end the Christmas meal. Traditionally topped with kitschy plastic decorations that children will noisily fight over — little Santas, dwarves or reindeers, tiny sleds and saws — and collect from year to year, they are either made of ice cream (bûche glacée) or with sponge cake and buttercream (bûche pâtissière).
As with any French dinner party, dessert is not something the host is expected to make him- or herself. Most French people will order a bûche from their corner pâtisserie, or buy it from a frozen food store such as Picard or the supermarket. (The trick then is to remember to thaw it well in advance, lest you serve your frozen bûche pâtissière as if it were a bûche glacée. #ultimatefail.)
If you have lofty means and want to impress the in-laws, you can go the haute-pastry route and get the latest creation from your favorite celebrity pastry chef.
But. If you like simple and homemade best, I recommend this fresh and light bûche de Noël. It is really not difficult at all, and you can prepare it the day before and assemble it the day of. I've had readers report that it disappeared much faster than the fancy designer bûche that someone else had brought (sorry).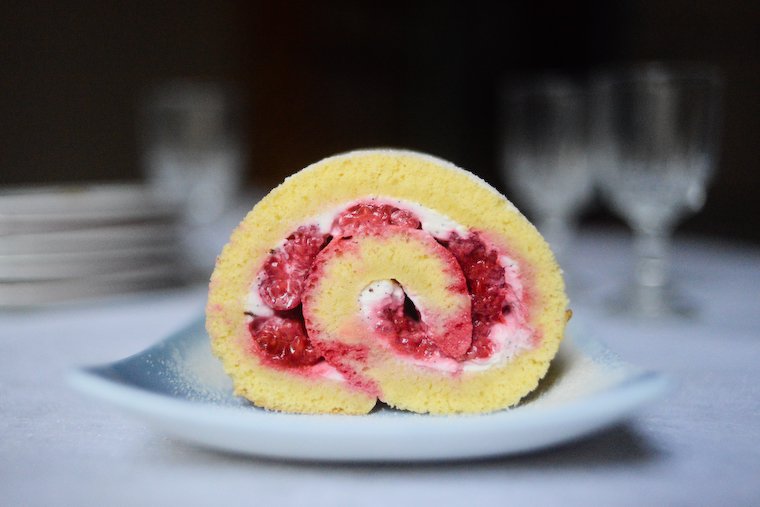 A delicate centerpiece and a total crowd-pleaser, this dacquoise has stolen the show at many a New Year's Eve party. Again, the keyword here is freshness, with tart raspberries and a light filling nestled between moist layers of almond cake.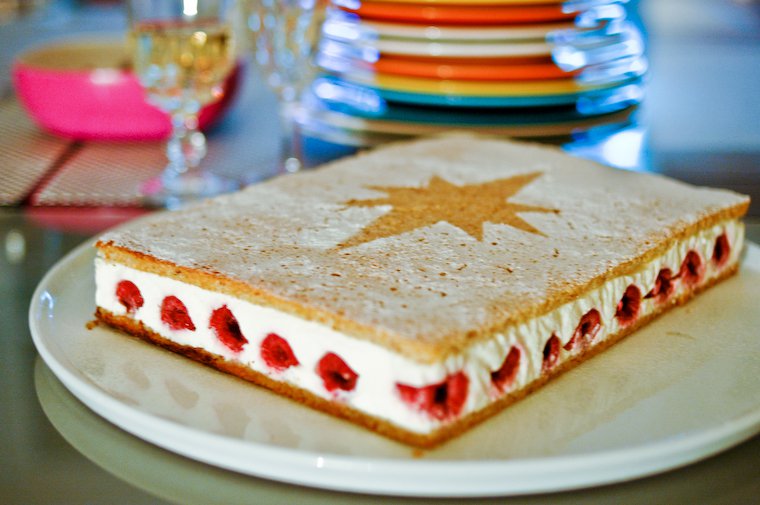 Seasonal simplicity at its best. And who could say no to a butter cookie with a side of chocolate?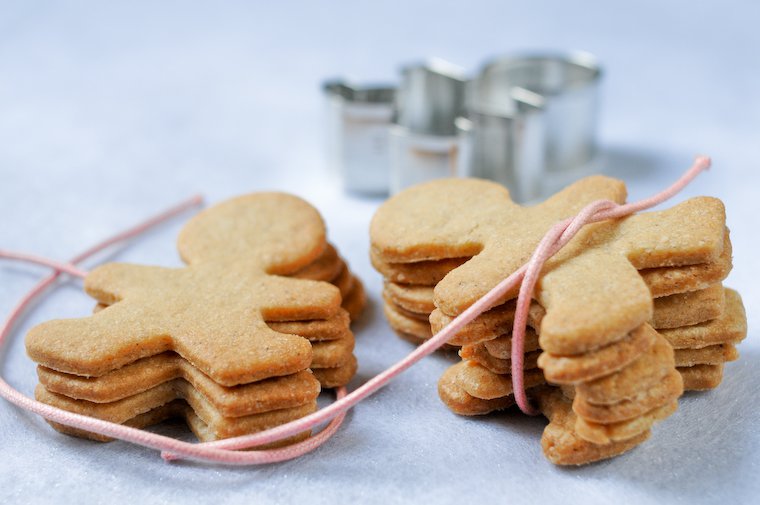 Tropical Fruit
For those who prefer to forgo a desserty dessert, take a page from my aunt's book and offer a platter of tropical fruits. In France, exotic fruits are played up more in the winter months, when the local produce mostly hibernates. A good in-between option is to serve this vibrant roasted pineapple, with coconut whipped cream.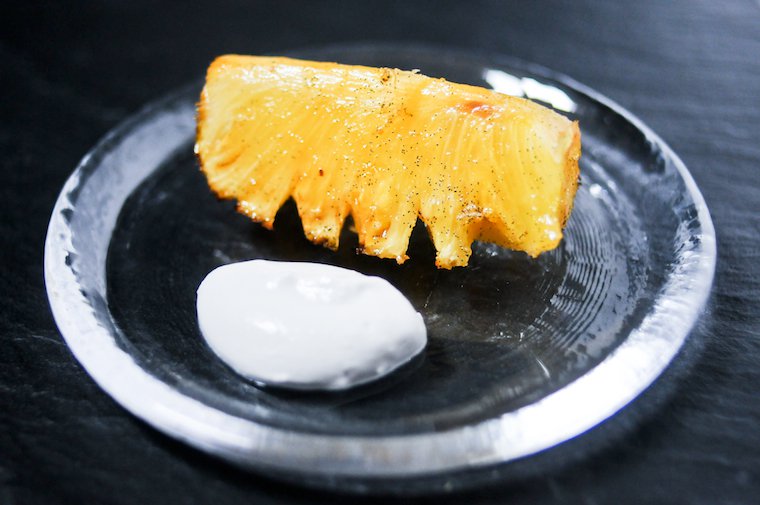 Mendiants — bite-size disks of dark chocolate studded with candied fruit and nuts — are a delicious nod to the tradition of Les Treize Desserts.
These "thirteen desserts" stem from Provence, in the south of France, the number thirteen representing Jesus and his twelve disciples. It takes the form of a large tray filled with goodies for guests to graze on after the meal. Pompe à huile (an orange blossom focaccia), oreillettes (fried dumplings), dried fruits and nuts (figs, raisins, dates, walnuts, hazelnuts, almonds), nougat (black and white), and fresh seasonal fruit (clementines, apples, pears). Beyond these traditional treats, you can add small chocolates — such as my mendiants or orangettes — marzipan, and other simple treats. These trays are traditionally put out for three days following Christmas, but they may not last that long.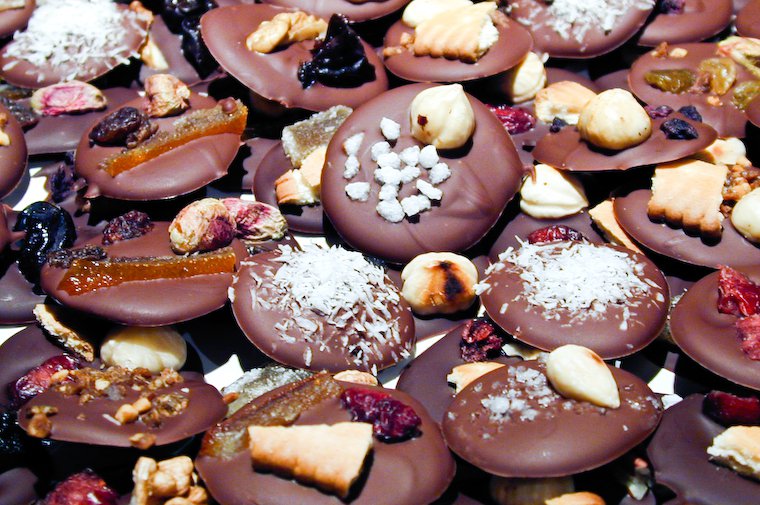 As soon as the clock strikes midnight on December 31, pastry elves start stocking bakery shelves with these golden King's Cakes, officially meant to celebrate the Epiphany on January 6. They are not, I repeat, they are not an appropriate dessert to offer at Christmas or New Year's Eve. But if you're hosting a gathering on New Year's Day, then yes, go right ahead!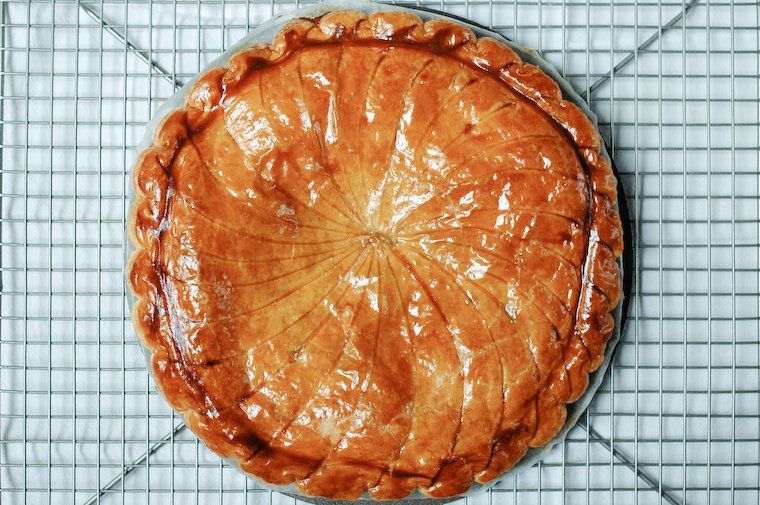 Food Gifts
Did you dodge the hosting bullet this year, and are you looking for the perfect host(ess) gift? I'm of the opinion that the most thoughtful presents are homemade and edible, from cookies to chocolate to flavorful spiced nuts, and here are my favorites.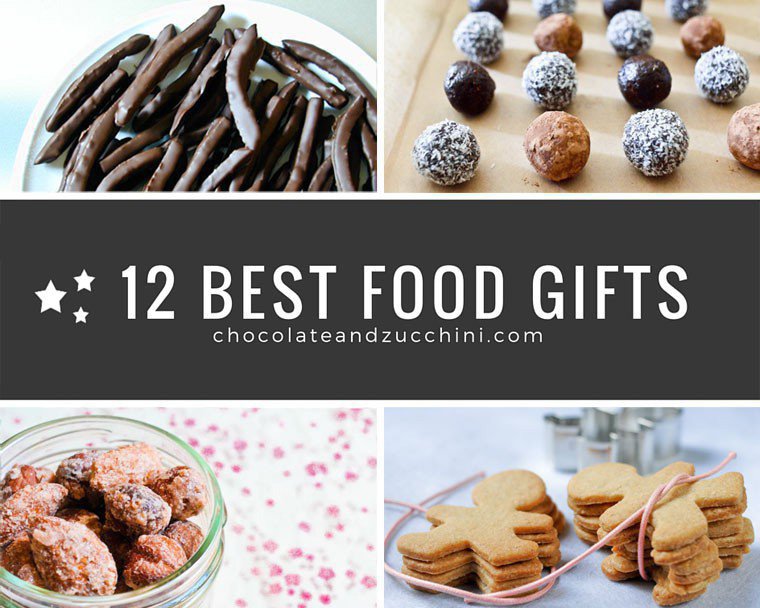 How about you?
Have you ever taken part in, or even hosted, a French holiday meal? What was it like, and what were some of the most memorable French holiday dishes you tried?
* Full disclosure: I'm not a big party person, and I hate having to find a cab ride home — or a Vélib' — in the middle of the icy night on New Year's Eve. To avoid that very situation, we hosted our own New Year's Eve party for years, but now that we have children and the logistics are more complicated, my bliss is to stay home, watch a movie, eat roasted broccoli and dark chocolate (not together), and switch off the lights at (barely) midnight.