Holiday meals are just around the corner, and if you're still unsure what to make for dessert, I'm just one step ahead of you: we will be having Christmas lunch at Maxence's mother's, I've offered to bring dessert, and I've only made up my mind yesterday, when I did a trial run to make sure the recipe would work as I imagined it would.
The classic French dessert to serve at Christmas is the bûche de Noël (yule log), which people typically buy ready-made. Depending on the fanciness of the pastry shop, it is either A- loaded with buttercream, pretty kitschy, and entirely too sweet*, or B- a refined and elaborate affair that costs about twice the price of the rest of the meal, and requires you to wait in line among other stressed-out customers openly freaking out over the unchecked items on their to-do list.
I'm all for simple and peaceful during the holidays, so my plan instead is to bring this easy homemade bûche, rolled up with vanilla cream (a quick mix of yogurt and mascarpone cheese) and studded with raspberries. It is a moist and super refreshing dessert, light on the tongue and bright on the palate, moderately sweet and interspersed with the tangy, perfect notes of the berries. Just the kind of dessert I wish for at the end of a rich meal.
Two of the guests at our lunch don't eat chocolate (I know!), but if that wasn't the case I would likely have added dark chocolate shavings to the filling and some cacao powder dusted on top. I also considered adding chopped hazelnuts or toasted coconut to the cream, but decided to keep the flavors simple (sensing a pattern here?) and stick to the vanilla and raspberry pairing.
Raspberries aren't exactly in season this time of year (unless of course you live in the Southern hemisphere) but I buy them frozen and can live with this exception to my season-abiding cooking habits. For a more winter-friendly filling, you could replace the raspberries with poached and diced pears, and add some toasted walnuts or crumbled bits of candied chestnut for flavor and color.

As far as decorations go, again I'm going for simplicity, but you can place small paper stars on top the cake to act as stencils when you dust on the confectioner's sugar, you can drizzle the top in a zig-zag pattern with melted chocolate or caramel sauce, or you can place little marzipan trees across the top.
Join the conversation!
Will you be doing any cooking or baking for holiday meals this year? What are your plans? And have you ever made, or wanted to make, a Bûche de Noël?
PS: An equally holiday-friendly raspberry dacquoise, some holiday gift suggestions, and my ginger and almond chocolate clusters.
* And not necessarily made in-house: more and more pastry shops just buy frozen, factory-made bûches and pass them off as their own. If a neighborhood pastry shop seems to be selling lots of different sizes and designs, it is worth asking whether they are homemade. You can view a France 5 documentary on that subject (in French) for another few days: Noël, une bûche à tout prix !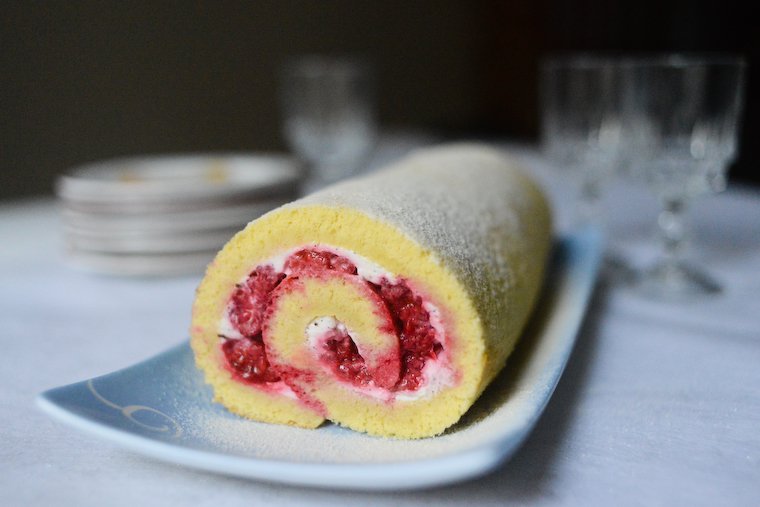 Have you tried this? Share your pics on Instagram!
Please tag your pictures with #cnzrecipes. I'll share my favorites!
Ingredients
For the syrup:

30 grams (2 tablespoons + 1 teaspoon) unrefined blond cane sugar
1 tablespoon dark rum or rosewater

For the cake base:

4 large organic eggs, separated
100 grams (1/2 cup) unrefined blond cane sugar
100 grams (3 1/2 ounces, about 3/4 cup) all-purpose flour
1/4 teaspoon fine sea salt

For the filling:

120 grams (1/2 cup) plain Greek-style yogurt or fromage blanc
120 grams (1/2 cup) mascarpone cheese
20 grams (1 tablespoon + 2 teaspoons) unrefined blond cane sugar
1 fresh pod vanilla (or 2 teaspoons vanilla extract)
230 grams (8 ounces) raspberries, fresh in season, frozen otherwise (no need to thaw)
Instructions
Prepare the syrup.

Put 60 ml (1/4 cup) water and the 30 grams (2 tablespoons + 1 teaspoon) sugar in a small saucepan and heat just enough for the sugar to dissolve. Set aside to cool and add the rum.

Prepare the cake base.

Preheat the oven to 175°C (350°F). Have ready a metal jelly roll pan (sides greased and bottom lined with parchment paper) or a silicon jelly roll pan (no need to grease or line), about 28 by 38 cm (10 by 15 inches).
Run a clean kitchen towel (not terry cloth) under running water and wring it thoroughly so it is just moist.
In a medium bowl, whisk together the egg yolks and the 100 grams (1/2 cup) sugar until pale and fluffy.

Fold in the flour, mixing just until incorporated.

In a separate, perfectly clean bowl, and using a perfectly clean whisk, whisk the egg whites with the salt until they form soft peaks.

Stir one third of the egg whites into the batter to loosen. Fold in another third, working gently with a spatula to lift the mixture and keep it from deflating. Repeat with the remaining third.

Pour the batter into the prepared pan and level the surface with a spatula.

Bake for 8 to 10 minutes, until the top of the cake is golden. Don't overbake or it will be hard to roll.

Top the cake with the moist kitchen towel, place a baking sheet or tray over it, and flip the whole thing. Unmold the cake carefully, removing the parchment paper if present.

Brush the cake with the syrup, and roll it up with the kitchen towel; this will initiate the proper shape to make the final rolling easier. Let cool completely, seam side down.

Fill and roll the bûche.

In a bowl, whisk together the yogurt, mascarpone, 20 grams (1 tablespoon + 2 teaspoons) sugar, and vanilla.

Unroll the cake carefully and spread it with the yogurt mixture (in the photo I didn't spread the filling up to the edges, but that's not necessary.) Arrange the raspberries on top.

Roll the cake back up as tightly and evenly as you can, using the kitchen towel for support (but not rolling it up this time).
Transfer cautiously to a dish or platter, seam side down, cover loosely with plastic wrap, and refrigerate for at least 4 hours, and up to 8.

Serve the bûche.

Using a serrated bread knife, slice off both ends of the roll to get clean edges. Dust with confectioner's sugar and serve.
https://cnz.to/recipes/cakes-tarts/raspberry-buche-de-noel/
Unless otherwise noted, all recipes are copyright Clotilde Dusoulier.