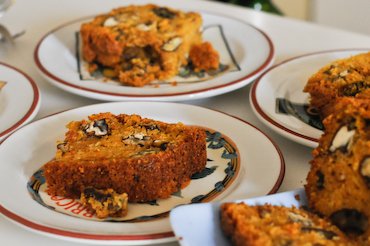 There will be a special place in my baker's heart for the first project I undertook post-baby, and I take it as a fine omen that it is also an exceptionally good cake, one I have already baked again twice since then.
Our son (it still feels surreal typing these words) is now six weeks old, he is thriving, and although the first weeks were challenging in ways I had been told about but couldn't truly penetrate until I experienced them firsthand, our little family is finding its rhythm and every day brings new reasons to feel lucky that we landed this particular charming baby.
We have had friends and family come over to meet Milan, and it is on one of these occasions that, feeling uncannily energetic after a night during which the little guy only woke us up every three hours — consider our drastically lowered sleep standards — I decided to bake a cake for our guests.
The recipe is drawn (and marginally adapted*) from a fun new book by Julie Andrieu, a French cook, food writer, and television personality who gathered dessert recipes that use vegetables.
Her carrot cake is among the more classic items in this collection, but it is the one I was drawn to the most: one, because I have to steer clear of dairy for breastfeeding reasons, and this cake uses oil as the source of fat; two, the ingredients list and process were simple enough for my circumstances and I only needed to buy the carrots; and three, I adore carrot cakes but had yet to adopt a particular recipe as a standard in my repertoire.
On the eve of baking day I measured out the ingredients and grated the carrots, and on the day of I assembled the batter and plopped the cake into the oven, all with the baby sleeping against me in his wrap — an absolute godsend if you're the kind of person who likes to use both of your hands every once in a while.
It was a truly wonderful cake: moist and flavorsome and lightly nubby from the use of cornmeal, with a thin crust on top and the meaty crunch of pecans punctuating every bite, we ate it with an enthusiasm that nearly matched that with which we discussed the important matter of whose eyes and whose nose and whose mouth the baby seems to have taken (the consensus, respectively: mine, Maxence's, as yet undetermined).
* Here are the elements I modified from the original version: I lowered the amount of sugar a bit, and the amount of spices as well (I prefer a gently spiced carrot cake); I doubled the amount of cornmeal and added salt; I skipped the diced candied orange rind; I used pecans in place of walnuts ; I changed the order in which the ingredients are combined to follow the simple rule of wet ingredients vs. dry ingredients.
Pecan Carrot Cake
– 175 grams (1 cup minus 2 tablespoons) unrefined cane sugar
– 3 large eggs
– 120 ml (1/2 cup) olive oil or other oil
– 500 grams (1 lb 2 oz) carrots, peeled and grated
– 130 grams (1 cup) all-purpose flour (I used the French T65)
– 40 grams (1/3 cup) cornstarch
– 1 1/2 teaspoons baking powder
– 40 grams (1/4 cup) cornmeal
– 1 teaspoon warm spice mix (such as quatre-épices or pumpkin pie mix, containing cinnamon, cloves, nutmeg, and ginger)
– 1/2 teaspoon fine sea salt
– 125 grams (1 1/4 cups) pecans or walnuts, toasted if possible, coarsely chopped
Grease a 9 x 5-inch / 23 x 12-cm loaf pan with oil and preheat the oven to 160°C / 320°F.
In a large mixing bowl, whisk together the sugar and eggs for a minute. Whisk in the olive oil, and fold in the carrots.
In a medium bowl, combine the flour, cornstarch, baking powder, cornmeal, spices, salt, and pecans until combined. Fold into the wet ingredients, taking care not to overwork the batter.
Pour into the prepared pan and bake for 1 hour, until a cake tester comes out clean. Let rest on a rack for 30 minutes before turning out, and let cool completely before serving.
Adapted from Julie Andrieu's Les Insolites de Julie (Les Editions Culinaires).