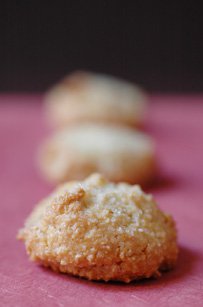 [Violet Cornmeal Macarons]
If you are still trying to get your act together about what homemade edible presents to give out this holiday season, I'm here to tell you that you are not alone. I myself have done precisely zilch about it, but that's okay: today is Tuesday, Christmas eve is this Sunday, and that still gives me plenty of time to pick a recipe, buy the ingredients, and get started, right? Right? Thank you.
I would hate to spoil the surprise for the usual recipients of my food gifts, who happen to read this blog every once in a while — especially just before they see me so they can pretend they read it more faithfully than they probably do –, so I can't tell you exactly what I'll make, but I will gladly point you to a few recipes I'm considering (but haven't tested yet):
~ Jenjen's Maple Brandy Snaps,
~ Monica Hayden's Havreflarn, as recommended by Marie,
~ Nolwenn's Dried fruit biscotti (in French),
~ Pascale's Chocolate caramels (in French),
~ Bulle's Guimauves, the French marshmallows (in French).
Add to those twelve gift-worthy favorites from the C&Z archives (a selection you would have received in your mailbox three weeks ago if you were a happy subscriber of my monthly newsletter):
~ Very Ginger Cookies,
~ Shortbread,
~ Chocolate and Cacao Nib Cookies,
~ Green Tea Cat's Tongues,
~ Chocolate-dipped Apricots,
~ Dried Pears (which you can chocolate-dip, too),
~ Mendiants,
~ Florentins,
~ Spiced Chocolate Peanut Butter,
~ Wine Jelly,
~ Almond Lemon Curd,
~ Pear and Cacao Nib Jam.
And a bonus recipe, that of the cornmeal macarons* I've come up with a few months ago: I was hoping to create delicate two-bite numbers that would make good teatime companions, preferably with a lightly crunchy crust that would yield into a soft, nubby heart. I tinkered and stirred and trusted my instincts, and I was quite pleased with what I got — pleased enough to make a few more batches since then (it is such an easy one-bowl, scoop-drop-'n-bake recipe), in different flavor incarnations: violet, citrus zest and pepper, or simply vanilla.
* Read more about the use of the word macaron.
~~~
Just as a reminder, you have until Friday to make a donation in our Menu for Hope fundraiser and get a chance to win some of the cool prizes; my sincere thanks to all of you who have already donated with such generosity.
Macarons Maïs Violette
100 grams (1 cup) almond flour (= almond meal or ground almonds; see note)
100 grams (1/2 cup) unrefined cane sugar, plus extra for sprinkling
50 grams (1/3 cup) flour
50 grams (1/3 cup) stone-ground cornmeal (not quick-cooking)
3 medium egg whites
Flavoring: 2 drops violet extract OR 2 teaspoons finely chopped citrus zest (lemon, lime, orange…) plus a pinch of cayenne or freshly ground black pepper OR the scraped seeds from one vanilla bean OR 3/4 teaspoon pure vanilla extract.
Makes 30 macarons.
Preheat the oven to 200°C (400°F) and line a baking sheet with parchment paper.
Combine the almond meal, sugar, flour, and cornmeal in a medium mixing-bowl and whisk to remove any lump. Form a well in the center, add in the egg whites and flavoring of your choice, and whisk again, starting from the center, until combined. The batter will be thick. (This can be prepared up to a day ahead: place a piece of plastic wrap directly on the batter, cover, and refrigerate.)
Using two teaspoons, shape one-inch balls of batter and drop them on the baking sheet, spacing them by about an inch. Sprinkle the tops with sugar and bake for 15 minutes, until golden but still slightly soft (they will harden as they cool). Transfer to a rack to cool. The macarons will keep in an airtight container for 4 to 5 days.
Note: Almond flour, a.k.a. ground almonds or almond meal, can be found at natural foods stores. If you can't find it, substitute 2/3 cup plus 2 tablespoons whole blanched almonds. Combine them with the sugar in a food processor and process in short pulses until finely ground.