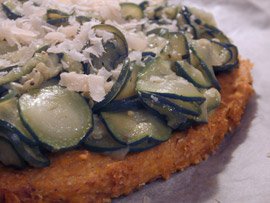 I have a particular soft spot for polenta and anything cornmeal.
Unfortunately, they are not at all common in France : I have occasionally seen polenta served at restaurants (and I will reliably dart onto any dish that mentions it as a component, especially if it claims to be croustillante), but it is rather hard to find in French food stores. You need to go to organic stores — where you will find instant organic polenta, passable but not stellar — or to some small Italian stores, where you will likely be charged an arm, a leg and the left ear of your firstborn for what was, originally, peasant food.
Another solution is to have your two best friends get some for you on their trip to Rome, or a blogger-friend bring some from Ticino as she comes to Paris for a few days (thanks again Theresa!), but these aren't sources you can rely on year round, of course.
The idea for a tart in which the base would be a disk of oven-baked polenta had been on my mind for a little while, and this recent profusion of excellent quality polenta in my happy kitchen cabinets (oh they certainly can't complain of deprivation, no) was the perfect occasion to put it in practice, using Marie-Laure and Laurence's Italian polenta with dried porcini.
There is something singularly satisfying about imagining a dish in your mind, making up the recipe as you go, and have it turn out even better than you expected : this tart was everything I hoped it would be, pretty and appetizing, its base golden and crispy outside, but moist and nicely mealy inside (with embedded mushrooms as a bonus), the layer of thinly sliced zucchini well-seasoned, its flavor wonderfully teased by the sharpness of the fresh parmesan. It also made for a very nice lunch the next day, and would be a great brunch item too.
Zucchini Polenta Tart
– 1kg (2.2 pounds) zucchini
– 250g (1 1/2 cups) cornmeal (also sold as polenta) (not precooked, preferably stone-ground, possibly with dried mushrooms)
– 50g (1/2 cup) freshly grated parmesan
– olive oil
– herbes de Provence (or a mix of dried thyme, basil, oregano, and rosemary)
– salt, pepper
Cook the cornmeal according to package directions, until it gets to a rather thick consistency. Season with salt and pepper.
While the cornmeal cooks, rinse the zucchini, trim the ends, and slice thinly, preferably using the mandoline you got from your parents for your twenty-fifth birthday. Heat a little olive oil in a large pan, add in the zucchini slices, sprinkle generously with salt, pepper and herbes de provence, and toss to coat. Put the lid on, and cook on medium-low heat for about 15 minutes, until the zucchini is just cooked but not so much that it falls apart. Stir gently from time to time while it cooks to make sure all the slices cook evenly, but make sure not to turn them to mush. Transfer to a colander, and leave to drain.
Preheat the oven to 220°C (430°F). Pour the cooked cornmeal in a greased 25-cm (10-inch) tart pan, preferably with a removable bottom.
Put the cornmeal into the oven for about 15 minutes, until the top turns crusty and golden. Remove from the oven and pop the disk of cornmeal out of the pan. Put it on a cookie sheet, and return to the oven for another 10 minutes, until the sides are also crusty and golden. Remove from the oven. Flip the disk of cornmeal (the not-yet-crispy side will face upwards, the crispy side downwards) and return to the oven for a final 10 to 15 minutes, until the disk is crisp all over.
Remove from the oven, and arrange the zucchini slices harmoniously over the top of the cornmeal disk. Return into the oven for about 10 minutes, top with parmesan, cut in slices and serve — warm, at room temperature or cold.
Cooking/baking time: 1 h 20 min