You know how, when you buy chickpeas in a can, they come in this thickish, off-yellow juice, not entirely appetizing to be honest, that you pour down the sink without even thinking about it?
Well, as it turns out, this chickpea brine has properties remarkably similar to those of egg whites: it's a snot-like (graphic! sorry!) liquid that's full of protein, and can be whisked to form a beautifully flowy mousse, peaks and all.
This was first revealed in 2014 by a Frenchman named Joël Roessel, author of the blog Révolution Végétale, though the "discovery" results from the incremental efforts of different vegan experimenters.
Since then, aquafaba — as the name was later coined — has taken the vegan world by storm, conveniently solving all baking problems that stem from not being able to use egg whites, without resorting to icky, super-processed egg replacers.
Aquafaba makes it possible to make vegan meringues (!), but the minute I heard about it, my brain went straight to vegan chocolate mousse (need I remind you what my blog is called?).

It's not just me, of course. There are a few recipes floating around on the Internet, but my different trials have led me to the formula I outline below, which has you weigh the amount of chickpea juice you have, and use the same weight in chocolate.
This is really handy because you don't always get the same amount of aquafaba from can to can, and the idea here is to use what you have — not open a second can if you're a few tablespoons short.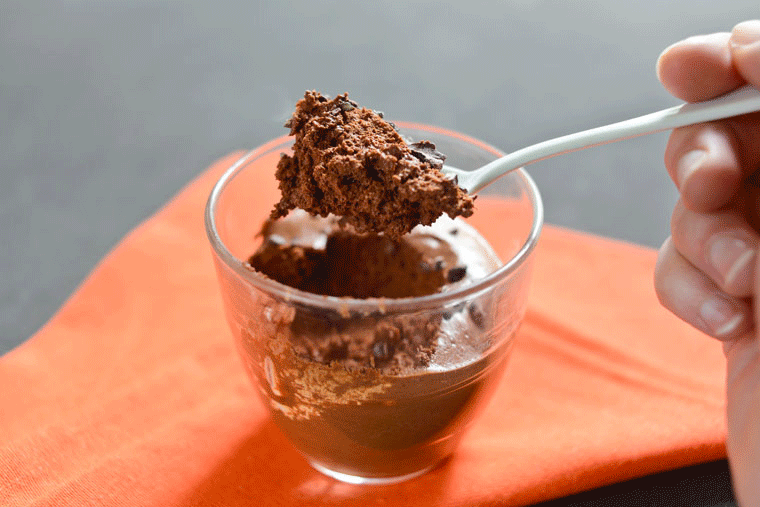 For this super easy recipe I don't add any sugar beyond what's in the chocolate itself. I use a pinch of salt to enhance the flavors; a little cream of tartar to get more volume from the aquafaba and stabilize the mousse; and some cacao nibs for a little crunch and visual appeal.
What this gets you is my platonic idea of a chocolate mousse: an airy texture that sighs when the spoon dips in, then melts voluptuously on your tongue with an intensely chocolaty, not-too-sweet flavor — and zero chickpea undertones. That's a promise.
So, why make this? Several reasons:
If you're vegan, obv.,
If you can't have eggs because of an allergy or intolerance,
If you're making chocolate mousse for a pregnant woman (bless your heart) or somebody with a compromised immunity who can't have raw eggs,
You hate food waste and are happy to make such a gratifying use of that weird chickpea brine from the can,
If you're a curious cook who likes to play around and try new things,
If you have an emergency need for chocolate mousse — not judging — and you don't have super fresh eggs suitable for eating raw. Just keep good chocolate and a can of chickpeas on hand at all times, and you're golden!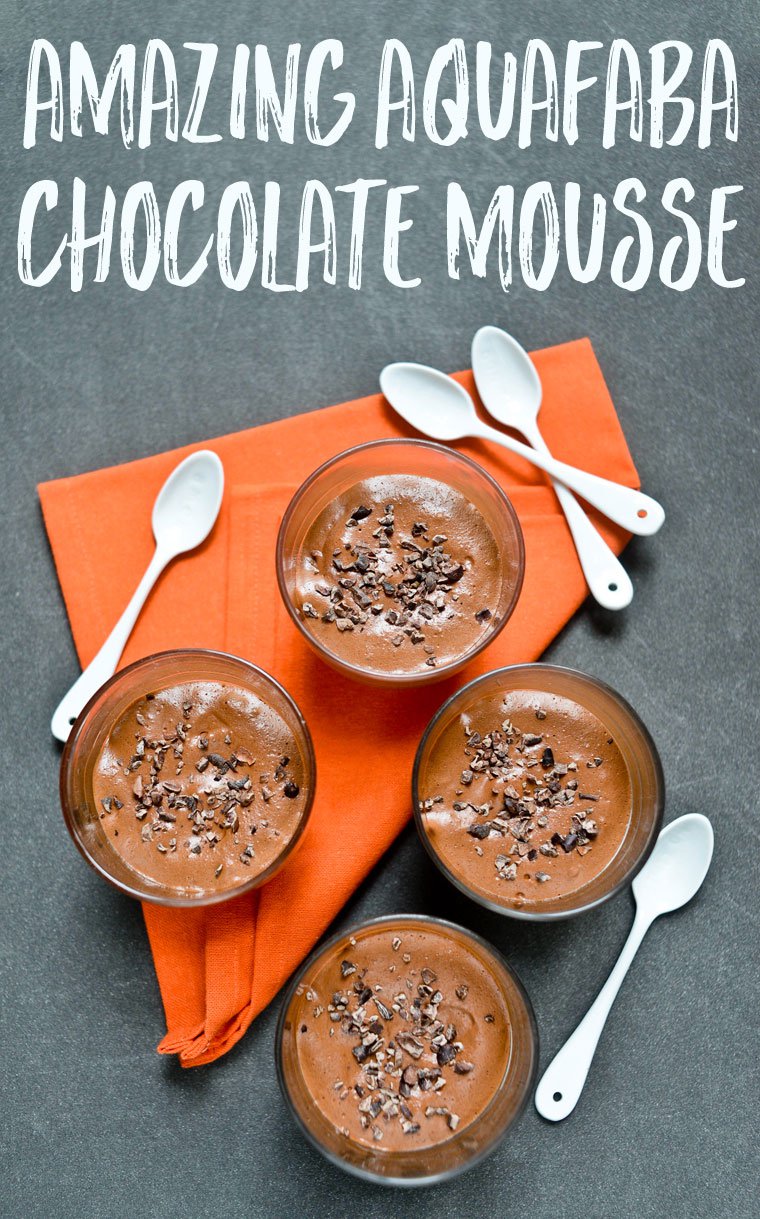 Have you tried this? Share your pics on Instagram!
Please tag your pictures with #cnzrecipes. I'll share my favorites!
Aquafaba Chocolate Mousse Recipe
Ingredients
180 grams (3/4 cup) aquafaba, i.e. the drained juices from a 400-gram (15-ounce) can of chickpeas (preferably organic, BPA-free, no salt added, remember to breathe)
180 grams high-quality dark chocolate (I use Manjari 64% couverture chocolate)
1/4 teaspoon fine sea salt
1/4 teaspoon cream of tartar or 1/2 teaspoon lemon juice (optional; see note)
1 tablespoon cacao nibs
Instructions
Have ready 6 serving glasses or cups, about 120 ml (1/2 cup) each.
Pour the aquafaba in a clean mixing bowl, or the bowl of a stand mixer, and set aside.
Place the chocolate in a double boiler and heat until just melted. Pour into another mixing bowl and allow to cool for a few minutes.
Using an electric whisk or the whisk attachment of a stand mixer, whisk the aquafaba, salt, and cream of tartar to soft peaks. This should take 2 to 3 minutes.
Gently stir a third of the whipped aquafaba into the melted chocolate, until fully incorporated.
Fold in the remaining aquafaba in two additions, using a spatula and lifting the mixture in a circular up-and-down motion to avoid deflating it, until fully incorporated.
Pour into the prepared cups, level the surface with the spatula, and sprinkle with cacao nibs.
Transfer to the fridge, and allow to set for at least 2 hours before serving.
Notes
The mousse will hold up fine if you prepare it a day ahead.
Cream of tartar helps to get the most volume out of the aquafaba, and stabilize the mousse. Here's how it works if you're curious.
https://cnz.to/recipes/desserts/aquafaba-chocolate-mousse-recipe/
Unless otherwise noted, all recipes are copyright Clotilde Dusoulier.