These roasted chickpeas play an important role in my weekday lunches.
Most days, when I'm working from home, my midday meal consists of a vegan bowl that features the produce I get delivered to my doorstep every Monday.
These need to be super satisfying, otherwise I'll be snacking on chocolate all afternoon and then I can't sleep at night from all the caffeine — true story. So over time I've developed an intuitive sense of what I need in a lunch bowl, and it is a combination of the below:
Something starchy, such as a grain (typically gluten-free) or a roasted root vegetable (pictured above: roasted sweet potatoes),
Something green, such as fresh salad leaves or leafy greens, either cooked, or raw and massaged (pictured above: thinly sliced and sautéed pointed cabbage),
Something raw, such as cucumber moons, spiralized and snipped zucchini, grated carrots, diced kohlrabi, radish confetti, halved cherry tomatoes — the list goes on,
Something fat-rich, such as an avocado when I can get them from not too far away, or a nut-butter-based dressing such as this simple tahini sauce or this equally easy peanut sauce,
Something protein-rich, such as legumes, lacto-fermented tofu, or, a recent discovery and current obsession, marinated and roasted tempeh,
Some fresh herbs, my favorite being cilantro, chives, and chervil (pictured above: I forgot to add them for the shot; keepin' it real here),
Something acidic or tangy, such as a squeeze of citrus juice, a splash of vinegar, chopped olives, some pickles, or a thinly diced wedge of preserved lemon (pictured above: a squeeze of lime juice, though you'll have to take my word for it),
And last but not least, what makes or breaks the bowl: SOMETHING CRUNCHY.

Before we jump straight to that last item (which I capitalized for emphasis, not decibels) I will note that I don't necessarily hit all the spots every single time. It is simply what I strive for, as each of these dimensions elevates that all-important satisfaction factor. The more you include, the more texture and color and flavor you'll naturally create.
If you find that you make this sort of lunch bowl but find them lacking, perhaps a little flat, start by adding a little salt (often the culprit). If the dish still tastes dull, ask yourself how you could make it more multi-dimensional.
Another important thing to mention is that I make enough of all the elements to make two to three lunches, or two lunches and a solo dinner, so that my Monday efforts reward me until Wednesday. Batch cooking, I'll have you know, is the key to kitchen sanity.
So. Back to the crunch. Because the elements I include in my bowls tend to be soft or chewy, I make sure I top them with something irresistibly crunchy. You know, the kind you sprinkle on as a topping, so not every forkful has it, but the bites that do feel like a party in your mouth? That kind.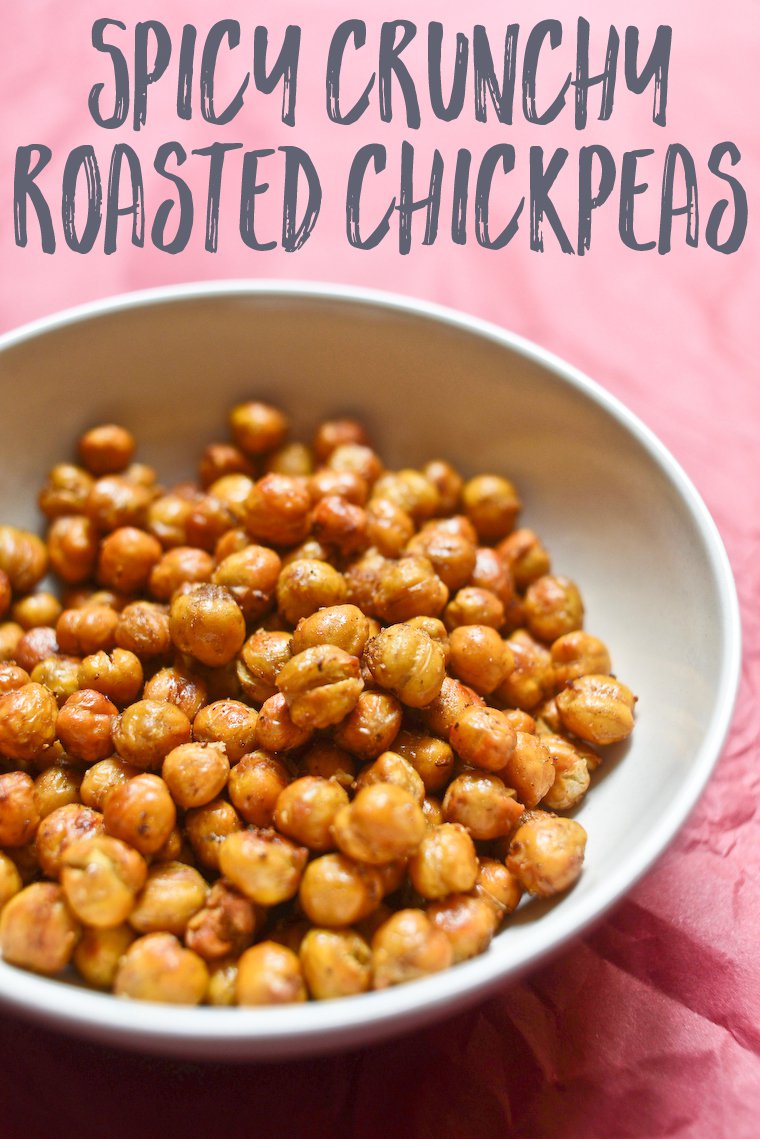 Maybe it's chipotle cumin roasted almonds from the jar I keep in my cabinet at all times, maybe it's itty bitty homemade croutons I make from leftover baguette ends, maybe it's crumbled tortilla chips, and lately, it's been a lot of spicy crunchy roasted chickpeas.
They are the simplest thing to make ever, and I wish I'd invited them into my life earlier. All you do is season and lightly oil some cooked chickpeas, pop them in the oven, and roast them until golden and crisp.
You could imagine all kinds of seasonings for your roasted chickpeas — a commenter named Alison brilliantly suggested shichimi togarashi or nutritional yeast — but I try hard not to fix things that are not broken so I use the cumin and chili pepper formula for my roasted almonds.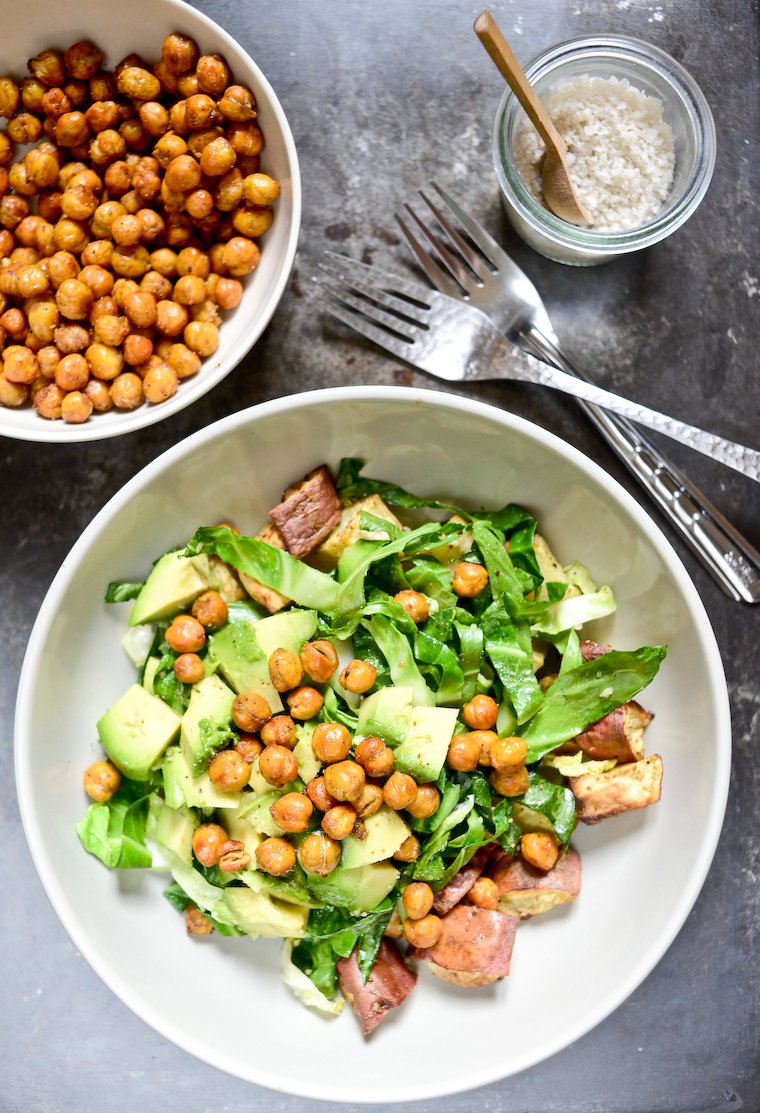 Roasted chickpeas are a lovely and wholesome snack to nibble on with a drink, they shake up any salad you sprinkle them on, and they're the perfect use for the canned chickpeas you bought in order to try this amazing aquafaba chocolate mousse.
Join the conversation!
What are your rules for making vegetarian salads or vegan lunch bowls nice and satisfying? And do you have a favorite seasoning mix for roasted chickpeas?

Have you tried this? Share your pics on Instagram!
Please tag your pictures with #cnzrecipes. I'll share my favorites!
Spicy Crunchy Roasted Chickpeas Recipe
Ingredients
500 grams (3 cups) cooked unsalted chickpeas, from two 400-gram (15-ounce) cans or jars, rinsed and thoroughly drained (see note if cooking from dried)
2 tablespoons olive oil
2 teaspoons ground cumin
1 1/2 teaspoons fine sea salt
1 teaspoon ground chili pepper (adjust to taste)
Instructions
Preheat the oven to 200°C (400°F).
In a bowl, combine the chickpeas with the oil, cumin, salt, and chili pepper until well coated.
Arrange in a single layer on a rimmed baking sheet and insert into the oven.
Roast for 25 to 30 minutes, shaking the sheet halfway through to ensure even roasting, until the chickpeas are lightly browned.
Allow to cool completely; they will crisp up as they cool.
Notes
If you want to make this with home-cooked chickpeas, start with 220 grams (1 cup) dried chickpeas and boil them until just cooked through -- not mushy.
The chickpeas are at their crunchiest on the day you make these, but you can use them over a few days if you keep them in the fridge in an airtight container.
https://cnz.to/recipes/appetizers/spicy-crunchy-roasted-chickpeas-recipe/
Unless otherwise noted, all recipes are copyright Clotilde Dusoulier.