Maxence, Milan and I have recently returned from a positively idyllic, two-week stay in San Francisco, for which we swapped apartments with our friends Heidi and Wayne.
We had a blissfully relaxing, inspiring, and delicious vacation. It was crazy good to be back, catch up with friends and family, and meet some of you lovely readers at my Omnivore Books signing. And now that I am starting to crawl out from under the pile of work that awaited me on my return (not that I'm complaining), I would like to revisit some of our favorite eats and share my best San Francisco recommendations with you if you're game.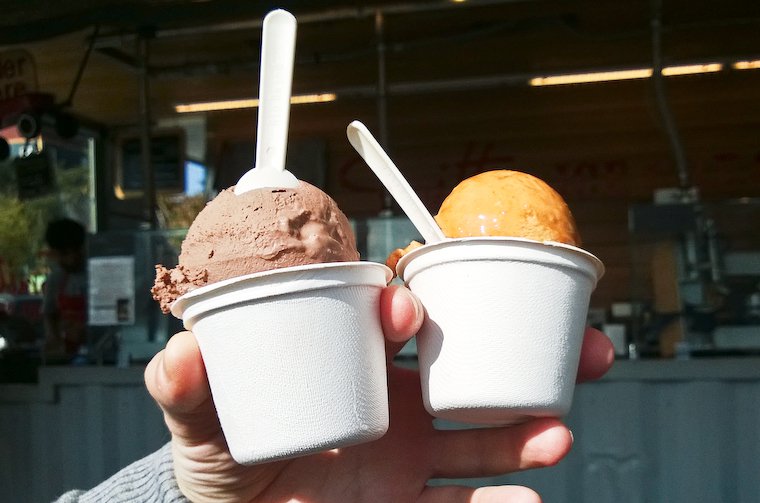 ~ Thriving on a diet of (almost) one ice cream a day — mostly from Bi-Rite Creamery on Divisadero (outstanding walnut maple banana ice cream sandwiches); but also from Smitten in Haighs Valley, where the ice cream is freshly mixed and churned in liquid nitrogen before your very eyes (pictured above: TCHO chocolate, and maple brown sugar squash); and, on a slightly less refined, but no less enjoyable level, from Easy Breezy in Noe Valley, where the organic frozen yogurt and toppings are self-serve (dangerous!) and you pay by the weight.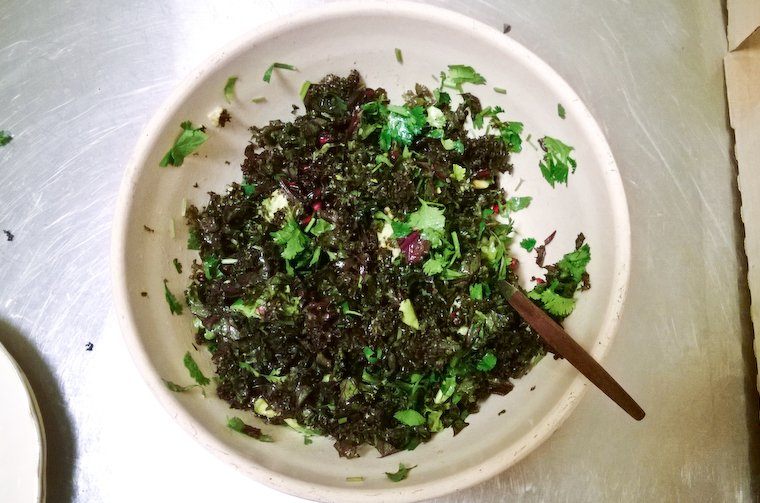 ~ Eating kale of all kinds practically every day, and especially loving the red kale salad I made a couple of times with avocado, cilantro, and pomegranate seeds (pictured above).
~ Sampling the best carnitas burrito ever from La Taqueria, thanks to a recommendation from my friend Emily (who is also, unrelatedly, my lovely Pilates instructor in Paris).
~ Starting the day with the buttery, cinnamon-y morning bun from Tartine.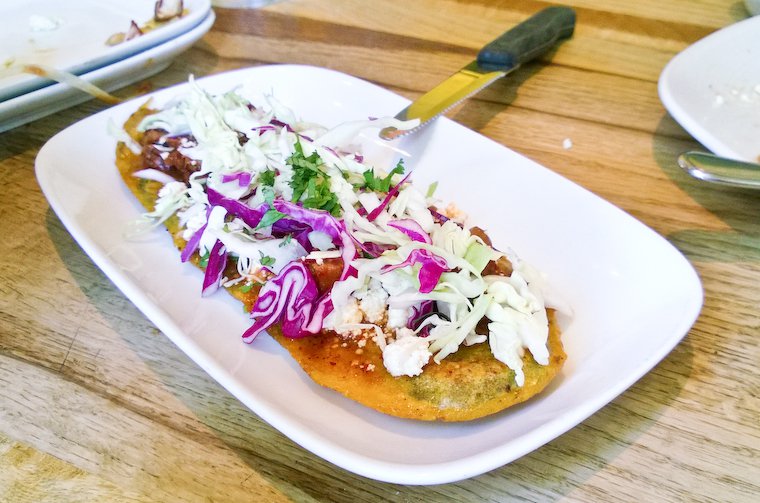 ~ Eating fresh, sustainable, organic New Mexican food at Nopalito (pictured above: the Panucho de Pollo al Pibil, a tortilla stuffed with black beans and chicken cooked with citrus and achiote, topped with cabbage, pickled red onions, and salsa with habanero peppers). Admiring with some emotion the beautiful peppy green mosaic tiling behind their bar, which was the starting point of our inspiration for our own kitchen remodeling a couple of years ago.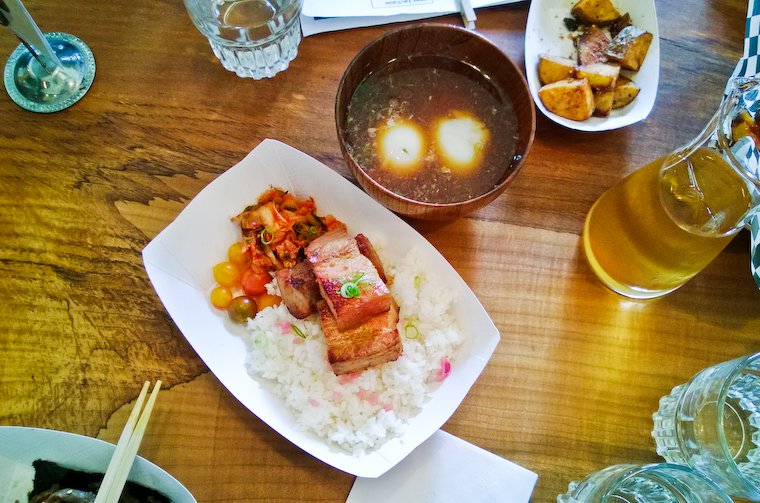 ~ Sharing a sunny brunch with good friends at New Korean American restaurant Namu Gaji, and relishing the slow-cooked eggs served in dashi, with a side of roasted pork belly, rice, and kimchi (pictured above).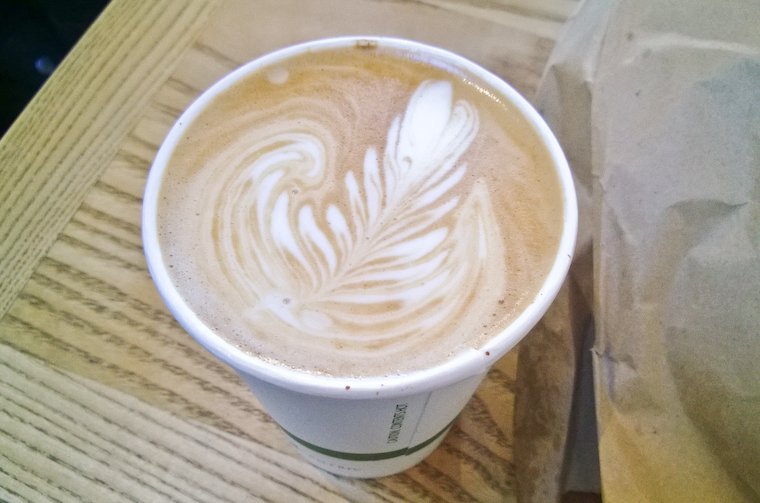 ~ Drinking lattes at The Mill. Loving the gorgeous breezy space. Buying a loaf of their exceptional wonder bread (pictured above, in the brown paper bag!) to have for breakfast on following mornings, with a hefty spread of the absolutely irresistible and now much-missed lightly salted crunchy almond butter from G.L.Alfieri.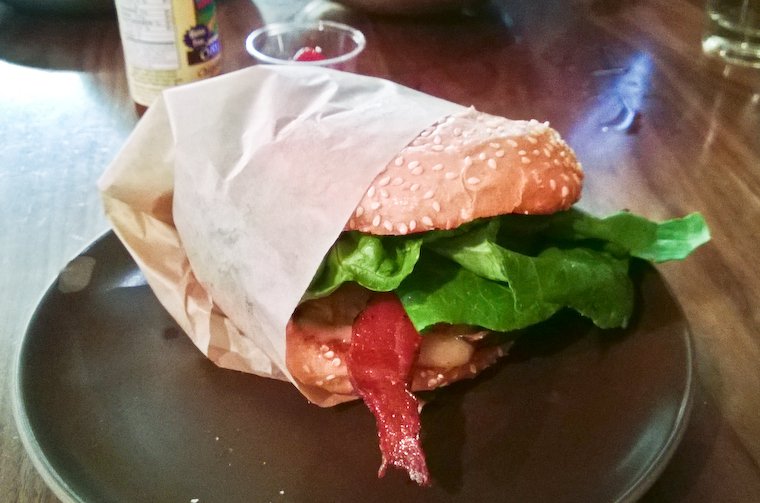 ~ Biting voraciously into the artisan burgers served at Roam (pictured above is the "Heritage" bacon cheeseburger with grass-fed beef on a sesame bun) with a side of fried sweet potatoes because why not?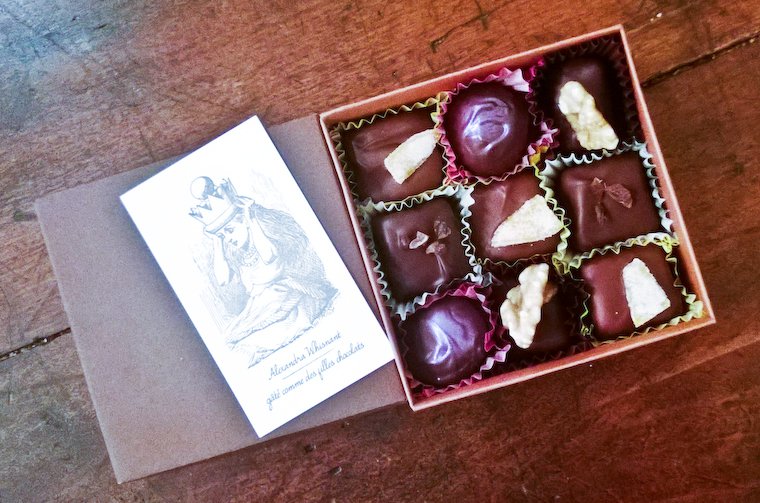 ~ Savoring the box of handmade chocolates my friend Alexandra Whisnant brought me on the day of the signing; special mention for the fresh Meyer lemon ganaches (pictured above in the diagonal). Her chocolates are now available at Bi-Rite Markets among other outlets.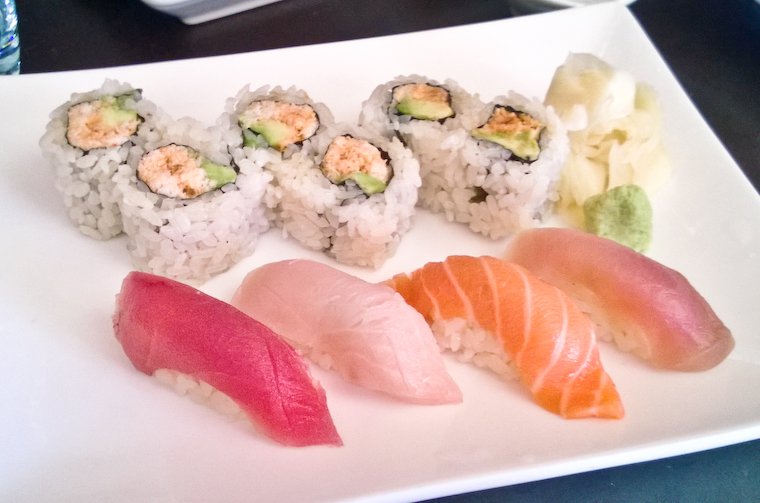 ~ Having a splendid sushi lunch at Saru in Noe Valley.
~ Amassing a sizeable assortment of chocolate bars representing the New American chocolate scene, including bars by the local TCHO, Dandelion Chocolate, and Coracao Confections, but also Olive & Sinclair from Nashville, Lake Champlain Chocolates from Vermont, Fine & Raw from Brooklyn, Theo Chocolate from Seattle, and my old favorite Taza from outside Boston.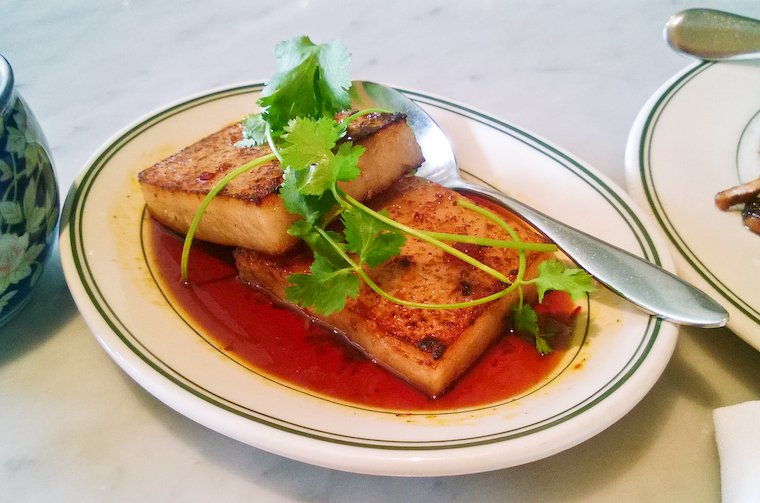 ~ Ordering a bunch of small plates to share at Out The Door, and being wowed by the freshness and vivid flavors of their modern Vietnamese cuisine (pictured above: daikon rice cakes or lo bak go). Bringing home lots of leftovers for an encore feast that night.
~ Being impressed by, and grateful for how kid-friendly restaurants are in and around the city. There are highchairs almost everywhere (not that our son will sit in them, but that's another story), the waitstaff is generally sweet and attentive with families, and the often speedy, informal service lends itself perfectly to eating out with a child. Paris is not so bad, but there's a difference between feeling tolerated and feeling welcome.
Join the conversation!
Have you been to any of these places, and do you share my enthusiasm? Any other favorites I should make a note of for our next visit?