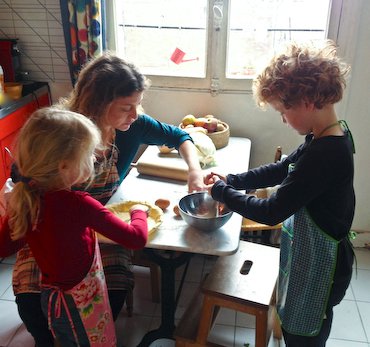 Camille Labro is a French cook and food journalist who writes for M, the weekly magazine published by Le Monde. On her blog, Le Ventre libre ("the free belly"), she shares her gastronomic adventures and joys, and explores ways to eat better in an urban environment.
She is the mother of two children, and I am delighted to have her as a guest in my Parents Who Cook interview series. Read on for her many inspired tips! (Interview conducted in French and translated by myself.)
Can you tell us a few words about your children? Ages, names, temperaments?
Noé, 8, loves to read, eat, bike, and roller-skate. Cléo, 6, loves to read, eat, dance, and draw. They are both very sociable, adventurous with flavors as with experiences, full of existential questions, and very jealous of the gastronomic meals I eat without them: they devour the pictures while calling me every name in the book.
Did having children change the way you cook?
Not really, but it has given me structure, and has forced me to cook more regularly and to think of the nutritional qualities of the meals. I've set a rule for myself ever since they started eating more or less everything: I prepare balanced meals with a small first course (usually a raw vegetable), a dish (protein + carb + vegetable), and a simple dessert (yogurt or fruit).
Do you remember what it was like to cook with a newborn? Any tips or saving grace for new parents going through that phase?
When my children were very young and I was still breastfeeding them (I did for nine months each), I wasn't working very much, so I had time to cook. I would place the baby in the bouncy chair next to me and talk about what I was preparing. In general, he/she was very attentive and liked the movements, the noises, the smells (better than a mobile!). And if he/she was getting impatient, I would give him/her a stick of carrot to suck on or a crust of bread to gnaw on.
Otherwise, for parents who work, I think the main tip is to prepare lots of things in advance. Pick one day a week, Sunday for instance, to go to the greenmarket and cook lots of dishes that you'll freeze: stews, soups, gratins…
And there are other simple things you can do, like wrapping small steaks or fish fillets individually for freezing (you can transfer however many you need to the fridge in the morning and have them thawed by dinnertime), freezing pesto in ice cube trays (one ice cube per person for a dish of pasta), washing and drying all your fruits, vegetables, and greens in advance so they'll be ready to use. It takes some logistics to alleviate the workload for the rest of the week.
As for dinner parties, it's hard to pull them off when you're a young parent… But you can always invite your friend over to cook dinner! I've done that often when I was feeling overwhelmed: you like to cook ? Come eat at my place. I'll take care of the shopping and set the table; you'll cook while I take care of the baby. It can be done as a group, too, with other young parents, and you take turns playing the different roles. It's fun, convivial, and a good way to show solidarity!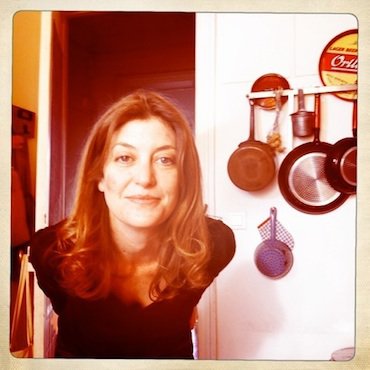 Over time, have you developed staple dishes or strategies that make it possible to prepare a meal and keep the kids happy at the same time?
The recipes I cook for my children are very simple, but I focus on taste. I add spices, fresh herbs, garlic, seeds, brewer's yeast… I spend 30 to 45 minutes cooking dinner every night, while they watch a short film and eat a snack — sticks of carrots, cucumber, or raw fennel, some tarama or tapenade, a few olives, cornichons or almonds, sometimes a piece of cheese.
When it comes to meals, I generally begin with a salad (with a light vinaigrette and a mix of toasted seeds), avocados with lemon (and sometimes trout eggs), raw grated beets with orange juice and ras-el-hanout, or, in the winter, a vegetable soup that I'll serve two to three days in a row.
For the main dish, I often serve small fish (such as sardines or mackerel), chicken cutlets, red meat only once a week. I also make savory tarts, pasta or risotto with lots of vegetables (it's the best way to get reluctant children to eat them). And I don't make dessert : they have a choice between yogurt and fruit. I sometimes make dishes in double or triple amounts, and freeze the extra for days when I'm in a hurry.
Have you found ways to involve your children in the cooking/baking process?
Baking is the easiest by far. They love to stir, whisk, pour, and of course, lick the last few drops of batter or melted chocolate. Baking a cake is an ideal activity for rainy weekend days. We also often make meatballs, samosas, ravioli. Anything that reminds them of crafts (shaping, cutting, pasting) works well because the gestures are familiar.
I take them to the greenmarket on Sunday morning (Bastille or Aligre) so they can see the vegetables, fruits, and fish, and pick them out with me. That way they're part of the process, and they feel invested. When we get back from the market, I have them do meticulous jobs such as peeling fava beans, prepping artichokes, and even removing the bones from fish fillets with tweezers! I praise them a lot and call them my "super little chefs". And I'm starting to trust them with knives and the stove.
But the best way to get children to take part in the preparation and the actual eating is to grow your own food — on the windowsill if there's no garden. If it's "their" tomatoes, their basil, their fresh garlic, their radishes, their green beans, they'll want to prepare them themselves, eat them, share them, have others taste them. They get a sense of the cycle of life, and they're proud and happy! It's fail-proof, and I recommend it to all parents, even with a simple pot and a handful of seeds. The effect is tremendous.
As someone who's passionate about food, can you talk about the joys and challenges of feeding your kids, and how you go about teaching them to be happy, adventurous eaters?
It's joys, mostly. The joy of having them taste and taste again, of my daughter who says, "You know, I actually love leeks" after hating them several times, my son who delights in grilled artichokes, bottarga, spring onions, raw marinated anchovies — all tastes that aren't obvious for children. The joy of finding solutions for things to be good — good to eat and good for you. Trying things, such as wheat germ or brewer's yeast on salads, or all kinds of herbs and spices, which they turn out to love.
The challenge is to never force them, but still encourage them to taste before they say no. In the end, I do force them a little so they'll taste at least one bite, but more often than not they'll taste and move on to finish the whole plate.
The greatest pleasure, I think, is sharing meals. We've been eating together at the table ever since they were small. I never make them eat before the grown-ups. They eat the same things we do, at the same time we do. The shared meal is an essential value for us. It fosters connection, well-being, conversation, discovery, and love.