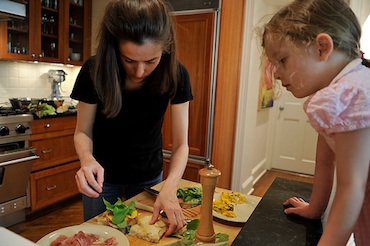 Amanda and Addie, photographed by Sarah Shatz.
Parents Who Cook is a Q&A series in which I ask my guests about cooking with little ones underfoot. If you think of people you'd like to see interviewed as part of this series — especially fathers! — your suggestions are welcome.
I have long admired Amanda Hesser and Merrill Stubbs for founding the Food52 website, and developing it with such savvy over the past three years. Originally created as a way to crowd-source a cookbook, it is now a remarkably rich website with lots of smart features, and a vibrant community of cooks.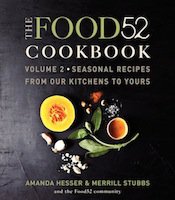 The first Food52 cookbook came out last year, and the second volume, also crowd-sourced and edited with great care, has just been released.
Amanda and Merrill are both mothers, and I am delighted to welcome them as my first guests on the Parents Who Cook series.
Can you tell us a few words about your kids? Ages, names, temperaments?
M: Our daughter Clara is almost eleven months old. She has seven teeth and is determined to start walking. We think she's learned her first word (hi), although it could just be a random sound she's making. Clara is a really good-tempered baby and very social, but on the rare occasion that she's unhappy or tired, she lets us know it!
A: We have twins, Walker and Addie, and they're six. They're losing their baby teeth, which they're very excited about. Walker is methodical, competitive, and snuggly. Addie is social, a daydreamer, and willing to be amused.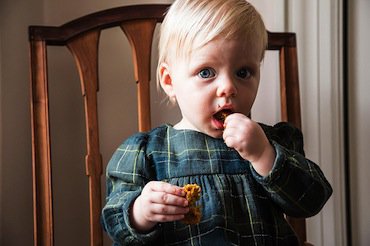 Clara, photographed by James Ransom.
Did having children change the way you cook?
M: Yes. It forced me to get more organized in the kitchen. Before Clara was born, I was much more spontaneous about making dinner; it didn't matter if the fridge was accidentally empty, since we could always order in. Now I plan most of our meals in advance and shop and cook a lot ahead over the weekend, to make sure Clara has plenty of food for the week. A side benefit of this is that since she's eating mostly what we eat, we do too!
A: Similar to Merrill, I feel compelled to keep our kitchen stocked with good food, so I'll cook more often and shop more regularly — and responsibly! My husband and I also do most of our cooking on the weekend. We go to the greenmarket on Saturday and do a bunch of cooking on Sunday, so there's a good supply for the week.
Over time, have you developed staple dishes or strategies that make it possible to prepare a meal and keep the kids happy at the same time?
A: Our strategy is very simple: serve our kids what we eat. We've done this since they could eat solid food. Kids' understanding of food is what their parents expose them to, so if you want them to eat a great variety, you have to feed them great variety and serve it with confidence, and insistence.
M: We started giving Clara solid food at six months, and I decided to write a column on Food52 about our adventures feeding her. I try to give each article a takeaway if I can: for example, don't stress out too much about all of the "dos and don'ts" you hear from other people, and don't be afraid to think outside the box and try giving your baby "weird" foods like whole grains.
The method used in this broccoli recipe is great for all sorts of vegetables — low and slow cooking, with a lot of olive oil and garlic. You get rich, velvety veggies every time. Really appealing to kids and adults.
Have you found ways to involve your children in the cooking process? Can you tell us when that started, how you approached it, what works and what doesn't?
M: Clara already loves to watch me cooking. She sits across from me at the counter while I stir things on the stove and watches intently. I think she likes the noises and the smells. Plus, I usually give her a wooden spoon to play with, which never hurts.
A: Like Merrill said, having kids hang out with you while you cook is the very best introduction to cooking. Since our kids are older than Clara, the second phase for them was sitting on the counter or standing on a stool. I'd have them gather ingredients, help me measure, stir, and pour. And now they do it without the stool! I'm just starting to let them add ingredients to a hot pan, and to stir at the stove, but I can't lie — it's stressful, because I know how dangerous cooking can be, and I don't want them to have a negative experience that will scare them away from the kitchen.
As someone who's passionate about food, can you talk about the joys and challenges of feeding your kids, and hopefully teaching them to be happy, adventurous eaters?
M: My mother always encouraged us to join her in the kitchen as she cooked, and I mostly credit that for my passion for food. The kitchen was always a great place to be, and to learn, and to taste. I think if you involve your kids in the process of cooking and tasting new things on a day-to-day basis, they can't help but find joy in it.
A: I think it's also important for your kids to see that you enjoy cooking and eating — they take their cues from you! We cook with Walker and Addie, and sit down to dinner with the table set and candles lit (mostly on the weekends, but as much as possible!), and we talk about the food, what it is, and what's interesting about it.
Inspired and hungry for more? Read on for more Parents Who Cook.