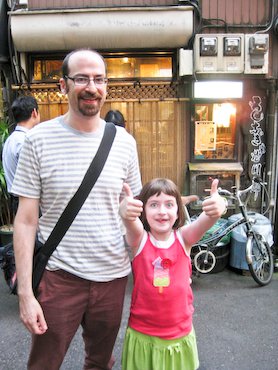 Note: I am delighted that this column was recently featured on Food52: On Green Pancakes and Cooking With Kids.
Please welcome Matthew Amster-Burton, the newest guest in my Parents Who Cook interview series!
Matthew is a talented writer whose humor I love, and who writes just as well about personal finance as he does about food (he was included five! times! in the annual Best Food Writing anthology).
He co-hosts the one-of-a-kind Spilled Milk podcast with Molly Wizenberg, and he is the author of the book Hungry Monkey: A Food-Loving Father's Quest to Raise an Adventurous Eater, and of the recently kick-started and published Pretty Good Number One: An American Family Eats Tokyo.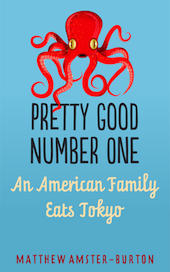 Matthew has a nine-year-old daughter, and as you'll see, his approach to feeding her is playful, relaxed, and full of inventive tricks. I hope you enjoy his answers as much as I do.
Can you tell us a few words about your daughter? Age, name, temperament?
Iris is nine and a very easy kid. She likes to go to school and we get along well. I'm enjoying this while it lasts.
Did having a child change the way you cook?
Yes, for better and for worse. I got a lot more reliable about cooking dinner at home and serving it at a reasonable hour. I'm much less likely to cook a complicated all-day dish than before Iris was born: I was too exhausted to do it for years, and then once I had the energy back, I found I didn't miss it, so I've gone on cooking mostly simple food. A lot of parents seem to make this transition.
On the downside, I'm probably a little too accommodating of Iris's tastes. There are certain dishes I would enjoy serving as a main course that I know Iris would hate, though these are fewer and fewer as she gets older. Recently, for example, she decided she likes spicy foods again after abandoning them at age two. Thai curry is back on the dinner roster. Finally!
Do you remember what it was like to cook with a newborn? Any tips or saving grace for new parents going through that phase?
Nearly everything about having a newborn was awful. My advice: if people offer to bring you food, take them up on it. Nobody should ever feel guilty for any shortcuts they take to survive the first three months of parenthood.
Over time, have you developed staple dishes or strategies that make it possible to prepare a meal and keep the kid happy at the same time?
I've always tried to make sure that some aspect of dinner will appeal to Iris, but often some of it will be more challenging.
The most important strategy is to not make a big deal out of anything. Dealing with a child at the table is like dealing with a street preacher: as soon as you engage, they win. Not that I think food is always a showdown between parents and kids, by any means. But it's definitely an emotional issue, and if anyone is going to deescalate, it has to be the parents. For me, that means doing my best to serve meals that are informed by but not dominated by Iris's tastes, and trying not to cajole at the table. Easier said than done.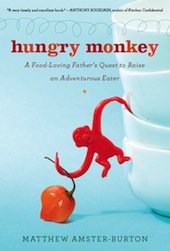 A few years ago I instituted the Pick of the Week system. Every week, Iris has to choose one dinner, anything she wants, and I have to make it. This is fun for me, because I enjoy cooking but hate making decisions. Recently she's chosen baked pasta, mapo tofu, and sticky rice with pork and mushrooms. (The mushrooms tend to get left on the side of her plate.)
Have you found ways to involve your daughter in the cooking process?
Until recently, Iris has done more cooking with her mom, who is the baker in the family, than with me. I am possessive about my kitchen space, and while I understand in theory that people can't learn to cook without making mistakes, I wish they didn't have to do it on my watch.
Last year, however, I warned Iris that when she turned nine, she would be responsible for making dinner once a week, and I would be her sous-chef. Her birthday was a few weeks ago, and so far it's going well. She's made crostini topped with scrambled eggs and ham; chili; tacos; and that sticky rice dish. This weekend she wants to stir-fry chicken. Sometimes I help a little, sometimes a lot. She really enjoys telling me what to do.
As someone who's passionate about food, can you talk about the joys and challenges of feeding your kid, and how you go about teaching her to be a happy, adventurous eater?
I like to joke that my editor wouldn't let me call my first book Hungry Monkey: A Food-Loving Father's Futile Quest to Raise an Adventurous Eater. I can control, to some extent, what Iris eats, but not what she wants to eat.
That said, one thing I like about children is that they don't have the same culturally ingrained notions as adults of what is and isn't "normal food." Iris and I have been to Japan a couple of times, and we both absolutely love takoyaki, which is a gooey, spherical pancake flavored with ginger and scallions, with a large chunk of steamed octopus in the center. We also polished off skewers of grilled eel, the juicy meat spiraled around a bamboo stick. The American palate has come a long way in the last couple of decades, but I know a lot of grownups who just assume eel and octopus balls must be gross. In some ways, kids are less picky than adults.
I'm not trying to play the "my kid eats better than your kid" card, because there was plenty of stuff (any non-fried tofu, for example) in Japan Iris wouldn't touch. But she does seem to have inherited from me the idea that the number one reason to visit another country is to enjoy its food. Not a bad reason, right?